It's over 43 degrees, approximately 90% humidity and I have another day of running in excess of 60 kilometres along the busy roads out of Delhi, India. The intensity of this adventure has affected my entire being — physically, mentally and spiritually. I have run over 1500kms in the past month and it is hard to describe the excruciating pain I have felt.
---
Yet as hard as it is, I would not change my situation for anything, not even to be sitting on an island sipping cocktails. Because when I'm right in the middle of an adventure that I have planned for months and years — when it is far harder than I could ever imagine — that is where I learn more about myself, and what I am capable of.
22 years ago
I was never comfortable with sports growing up, particularly anything that required coordination or catching a ball. I can still remember the cold sweats I felt when the teacher said we would be doing a school yard pick for teams. I always hoped I wouldn't be the final kid standing on that line, waiting to be picked.
It didn't help that I was the shortest kid in the class by a long way — that truth has been my reality for my entire life.
So, it's fair to say that sports in general weren't a domain that made me feel strong, confident, or happy. That mentality carried over to other areas of my childhood and I was often fearful of trying new things on the chance that I would fail and embarrass myself.
I did have a slight aptitude for cross country running, although I put it down to the fact that I didn't have any team mates to let down. I was convinced running was more about telling your mind to keep moving as opposed to requiring physical skills.
8 years ago
By the age of 24, I was studying a double degree in Performing Arts and Law at Monash University. My new version of exercise was the inevitable dash from the Performing Arts faculty, often in costume attire, to the Law Faculty, where I would attempt to inconspicuously slip into the back row of the lecture theatre.
I'd soon be on the cusp of accepting a graduate position at a corporate law firm in the city, a job that I knew would have me staring at a computer screen for at least 10 hours a day. And that is where the 'ah-ha' moment came.
I realised I was living a life within my comfort zones. Wherever possible I took the safest path when provided with options. I was physically dormant and I had still not explored what it was like to push myself in this department.
When I looked ahead to the future I had created for myself as a commercial lawyer, I wasn't inspired by the predictability, stability and monotony.
That's why I embarked on training for my first marathon, the pinnacle of endurance racing in my mind. I downloaded an 18-week training program online and followed it methodically. I hoped what I lacked in physical experience I could make up for in my diligent training and preparation. Race day came and I really believed nothing would stop me from getting to the finishing line.
That is, until I reached the 32km mark.
I hit the wall. The sensation that surged through my body and ultimately my mind was telling me it wasn't normal to feel this way – and I should stop. As I was on the brink of quitting a girlfriend told me to suck it up and finish the final 10km stretch.
Somehow I got my head back in the game and I crossed the finish line, not without a few solid tears. Surprisingly I felt like a rockstar for the last 200 metre stretch, waving my arms in the air the whole way.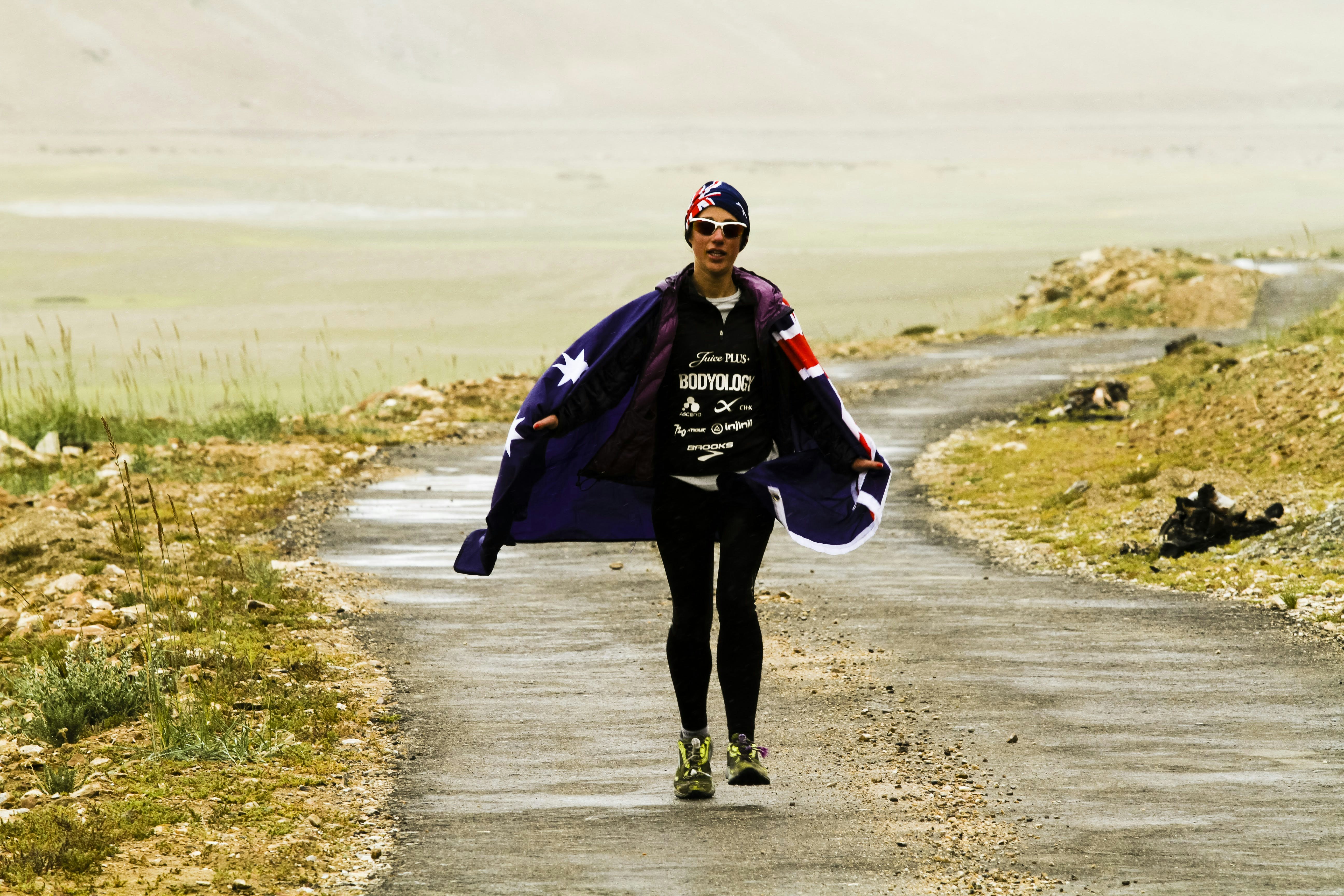 From a near-failed marathon experience
This experience taught me to toughen my individual resilience. Life was surely going to get tougher than running a marathon and I didn't want to quit the moment that happened.
Without much thought, I signed up for my first ultramarathon in the Atacama Desert in Chile, the driest desert on earth. The lead-up to the 250km race was filled with logistical dramas, injury, self-doubt and financial hurdles. Yet every step of that journey felt like the biggest achievement I had ever experienced.
That same year, I completed three other 250km races — in China, Egypt and Antarctica. From never running an ultramarathon I somehow became the first and youngest woman to complete Racing the Planet's Four Deserts Grandslam.
Since then, I've been raced and competed in expeditions in some of the most extreme and inhospitable environments around the globe. From the deserts in Chile, China, Egypt and Antarctica, to the mountains of Nepal, New Zealand, South Africa and India.
My life has never looked the same again and I fundamentally view challenges differently — as well as my ability to push beyond them.
One year ago
I'm in India, less than halfway through an epic 3300km journey.
With 1800kms to go, I am nowhere near the end. If I were to be honest, based on how things are tracking, I don't have any certainty that I will make it all the way from the west to the east of the country as I planned.
But, my mantra from the beginning is one day at a time and if necessary — 1km at a time. I keep reminding myself that within a few hundred kilometres I will be nearing the foothills of the Himalayas.
No day has gone to plan and the first few weeks were all about getting comfortable with the inevitable discomfort, pain, and unpredictability. But once I accepted this as my new normal, I could live utterly in the present — without judgment for wanting anything else.
As hard as this undertaking has been I have a constant reminder that my discomfort is temporary, and it was my decision to be here. As a World Vision Ambassador I am using this 3300km journey across India as a means to explore the barriers to quality education for children across the country.
I visit World Vision development programs every couple of days. There are schools in remote rural towns where kids walk eight kilometres to get to school in scorching temperatures with one small bowl of rice in their bellies. I go to malnutrition clinics in towns where children are on the edge of death because their parents cannot afford to feed them.
My bursting thirst for adventure, experience and thrill for life has allowed me to discover what I care about the most: achieving social change through the vehicle of adventure and running. It has left me with an unwavering resolve to make every step I take count and share as many of these stories as possible.
Thanks to endurance athletes like Sam, our gear has evolved to help you achieve your goals.