UK Adventurer Anna McNuff and NZ Endurance Athlete Hollie Woodhouse teamed up for the two-day tandem at the 2019 Kathmandu Coast to Coast. Completing the 243km in 16 hours, 21 minutes, Anna shares her favourite (and not-so-favourite) moments.
---
Day One
They say that getting to the start line of an adventure is half of the struggle, and that was especially true at the 2019 Coast to Coast extravaganza. Despite a 5am wake up on race day, Hollie and I left C2C basecamp later than intended. Cue getting stuck in a traffic jam at Kumara Junction, a mildly frantic scrabble to rack our bikes in time and a jog to the start line. Nothing like adding a few extra kilometres to a 243 km race…
After Hollie rated the pre-race port-a-loo facilities at a solid 8/10 (very impressive) we scampered down to the beach, just in time to see the sun appear on the horizon. A gentle giant of an orb, glowing orange, creeping above blackened hills behind the beach and casting peachy rays across the faces of a sea of nervous, chattering competitors.
'30 seconds…' said the announcer…
'You ready McNuff?' Hollie asked.
'Ready Woodhouse' I replied.
'15 seconds…. 10…9…8…' BOOOM!! We were on our wa-hey!
A Rookie Error
A quick and mad 2km dash up the road surrounded by puffs and pants and on to the 55km bike ride. All started well, we found a great bunch to tuck into and we were pushing hard (probably a little harder than I should have been, in fact) and then it dawned on me… I had forgotten to pack any food for this portion of the race. 'YOU ARE AN IDIOT MCNUFF!! HOW COULD YOU FORGET YOUR FOOD?!' It was the most rookie of errors. Ever so slowly I began to slip into a bicycle shaped pain cave.
Pauline (my bike) was obviously in pain too, because with 20km to go on the ride… CRUUUNCH - the chain got jammed, my front derailleur bent, and after three attempts to stop and fix it, I was down to riding in just my little ring. R.I.P my big ring! I love my big ring!
I knew I was a bit of a mess getting off the bike and Hollie knew it too. 'McNuff needs food!' she shouted at our amazing support crew as they stripped us of our bike gear, and I wobbled my way into running trainers and crammed handfuls of raspberry chocolate logs and banana into my mouth. Nothing like starting a 33km mountain run with energy levels at below zero. What a muppet.
The Demons of Deception
For the next few hours, I was very quiet, concentrating hard on grappling with the demons of the Deception Valley. Energy or no energy, I'm not sure I will ever fully get the hang of the riverbed and boulder hopping. I've tried to explain the mountain run course to friends back home in the UK and I say to them 'Imagine that you are stumbling around like a drunkard for a few hours… always waiting for a moment to catch your breath. Only you never quite catch it, so you just keep on stumbling, until miraculously – you arrive at the top!' At one point (when my stumbling had got especially bad) I apologized to Hollie and she said:
'No McNuff! There are no apologies today. We are a team!'
Gawd I love that girl.
By close to the top of the 1,050 metre pass I began to feel human again. About bloomin time!! We were now just past 'big boulders' - in the thick of the valley, surrounded by steep grey-banked sides, ducking in and out of lush green forest with a clear glacial river tumbling over rocks down the middle. It was like being on the set of a shampoo advert, and it was glorious.
Whanua Power
We crested the top of Goat Pass and tanked it down the other side. There was time to stop for a quick dance at Dudley's Knob (it's tradition - for us at least), before arriving at one of my fave sections of the trail: 'Beech forest and boardwalk baby!!' I yelled at Hollie as we skipped through, scrambling over the spider's web of tree roots on the ground.
The valley opened out again and, now following a train of equally exhausted looking runners, I turned my attention to what was set to be the final challenge of the day. The 2km Riverdance of destruction the finish line – a section that challenges those with even the most agile footwork. My legs were S.P.E.N.T and just as I began to wonder if it was possible to move any slower, I heard our support team. Both sets of parents, Hollie's Boyfriend, brothers, sister in laws…. they were all hollering at us – WHANAU POWER kicked in and it was impossible not to crack a huge smile.
One final scramble up the grassy bank and we were into the finish line chute. I grabbed Hollie's hand as the green archway came into view. I felt a little lump in my throat as we both raised our arms and crossed the line!
That evening, as the afternoon sun continued to beat down, I thought about how much of a legend my teammate had been today, and I wondered if day two would be quite so dramatic….
Day Two: Things Could Only Get Better
Before doing Coast, I thought that the greatest challenges would be faced on the course. I now know this is not true. For an overnight stay at Klondyke you must channel all your Zen and draw on everything you learned as a partying university student to steal pockets of sleep at a bustling campground.
By 7am on day 2 we had waved goodbye to our support crew and were now fully awake - cramming coffee and breakfast in our faces. I crumbled up gingernut biscuits into my morning oatmeal because… I could, and then made a bold decision.
'Woodhouse.' I said.
'Yup McNuff.'
'I'm going to swap my timing chip to the other ankle this morning. Because things didn't go so well yesterday with it on the right leg. So I think the left leg will be better.'
'I like your thinking. I'll swap mine too.' She said.
The timing chip superstition was clearly a winning strategy because when the horn blared for our bike wave to leave the starting pen – we were both feeling fab-u-lous. That first bike passed in a flash – we managed to stay in a small pack before deciding we felt good enough to push on up the road as a two to Mt White Bridge.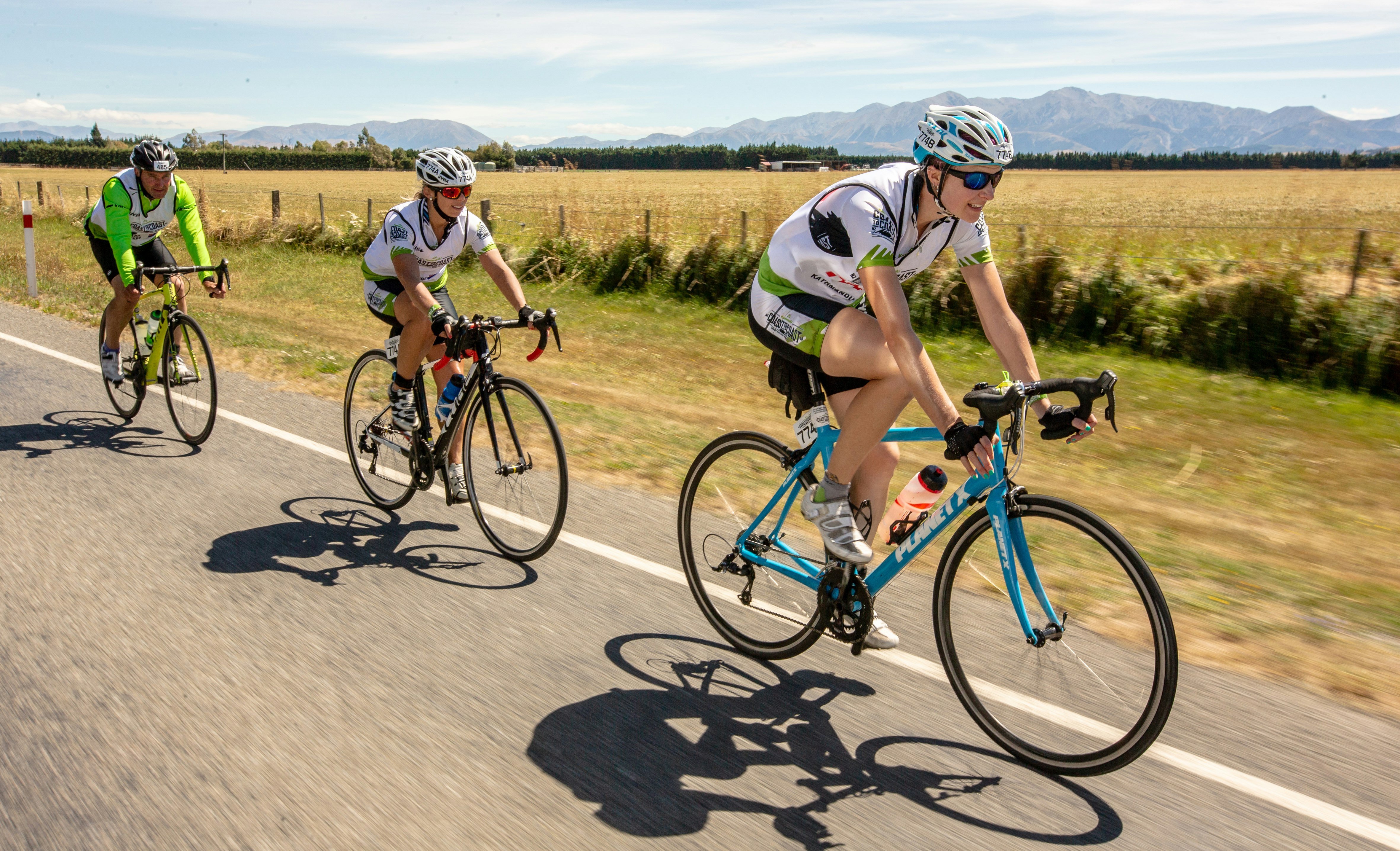 Big Bertha takes on the Waimak
A quick shimmy into spray skirts, PFDs and some light accessorizing with helmets and we shoved away from the bank in Bertha the Barracuda (as we had so named our kayak). I was VERY excited to be on the water, as well as nervous to see what we'd face when we hit the gorge.
If the kayak leg of that day were ever turned into a movie it would be titled 'Carnage on the Waimak'. It was drama a-go-go in the first hour as we bobbed and weaved our way down a river that seemed to have given all of its water away. We dodged between people getting spun backwards down small sections of rapid and, when alone, learned that in order to progress as swiftly as possible through the many shallow sections – Hollie and I must learn to bum shuffle in perfect synchronicity. Teamwork made the dream work as we unleashed vigorous, well-timed hip movements that would have made any Salsa dancer proud.
As we entered the gorge, things got even more exciting and we fritted between watching others take a swim, and wondering whether we were about to. We were living life from one swirling corner to the next and loving it.
Soggy Sarnies, Anyone?
One of the joys of being in the tandem is that you can take it in turns to eat. We did this often, sampling the delights of a chocolate brownie energy bar (which took about 40 minutes to chew and swallow), some readily accessible raspberry chocco logs and bite sized pieces of sandwiches.
Only… somehow the water had gotten in the zip lock bag and what once were sandwiches were now a floating mess of bread, cheese and marmite. I went full blown feral adventure racer – clawing at handfuls of the congealed mess, stuffing it in to my pie-hole and swallowing it down.
At three hours on the river, I decided that I definitely couldn't feel my arms anymore. But that was okay, because I looked down and they were still moving. Onwards we went, from one rapid to the next - how we managed to stay upright was a complete mystery. There were several occasions when Hollie's whole tor so was in the water and we managed not to tip. On another occasion we ended up so close to a bluff that we abandoned the use of the paddles entirely and dragged ourselves along it with our hands. Nothing like a little rock hugging on your way down the Waimakariri to spread the love.
Going For A Swim
On account of passing through wave trains the size of small houses, our boat had begun to take on a lot of water. By the end of the gorge, the boat was heavy and our energy levels were beginning to wane too. As if by magic, at the last possible place we could fall in, we did. It was the best thing that could have happened. We simply fell out, stood up on the riverbed right away, dragged the boat to the bank, emptied it and were back on the river within 5 minutes – feeling ever so refreshed after the dip.
By the time we made Woodstock, we had officially rediscovered our mojo. Pushing on down a quieter section of river, I felt relieved to be out of the grip of the gorge. As things got shallow again, we found the energy to burst into an adapted rendition of Lady Gaga's latest hit:
'In the sha-ha-ha lows! We're right in the shallows now. Where is the deep end? So we can kay-ak, we're stuck in the shallows now…"
At last, after 5 hours on the river we rounded the bend to see Gorge Bridge and the banks below it lined with supporters. It was pure magic! We had survived the kayak, and not only that – I have loved every bum shuffling, rock dodging, wave train jiggling moment of it!! What a day to be alive!

Emptying The Tank
The cheers from our support team spurred us on and after some final inhaling of energy drinks and sugary goodness, we hopped back on the bikes to take on the final 70km. We joined another competitor to form a neat little trio for the first 20km, and then…Choo! Chooo!! Up came a train of faster riders behind us. Hallelujah! We hopped right aboard that train and managed to cling onto it for dear life until the outskirts of the city.
The final 15km was one of gritted teeth, sore bums, wondering if I would ever get my feeling back in my left hand as we battled through the headwind. But at last, the beach at New Brighton came into view. Our bikes were thrown at random people in orange safety jackets and I welcomed the feel of sand beneath my feet for the first time since leaving the Tasman Sea on the West coast.
Entering the final minute of the race, I desperately wanted to pause time. To run back up and down the finish line chute for hours on end. The atmosphere was electric. Hoards of people, friend and strangers, cheering, clapping, flags and banners waving. And yet, as we actually crossed the line, nothing mattered beyond Hollie and I. What a rockin' journey it had been. From giving a simple yes to entering a year earlier – to having crossed New Zealand under human power with one of my best mates. It had been brutal, beautiful, adrenaline-fuelled and serene all at once. And I would do it all again in a heartbeat. Well, maybe I'd like a beer first… and a sleep….
Registrations for the 2020 Kathmandu Coast to Coast are now open. Early bird tickets have already sold out! Take advantage of the next offer and register your interest today.
---
Anna McNuff is a British born adventurer, motivational speaker, influencer and author. She was named Condé Nast Traveller as one of the 50 most influential travellers of our time, and by the the Guardian as one of the top modern female adventurers .