Summit Club member Kim Babbage, joined three strangers for a common cause. Trek 4 a Cure is a partnership between The Kids' Cancer Project and Huma Charity Challenge.
The women trekked the Great Wall of China and raised $37,725 towards research for childhood cancer. Theirs is an incredible story of adventure, loss, and success. Kim shares her story.
---
Day 2 – Beijing
Running to my next flight… got to love these close flights.
Two random women are waving their arms at me. So excited to meet Ingrid and Gwen face to face after all this time of talking and emailing. Laura will be our fourth woman on this mission. We're all fighting for funding and awareness of children's cancer research, but Ingrid and Laura have very personal reasons.
Ingrid lost her daughter Karlee to a rare tumour in January 2014, since then Ingrid has been determined to keep Karlee's spirit alive by starting Karlee's Army. Ingrid and Karlee's Army have been busy raising awareness about childhood cancer and raising funds towards medical research. Ingrid told me that the trip would be the first time she would have to herself since her daughter passed away. "It's an opportunity for me to go somewhere in the middle of nowhere and look out and get some perspective on why I'm here and she isn't".
When Laura was four years old, her little brother Ross was diagnosed with neuroblastoma and he died in 1981. Back then, cancer of the brain and central nervous system was quite literally a death sentence. Thankfully today, thanks to medical research, 50% of children diagnosed with neuroblastoma survive. "Childhood cancer saps so much," she says, "Life as you know it is never the same. All of us ache for his life cut short and the future Ross never had. It's something no family should ever have to live through."
This trip is set to be special not only for these remarkable women but also for the children they will help in the future.
Day 4 – Start of trek
Mao Zedong once said, "He who has not climbed the Great Wall is not a true man."
It's been a very long hot day and an emotional day. Each person has a journey and the good thing is you are travelling with like-minded people who are there for you.
Whilst today we only trekked 5km plus, it took us 4hrs. This area of the wall is not a commercial area. It was amazing to be the only people walking the wall.
Day 5 - Exploring the 1200 year old Great Wall
It's 5.47am. It still seems surreal that I'm sitting outside my tent and remains of the Great Wall are behind me. The local farmers are around working the land.
The other weird thing is my mobile phone is working so I just took a call from my kids.
Today was full of rough terrain, slippery rocks, skinny paths. The wind picked up and so did the rain. The hike is quite tough at times but the experience of the Wild Wall is worth the effort.
The storm cleared the smog and when the clouds in the evening lifted we saw our first star.
Day 6 – Gubeikou to Jinshanling
Today was relaxing - in the sense of we had time to take in the views, the distance and the magnitude of this Wall, which stretches for more than 40 kilometers. There are 14 beacon towers, 143 watch towers, 16 strategic pass, three citadels and many other military constructions. As we ate lunch, we realised that more than 500 years ago a solider was sitting in this area guarding the tower.
Day 7 – Towards Simatai
Today we went up and down so many steps. We walked on vertical steps and though broken towers. This part of the trek has been very personal for all of us.
At our highest part of the wall the souvenir seller told us he has seen two leo's in the bush near the wall the day before. We didn't understand. What is a leo? Our guide Jimmy downloaded an image (as you do standing on an ancient wall). OMG it's a leopard! To say I was a little nervous walking today would be an understatement.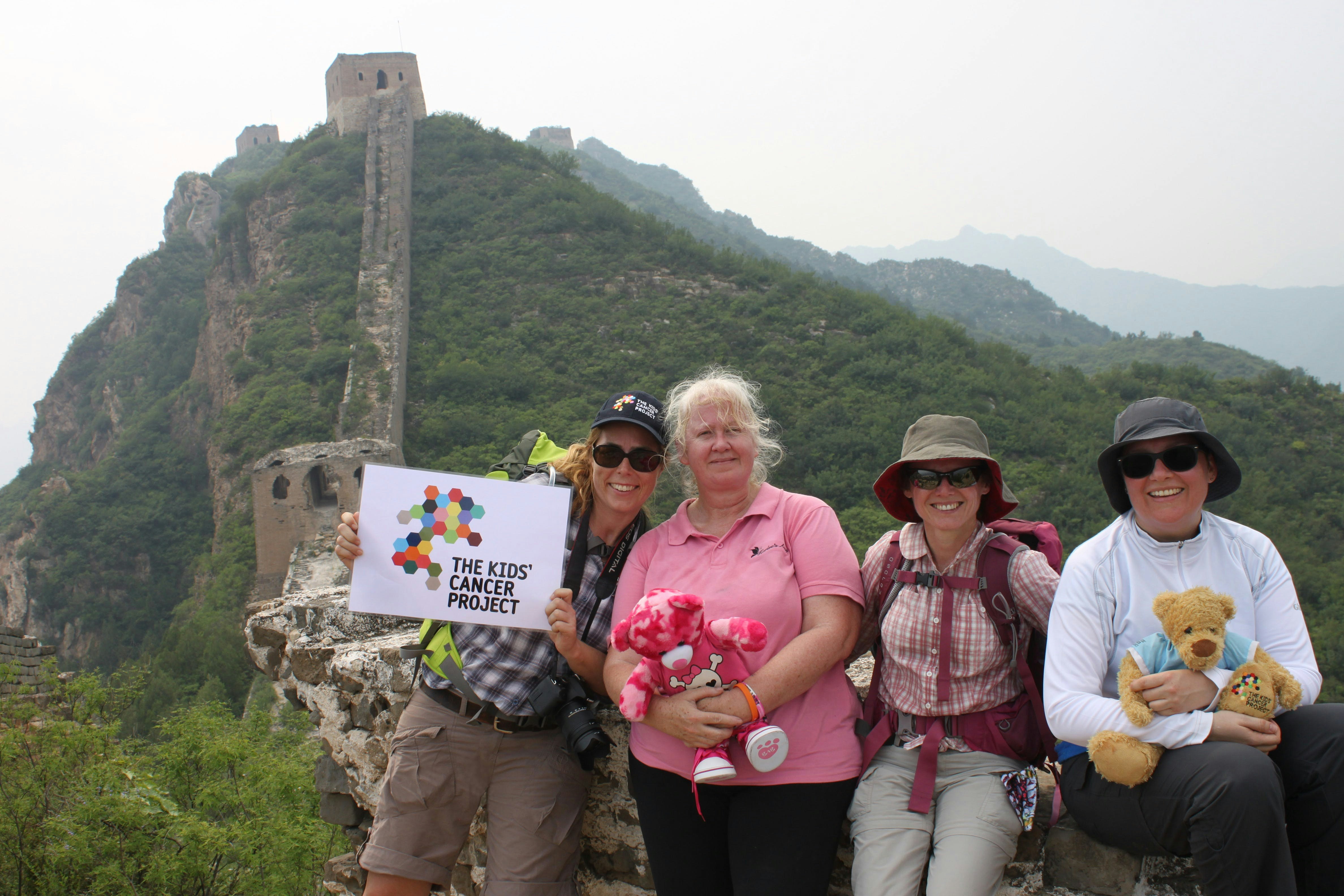 Day 8 – Hike to Beijing Tower
I clearly didn't drink enough water yesterday afternoon (was a little nervous about the walk to the toilet in the evening - very dark and too far away from campsite). My legs are cramping badly today.
Beijing Tower is built on a rock mountain. I'm lost for words on how they built this part of the wall on a cliff face. It's quite dangerous around the tower due to loose rocks. Poor Jimmy and Mr Lee are very nervous (two locals slipped this year. Mind you they walk around in stockings and ballet like shoes - so slippery).
Karlee's ashes were scattered and we had a tribute for Ross on top of the tower. We sat and enjoyed the silence of this magnificent world heritage structure made up of stone, brick, tamped earth, wood and other materials. It hugs the mountains, going up and down them; it changes in height and width. One million people worked to build the wall. Thousands of them died in the process of building the wall. If they could only see what they have achieved is still standing today and being enjoyed by thousands. The end has come and I feel a huge sense of achievement. This crumbling wall has given me so much.
Day 9 – Heading home
Five days trekking you can really see the change in all of us. This journey has brought out something in each person. I haven't written everything down. Journeys like this are for the heart and in my memories.
I will miss our nightly conversations between our tents. I can't remember laughing as much and as hard. We have cried, hugged each other, listened to each other, sweated, supported each other and laughed.
The beauty of attaching a physical challenge to a fundraising activity is that it helps channel your energy or emotions in to a goal. The difficult terrain pulls your focus in to walking, clambering and climbing. You start to think of fewer things, the noise of your everyday life is no longer there. This is where I see people start to heal - there is nothing else for them to do. It's confronting and challenging but rewarding.
Don't get me wrong, I love my creature comforts and a long hot shower at the end of a trip but what really gets me excited about travelling is putting myself in a completely foreign situation.
You learn a lot about yourself and those around you in these situations.
As a child, we take for granted that we will grow up. We live in moment, never suspecting that cancer might limit our life. Every child should be able to grow up cancer free. In my small way, I am helping to make that a reality.