Bonnie Campbell grew up in the outdoors — with parents who ran a rock climbing and caving business. Since then, she's zip-lined across rivers, abseiled down skyscrapers and now inspires others to find their own adventure.
---
I was born in 1993, the same year the picture (below) was taken. My parents owned a rock climbing business called Nature Bound and they took people rock climbing, abseiling and caving. They worked with families, tourists and beginners and especially people with a fear of heights.
They taught these sports to people who saw them as highly dangerous.
As a baby, I spent many afternoons napping on a sheepskin rug under a solid rock over-hang at Bundaleer caves, while my parents and best mates took it in turns climbing and watching over me.
After my brother was born in 1996, we often joined on trips either in the in the Grampians or the You Yangs in Victoria. We would be wearing our kid size 4 'staff' t-shirts and wonder around the group, doing up harnesses and gear checks (under the watchful eyes of our parents of course).
Eventually the company closed down, but we continued our trips out and about as a family, my parents teaching my brother and I how to set up safe anchor systems, spotting routes in the climb book and leading by example — showing us to respect the environment around us.
While my parents abseiled, my brother and I often played in the bushland at the base of my parents' climbing spot, drawing lines in the dirt to measure the sun's movement, building stick huts and exploring the backpacks for snacks while kicking back in our new stick shelter.
As teens, we got to zip across cross a massive drop called Typan Gully on a 30m flying fox made by my parents and friends. It was amazing. Typan Wall which is adjacent to the gully, is a famous area in the Grampians for its challenging climbing and its photogenics.
Later, I went with my family to assist in explorative caving expeditions on the Nullabour while working in cooperation with the local Indigenous groups.
Our rope access knowledge was a great benefit when it came to abseiling over drops as far as 50 metres to access the caves.
We had a team affectionately dubbed "The Bununger Cavers". The team consisted of Speleologists, cave photographers, health and safety consultants and more, but one thing we all had in common was a passion for discovery and the outdoors.
After high school I started going climbing and camping more with friends whom I had met at my local climbing gym, 'Bayside Rock'. It was on one of this trips that I met a group of people who later offered me a job on their industrial rope access team.
The job, which I enthusiastically accepted, involved abseiling off some of Melbourne's high rise buildings to window clean, paint, assist in concrete repairs, pressure washing and more.
My highest was 44 floors (approx 150 metres). I loved what the job had opened me up to and loved people's reactions when they asked me why a girl worked such a dangerous job, and why on earth my parents encouraged me.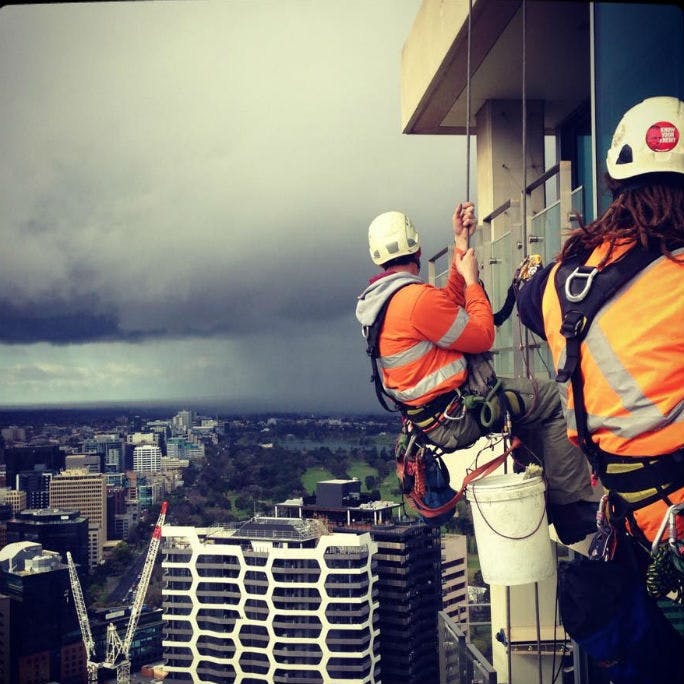 After I left my career in industrial abseiling, I moved onto outdoor adventure retail. I am now running a Kathmandu store in the Northern Territory and motivating others to experience the outdoors like I have. I am proud to be working for a company that reflects my values.
I still get into the outdoors wherever possible, exploring waterfalls and day walks. I find that my time and life growing up in the outdoors has created a very sentimental and spiritual connection within me.
It's where I feel the calmest, happiest and at home. It's a place that I go to recharge my soul.
If you — like Bonnie — love travel and the great outdoors, join the Kathmandu Summit Club for exclusive adventures and events.
---