From lawyer to travel writer
At 26-years-old, David McGonigal left his job in insurance law behind to ride a motorcycle around the world for four years. Some 20 years later, he'd go on to set a world first as the first person to cover all seven continents and all 24 time zones on a motorbike.
---
These days I'm a travel writer, photographer and Antarctic Expedition Leader — and it all started because I wanted to clear my head after six years of law school.
Ditching the law
In the 1970s, I left the legal profession to ride an aging Yamaha RD350 around the world with my friend Trevor. The route was following the hippy trail: Singapore to London via Kathmandu and Afghanistan.
I'll never forget the first morning after we rode into Pokhara, Nepal. I was walking to the lodge's open-air breakfast room and looked towards the Himalayas, but they were covered in cloud.
I expressed dismay to Trevor and he laconically replied: "look higher". I tilted my head back as if in the front row of a cinema and soaring above the clouds were the peaks of the Annapurna range. I gasped. This trip revealed that the world was more exciting — and more accessible — than I could ever imagine. All of a sudden I greedily wanted to see and experience it all.
I decided to make travel my life.
How did I make travel writing work?
I once asked my mum why she didn't cry when I flew out and she replied, "I thought you'd run out of money and be home in a few months."
Trevor and I eked out our savings — eating at street stalls and sleeping rough. I remember sleeping by the roadside in India with our hands threaded through the wheel spokes so the bikes wouldn't be stolen as we slept.
When I got to Canada I worked as a builder's labourer delivering store credit cards, and I'd send articles home to Revs Motorcycle News about my motorcycling adventures. It could be tough work. I missed my family and friends. We used to exchange Christmas cassette tapes, and I only learned of my grandmother's death two months after the event when I picked up mail at Poste Restante in Tehran.
Travel isn't always smooth sailing. I was locked up in a prison cell in Central America when a border crossing closed. I had my resolve tested in the mountains of Afghanistan, when the muddy road was impassable, my bike's clutch was fried, and a threatening harsh winter was fast approaching. And just outside Moscow, a friend rode his motorcycle into the back of a truck. He was thrown 15 metres into the air. There's no way he should have survived but, decades later, he's apparently fine. Wollongong boys are tough.
But I loved my life on the road and the sheer intensity of a life on the road. When I came home years later, I found nothing much had changed. But over those four years, I had collected a lifetime of experiences, including experience as a travel writer.
There was a golden age of travel writing when words and photos had real value. I wrote books that sold very well and supported my travel. Experiencing life from a motorcycle, not behind glass, it was easy to have a love affair with the world.
Falling in love with Antarctica
IN 1995, I first went down to the Ross Sea to write a travel article for the Sydney Morning Herald and became infatuated with Antarctica. I have returned every year since, first as a photographic lecturer then a historian, then as Expedition Leader.
I always say that you want a holiday to leave a lifetime memory. In Antarctica, these come through at two to three a day.
On a voyage into Wilhelmina Bay, a place on the western side of the Antarctic Peninsula, you'll often encounter humpback whales. In February 2017 I took the first Zodiac (an inflatable boat) over to where I'd seen some whales from the ship's bridge. I thought they'd gone as I hadn't seen them since I launched. I slowed in the right area and suddenly had a lunge-feeding Humpback so close to the rubber boat that his throat brushed the side. My passengers were beside themselves with excitement.
Maybe it's a function of age, but I now get the most satisfaction helping others discover the world. I work as a polar Expedition Leader for One Ocean Expeditions and each voyage is carrying a million dollars' worth of dreams.
It's a true joy to say goodbye on the dock at the end of a voyage and see many passengers cry because that particular wondrous experience has ended.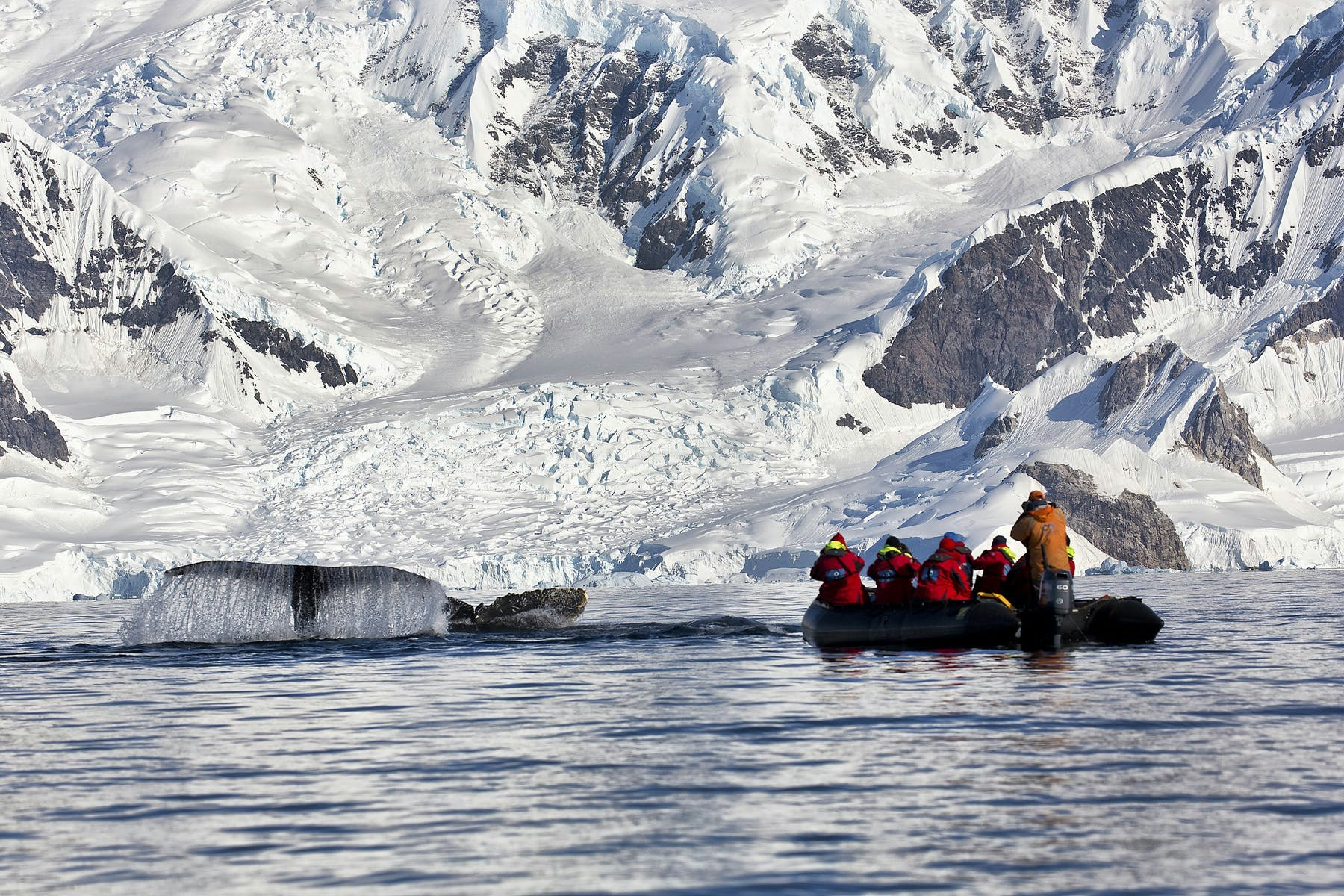 On finding your own destination
A career these days is less a path and more a hop-step. The very brave will hit the road or start their own businesses anyway. Some crave security — if that's you, try to find a secure job and stay in it till retirement.
But the great majority should regard your next unemployment as an opportunity to try something new: travel, get a job overseas, try a different career, start a business. If you discover that's not you, seek employment again — but at least you'll have experienced making your own way.
Travel has been my life and I've been fortunate to make a living from it. I'd probably be richer as a lawyer but I simply look at my experiences, from hitchhiking across Tibet when it first opened to motorcycling Alaska's Dalton Highway across to the Arctic Sea – and I smile.
---