Merino wool is a powerhouse natural fibre. Exceptionally warm and super soft on the skin, merino is packed with a huge range of high-performance benefits to suit a whole bunch of adventures.
---
Merino is comfortable
Not all wool is prickly, heavy and lumpy. Merino is the world's finest wool and feels soft and lightweight, which is why it's often used in next-to-skin clothes – like thermal baselayers, underwear and socks.
Kathmandu enhances merino's super-soft and anti-static qualities with advanced spinning, knitting and finishing technology.
Merino keeps you exceptionally warm
Merino wool has a natural crimp in the fibre. This crimp traps body heat in air pockets around your body, keeping you warmer for longer.
For extra warmth, you can layer a merino base layer over a merino shirt, which increases the warmth trapped around the body. It offers excellent warmth for weight, so look for merino clothing if you want to travel light.
Merino regulates body temperature
What really sets merino apart is its breathability – it's able to release warmth as needed to prevent overheating and to cool you down when conditions heat up.
Merino's natural knack for regulating body temperature means you can pack fewer clothes and keep comfortable in any weather.
Merino soaks up moisture to keep you dry
Merino wool can absorb up to 30% of its weight in moisture and still maintain its ability to insulate, keeping you dry, warm and cosy.
It's also naturally moisture wicking – able to draw perspiration away from the skin so you stay dry when working up a sweat.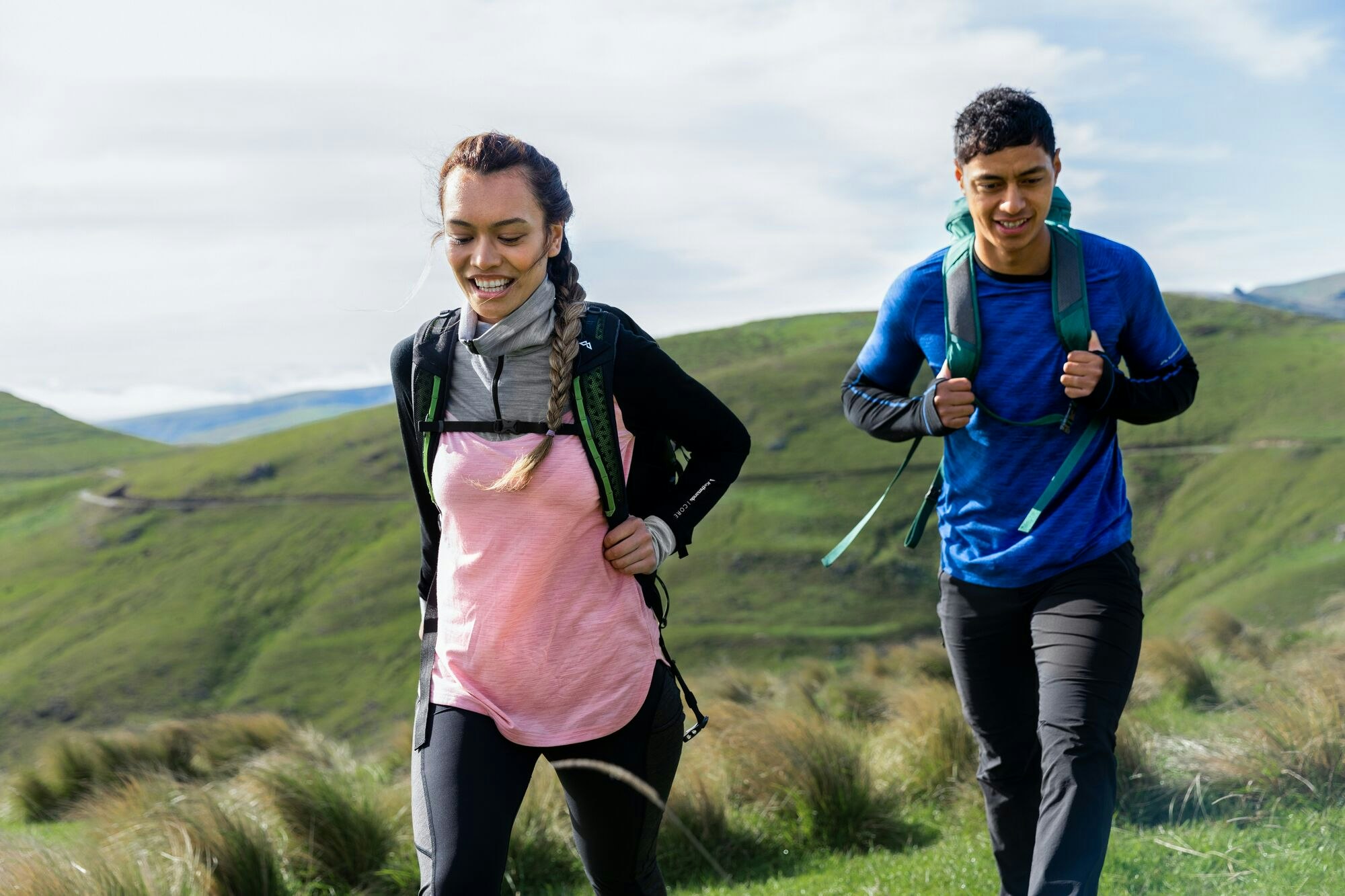 Merino has 'no stink' odour-resistance
It's not your perspiration that pongs but the build-up of bacteria that creates an unpleasant smell.
Unlike synthetic fibres, merino wool naturally resists bacteria and odour retention.
Merino is easy to wash and look after
Because merino resists odour, bacteria and stains, you don't need to wash it as often or as rigorously as synthetics.
Airing your merino overnight will usually freshen it for the following day. Kathmandu's merino clothes are machine-washable, so you don't have to worry about shrinkage or pilling – just follow the care instructions on the tag.
Merino keeps its shape for longer
Due to its fine fibre, merino wool is incredibly elastic and able to retain its shape after years of stretch, wear and repeated washing.
Whether you wear your merino running, skiing, rock-climbing, horse riding or while doing yoga (or all the above!), merino will stretch with your body as needed and then bounce back into shape.
Merino is a great all-rounder – you can wear it every day
The many natural benefits of merino wool – its moisture-wicking, insulating, temperature-regulating, odour-resistant, breathable and elastic qualities – provide exceptional comfort and protection in the outdoors.
---
Wear merino – stay warm and dry
---