We're taking the 'syn' out of synthetics with the Stockton Rain Jacket, our latest in sustainable innovation. The Stockton is made of three layers of recycled materials and includes our very first bio-based membrane – a better alternative to your typical synthetic textiles.
---
The management of land and natural resources is one of the most critical challenges facing our world today.
And we know that about 85% of the environmental impact of a product comes from the material it's made from.
With limited fossil fuel available — and an ever-growing mountain of post-consumer plastic waste in front of us — recycling, for now, seems to be the obvious answer.
Three layers of recycling in one jacket
Waterproof, windproof, breathable, and as eco-friendly as we could get — every layer of the Stockton Jacket was carefully considered for performance and environmental impact.
The external layer, or face fabric, packs an eco-friendly punch:
It contains Repreve, a fibre created from recycled plastic bottles. Each jacket diverts at least 35 bottles from landfill.
It's dyed with bluesign approved chemicals; dyes that are manufactured in a way that has minimal impact on the environment, factory workers and the consumer.
And it contains a bio-based membrane, a better alternative to your typical fossil-fuel based textiles. The bio-based membrane is derived from renewable natural resources like sugar cane.
The insulation layer and inner lining also contain 100% recycled polyester and bluesign approved chemicals. Polyester holds the title as the number one fibre used worldwide. Only 15% is produced using recycled materials – the rest is virgin polyester produced for consumer demand.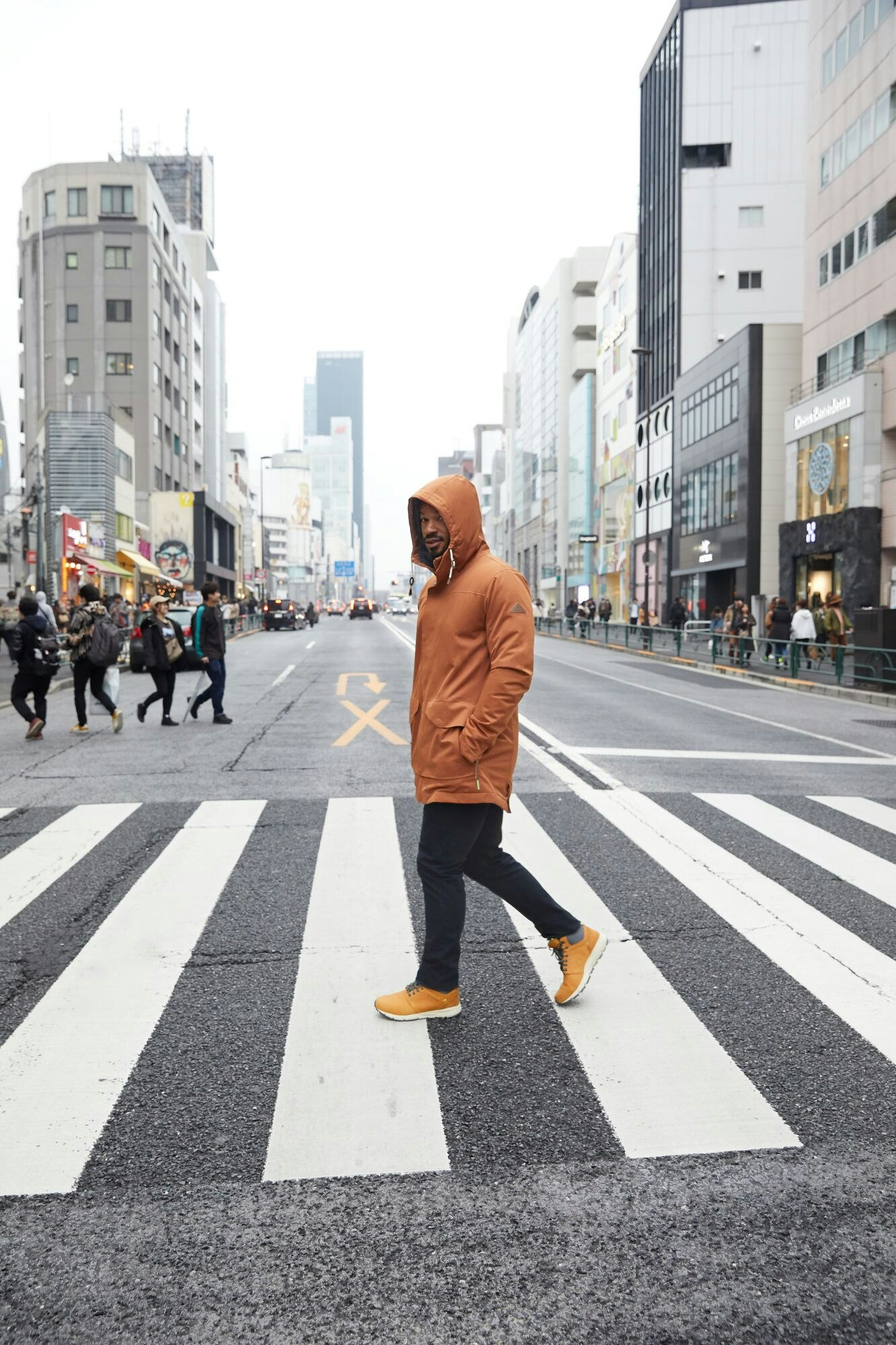 What makes a bio-based membrane so special?
At our current consumption levels, there could be just 50 years' worth of fossil fuel left. But as oil reserves decline (and the stability of oil comes under risk), alternatives like bio-based synthetics are on the rise.
The technology behind bio-based membranes means we can create high quality garments from renewable, natural resources.
The commercial bio-based synthetics that are currently available come from renewable sugars, starches and lipids. Think corn, beets, sugar cane and plant oils. In the future, there may be an opportunity to extend this to even broader range of renewables, including algae, fungi and bacteria.
Our vision is that bio-based synthetics will one day become a viable alternative to unrenewable synthetics.
The Stockton Jacket is part of the bigger picture
The future is positive for recycled materials and new technologies. Textile recyclers, fibre companies and eco-mills are leading the way in sustainable innovation, and industry collaboration aims to tackle the 'out of sight, out of mind' attitude towards waste.
Our industry challenge, and opportunity, is how to accelerate, replicate and bring more of these ideas to scale. And while the industry won't change overnight, it's starting to think differently.
In 1994 we incorporated recycled polyester into our gear. Since then, we've included recycled nylon, recycled cotton, recycled membrane and recycled spandex. The Stockton Jacket is the latest in 30 years of sustainable innovation.