Tips for camping with kids
The Lorrimers sold their home in 2015, piled their three kids in a camper van, and have been travelling around Australia ever since. Their and other people's incredible travels were featured as part of World Ready here!
---
My husband, Justin, and I have been travelling across Australia for more than three years with children from six weeks to six years of age. Camping with kids has its own set of challenges, but there are rewards we could never have dreamed of.
Our full-time caravan travels had us originally hit the road with a six-month-old baby plus a two and a three-year-old! We might sound crazy but it's been a life-changing experience. One of the things I love the most is the fantastic qualities and experiences our kids have gained from camping along the way.
Here are our tips for camping with kids, whether it be a weekend trip or a three-month adventure!
Before you hit the road
It always pays to plan ahead. While it's great to be spontaneous, it can be a little harder with kids in tow! It's good to know:
Where you're camping
What fees you might be up for
What to bring
Where to gather food
There's nothing worse than running out of food and water, so make sure you pack appropriately for the length of time you'll be away.
Check the weather
Avoid a torrential downpour or gusting winds by researching the local weather forecast for your camping area. If you're booking months in advance, give the Information Centre or National Park a call to find out what the weather's like at your desired time.
Set up a dummy run to test your gear
If it's your first time camping, opt for a dummy run before you take the kids. It really does make life easier when you know how to set up your camp. You can figure out if you're missing anything or require any essential items, like extra pegs.
Testing your gear to make sure it's in working order is essential. No one wants their air mattress deflating at 3am or to run out of gas while cooking the BBQ. Ensure you:
Refresh batteries in torches
Avoid overpacking
Keep to the essentials – but do pack for all kinds of weather
Write up a camping checklist
Now this one is a must for me. There's a lot to think about and it'll help put your mind at ease. Be sure to factor in what to bring to keep the kids busy.
Once you're at your campsite
Aim to arrive with enough time to set up your camp in daylight. This way you can give the kids a job like unpacking or setting up the tent. Kids love to get involved and feel like they've helped.
Prepare meals earlier
If you're arriving later in the day, have a meal prepared so you can make the dinner routine much easier. For example, cook a spaghetti bolognese before the drive and just pop it over some heat when you get there.
Think about meals that will engage the kids and are easy to cook once at the campsite. Of course, anything you can put on the grill over the fire is going to keep everyone happy: mushrooms, zucchini, capsicum, onion, snags, sliced potato. As long as they have supervision, giving the eldest some responsibility for the meals will keep not just the cook occupied but the younger ones will be captivated to see their older sibling cooking for them.
Want an easy recipe for damper to get the kids salivating? Check out our other meal ideas for camping with kids here.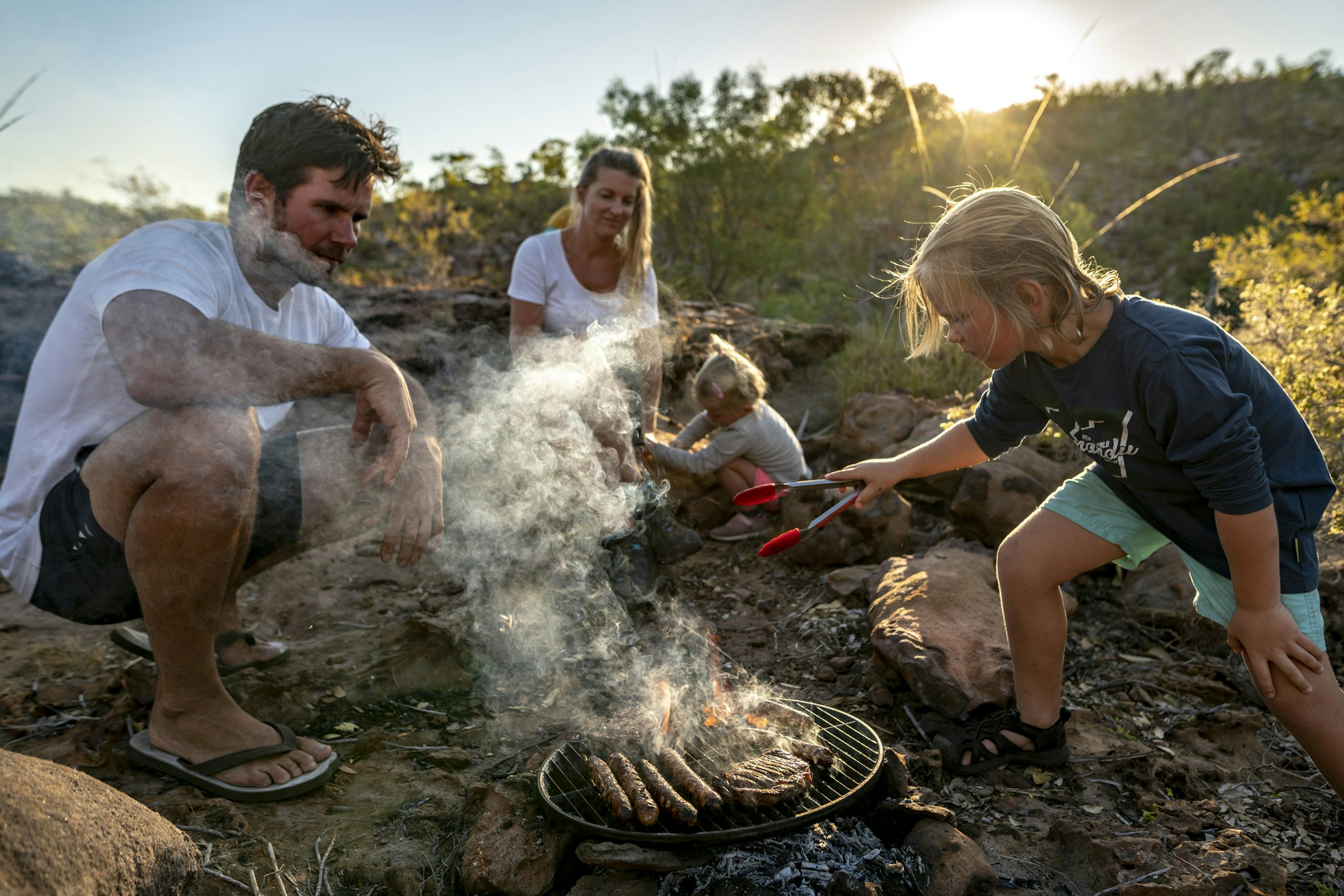 Pack games for wet weather
If you strike some bad weather, break out a few indoor games to keep the kids entertained. Some Lego, colouring-in books, puzzles, reading books and magnetic tiles will all do the trick.
Balance your kids independence with their safety
We want our kids to gain their independence but we also need to keep them safe. It's always a tricky one when camping with kids, but you can find a balance by:
Setting boundaries – around the distance older kids can venture from your campsite
Insisting on helmets – while they ride scooters or bikes
Informing your kids about vehicles – campsites can be full of cars that don't stick to speed limits so help them be vigilant
Making communication fun – get your kids some walkie talkies so they can contact you when they need to
Teach your kids camp etiquette
Kids need to be reminded about a few things every time you go camping. A few fundamentals include:
No running through someone else's campsite. Take a few extras steps around sites and teach your kids to do the same.
Teaching them to wake up quietly as most campers don't get up at the crack of dawn.
Encouraging them to keep some space between you and other campers.
Educating your kids on fires, as camping and fires usually go hand-in-hand. And remember to teach them about fire areas that can remain hot in the morning.
Establish a routine
To make your camping trip a smooth one, stick to your 'at home' routine as much as possible – and even more so with young kids. They're creatures of habit and routine so by following nap times throughout the day, this will ensure a good night's sleep.
Consider how you'll bath your kids
Load up on baby wipes and sanitiser as you might be skipping a shower if there aren't any facilities. Alternatively, look into a handy, lightweight camp shower. They're easy to use and your kids will go to bed nice and clean.
Toileting when there's no toilet
If you're camping in the bush or at the beach with no toileting facilities, a kid's portaloo is an essential item to bring. They're super handy when your child needs a midnight toilet stop.
Give them glow sticks
If your kids are up late and in the dark, glow sticks are a great way to keep track of them. They can wear them like a necklace, bracelet or anklet and they're easy to spot. Plus, they're loads of fun and a great way to keep them entertained.
---
It's important to unwind and completely remove yourself from your routines once in a while, and camping has a way of relaxing and giving your life more balance. Kids are adaptable and resilient and will flourish when given the freedoms and responsibilities that camping provides. They'll thrive on the ever-changing landscapes and constant adventures, while you will get to know parts of their personality that may never have come to the fore without nature's aid.