New Zealand's Great Walks are about to hit double digits. Located on the west coast of the South Island, the Paparoa Track crosses the stunning Paparoa Ranges between Blackball and Punakaiki. You can expect ancient rainforests, spectacular gorges and jaw-dropping views.
And while it may be the tenth Great Walk to make the list, it's the first Great Walk to feature a custom-built, shared trail for both hikers and mountain bike riders. Scheduled to open in December 2019, you could be one of the first to hit the trail. Here's what you'll need to know.
---
Paparoa Track Fast Facts
The track distance is 55.7 km. The Paparoa Track should take three days, two nights for your average hiker. Mountain bikers can expect to finish up in two days, one night.

Paparoa is classified as a Grade 4 (advanced) Track. You'll take on steep climbs, rocky terrain and the occasional scrambling. There are some separate sections for bikers to tackle this..

There'll also be a side trail - the Pike 29 Memorial Track which will cover a 10.8 km section to honour those who lost their lives in the 2010 Pike River explosions. Pike 29 is still under construction and will include a memorial centre at its conclusion.

The Paparoa Track will be open year-round, but check the New Zealand Department of Conservation website for any emergency closures.

To stay overnight, accommodation on the trail must be booked in advance.

It's New Zealand's first new Great Walk in 25 years, so it's kind of a big deal.
Paparoa Track Highlights
Admire the Pororari River Tracks, a spectacular river gorge surrounded by dramatic limestone cliffs and lush forests.

Relax after your first day with breathtaking views at Mountain Tops Hut. Watching the sun go down over the Tasman Sea is a special treat.

Get a history lesson on the Croseus Track. You'll find a 1930's miners hut and a 100-year-old quartz crushing battery.

Spot some of New Zealand's wild animals, including the world's only alpine parrot, the kea, and the endangered roroa, the great spotted kiwi.
Paparoa Track Overview
For hikers (two night, three day route)
Day 1: Smoke-ho car park to Moonlight Tops Hut (19.9 km, 6-8 hours)
Day 2: Moonlight Tops Hut to the Pororari Hut (18.7 km, 5-7 hours)
Day 3: Pororari Hut to the Pororari River Car Park (16.4 km, 4-5 hours)
For bikers (one night, two day route)
Day 1: Smoke-ho Car Park to Moonlight Tops Hut (20 km, 3-6 hours)
Day 2: Moonlight Tops Hut to Waikori Road Car Park (36.2 km, 6-9 hours)
Accommodation on the Paparoa Track
You'll find three Great Walk huts on the Paparoa Track. Most walkers will stay at Moonlight Tops Hut (20 bunks) and Pororari Hut (20 bunks), for the standard two night, three day journey.
For an alternative three night, four day journey, walkers can stay at Ces Clark Hut (16 bunks).
The huts have basic facilities to make your stay more comfortable including bunk beds, heating, gas cooktops, toilets and a water supply. You might also come across a park ranger.
Note that there are no showers, cooking utensils or food available so plan accordingly. There are no campsites on the Paparoa Track.
How much is the Paparoa Track?
If you want to pop in for a day trip, it's free to access the Paparoa National Park.
For multi-day hikers and bikers, you will need to book and pay for accommodation in advance. Adults can book a bunk in the Great Walk huts for $45 a night, and kids (17 years and under) can access the huts for free.
To ensure beds are available, you'll need to book all three huts for both adults and kids. Summer is the most popular time, so get in early!
One night, two day journey: $45 per adult
Two nights, three day journey: $90 per adult
Four night, three day journey: $135 per adult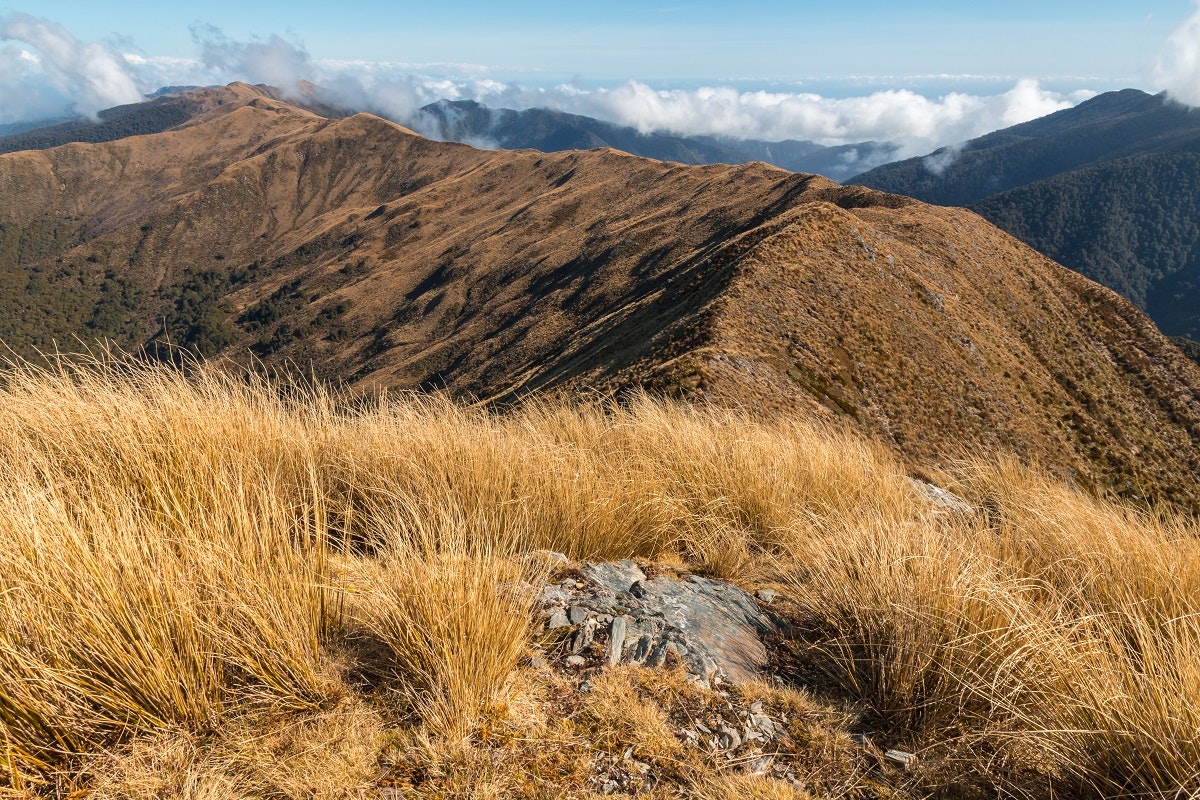 What to pack for the Paparoa Track
You'll need to be prepared for a multi-day hike in New Zealand's backcountry. The weather is wildly unpredictable, so whether you hike it or bike it, come prepared for rain, wind, and cold temperatures - especially on the exposed sections of the track.
Clothing for hikers
Hiking boots. Ideally waterproof. If you're not sure how to choose, check out 'how to choose hiking shoes'.

Hiking socks. You'll need a clean pair for each day to keep your feet dry. This will help minimise any potential blister hotspots.

Three baselayers or hiking shirts. No cotton please. The best base layers are light, breathable and quick-dry. Long or short sleeve is up to you, but long sleeve will give you added sun protection.

One or two fleece mid-layers. You can choose to bring a mid-layer specifically for hiking during the day, and another (cleaner) option to wear at night.

Hiking down jacket. You might choose to bring a lightweight down jacket instead of a spare fleece - they're compressible and easy to pack down.
Waterproof and windproof rain jacket. Essential for hiking in the NZ backcountry. The weather is unpredictable and can change quickly.

Two pairs of shorts or hiking pants. This is a personal comfort thing, but longer pants will help protect your skin from the sun and can help minimise scrapes from branches or falls. Bring at least two pairs in case of rain.

Waterproof and windproof rain pants. See the note about the rain jacket above. Legs get cold too!

Warm clothing to change into in the huts. It will depend on the time of the year (and if you're camping) but merino thermals and wool socks are a good start.

Quick-dry underwear.
Equipment
Hiking backpack 40-75L (find yours on What size backpack should I choose)

Waterproof bag liner (optional but highly recommended)

A three or four season sleeping bag (find out if you have the right one over at Sleeping Bags 101)

Sleeping bag liner (optional)

Water bladder and/or drink bottle

Headlamp and/or hand torch

First-Aid kit including an emergency blanket
Accessories and personal items
Sunglasses

Wide brimmed hat

Small microfibre towel

Beanie and gloves (in cold weather)

Walking poles (optional)

Dry bag (to protect important items)

Personal toiletries including medication and sunscreen

Mobile phone, battery charger and phone cord

Your hut or campground booking confirmation and photo ID

Earplugs (for any snorers in the bunks!)
Food and cooking
Hikers should allow food for three days (two nights) plus one day emergency supply. Cyclists should allow enough food for two days (one night) plus one day emergency supply.
Plan your food in advance to carry only what you need. Ingredients that travel well include oats, couscous, rice, powdered milk, salami, hard cheeses, wraps, and tinned fish. Good snack options include: Dried fruits, muesli bars, pretzels, snack-size chocolates and trail mix.
Consider throwing in a few freeze-dried meals; they're light, energy dense and easy to prepare (you just add boiling water). You can buy them ready-made or experiment with your own. Either way, there's something super comforting about a hot meal after a big day of hiking.
Kitchen items
Rubbish bags - enough to pack out all rubbish for your group

Lighter or matches in a waterproof container

All-in-one utensil set

Collapsible or lightweight kitchenware including bowls and mugs

Biodegradable detergent

Other personal items like coffee plungers
---