How to travel with camping gear
Kathmandu ambassadors Alesha and Jarryd are professional photographers, writers and founders of adventure travel blog NOMADasaurus. They've been exploring the world together since 2008, searching for culture and adventure in off-the-beaten-path destinations.
---
Whether you're thinking about hitting the trail for weeks on end, or just want to have the option to pitch your tent in awesome places, travelling with camping gear will give you a different kind of experience.
After travelling the world for over a decade with our lives (and our camping gear!) in our backpacks, we've learnt a thing or two. Here's our five best tips to travel with camping gear.
Choose the right gear
When choosing your camping gear for travel, you need to think about where you are going and what the conditions are going to be like.
Does it get cold at night? Is that time of year known for bad weather? Is it a hot and humid environment? All of this will determine what tent, sleeping bag and sleeping mat you need.
For example, there's no point carrying a 4-season tent if you're just going to be sleeping on the beaches of the Philippines, and likewise an expensive sleeping bag is useless if it's rated to +5 and you'll be sleeping in snowy climates.
Another thing to consider is what sleeping gear is best for you. Are you fine sleeping on hard ground? Or do you prefer to have more support? If you need more support sleeping, you may consider a camping bed (if you're car-camping) or a thicker sleeping mat (if you're on the trail).
If you're carrying your camping gear, look for a backpack that has an excellent harness with great comfort and support for you.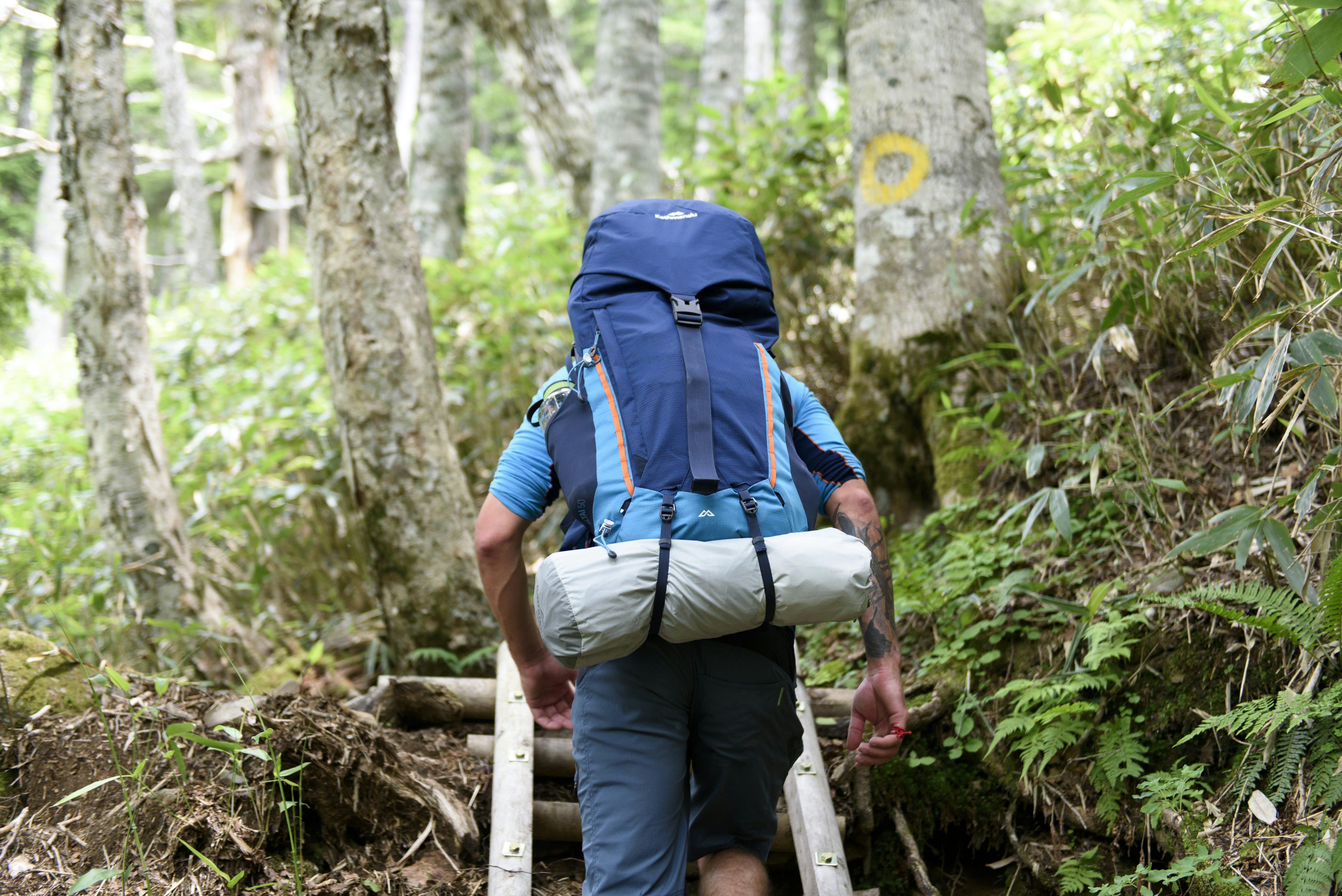 Look for quality over quantity
The trick to travelling with camping gear is to focus on quality over quantity. That's because the good quality gear lasts, and if you're on the road you're less likely to be able to replace something if it breaks.
We made the mistake of buying cheap equipment in the past, and it would either get damaged on the first trip out, or we found it wears out before our travels are over. Trust us, camping in a leaky tent during a rainstorm in Mongolia is not fun.
You'll want your camping gear to last for years, not weeks, right? Do your research before you make the purchase and be prepared to pay a little bit extra for something of a higher quality.
This is especially true with sleeping bags if you're planning on travelling somewhere that gets cold at night, like Patagonia. A sleepless night due to being in a cheap sleeping bag is a horrible thing to experience.
Learn how to fix your camping gear
Common issues on multi-day or multi-week hikes are tears in your clothes from brushing against a particularly nasty branch or getting snagged on a rock as well as breakages to your gear, such as your tent poles.
A pair of pliers are your best friend when travelling with camping gear, as they can be used for things like fixing zippers to mending tent poles. A multi-use tool is invaluable, especially when it comes to scissors, pliers and a blade.
Pack light
It's important to think about exactly what you need to pack before you make your purchases.
Do your research and buy only what you will feel comfortable carrying. While it's nice to have every nifty accessory on the market, it may not all fit in your backpack. And trust us, the less you carry, the happier you'll be.
Once you've figured out your style of trip, do your research, and write down a list of what you need.
Get good quality, lightweight gear that is the right size for your party. If there are two of you, you don't need a 5-person tent. Same with cooking gear. Do you really need an entire pot set for a family if it's just you travelling, or can you do with less?
If you're car camping, you don't need to worry about the weight of your camping gear on your back so you're able to have more comfort equipment, like a kitchen set and some comfortable camping chairs.
If you are backpacking with all your camping gear, shop for a lightweight tent, a small stove and light sleeping equipment. Remember, the lighter your pack, the further you'll go.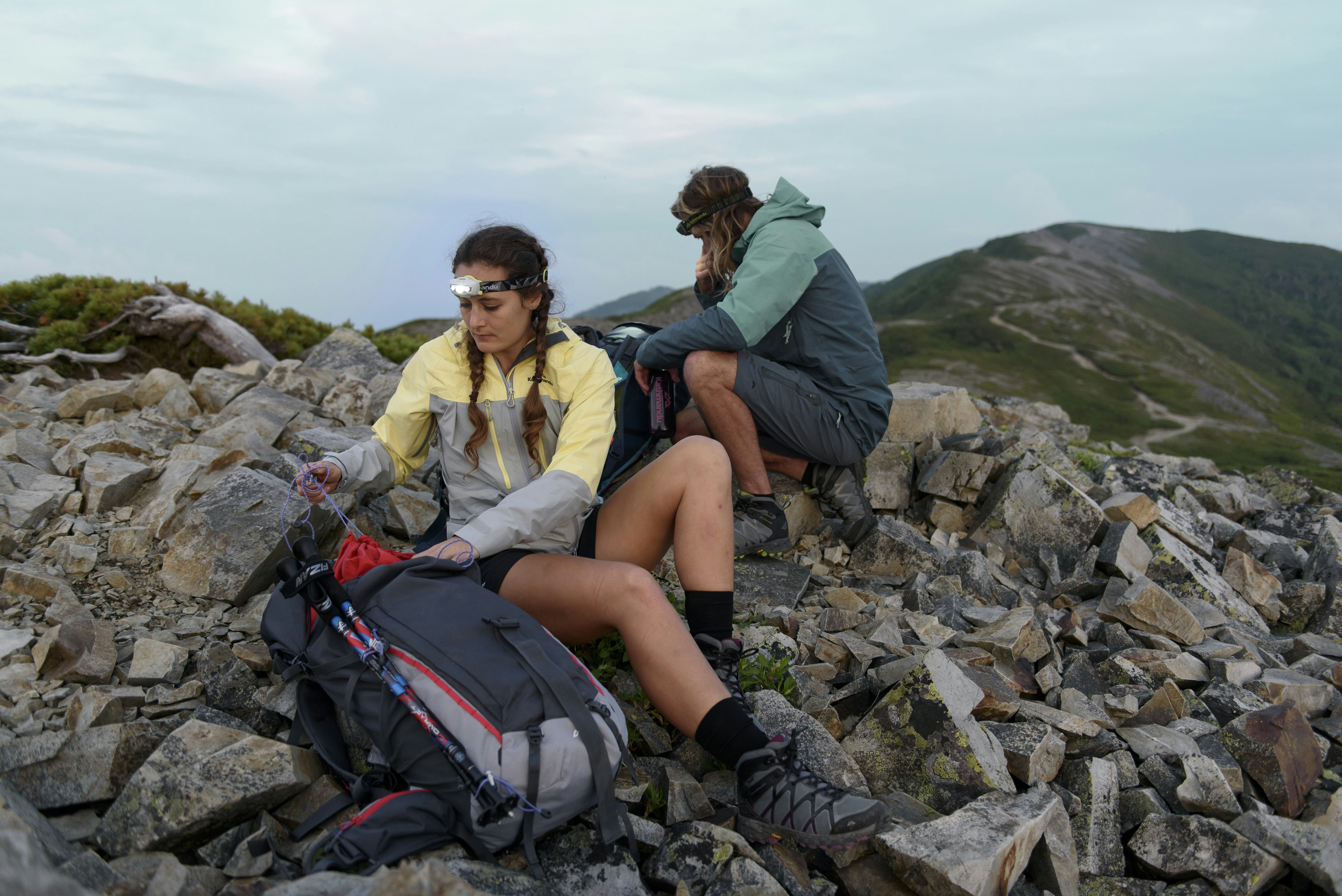 Organise your pack
To get properly organised you'll need to practice before you leave. This means a lot of unpacking and packing at home, and maybe going on some test trips.
Think about what order you will need things and how often you'll need to access them. Your tent and sleeping gear you only need when you're at camp, so these can stay near the bottom of your backpack.
Your cooking gear may be better packed in a more accessible location, as you might want to boil up some water during the day.
If you're travelling as a couple or with friends, separate your gear between everyone. This helps keep the loads light, and you can delegate jobs to people for proper efficiency (for example one person carries the camping gear but doesn't need to unpack during the day, but the other carries the light cooking gear and is happy to open up their pack for snacks, lunches, etc).
Packing cells are a great way to keep all of your gear organised, as are compression sacks for making the volume of bulky items like sleeping bags smaller in your pack.
By keeping yourself organised, camping is more efficient, easier to manage and of course more enjoyable!
---