Alesha and Jarryd are professional photographers, writers, and the founders of Australia's biggest adventure travel blog, NOMADasaurus. They've been exploring the world together since 2008, searching for culture and adventure in off the beaten path destinations.
---
If you want to take better photos on your travels, you'll need to understand what gear to bring and how to travel with it. These are our quick tips for travelling with camera equipment from years of lugging it across the globe.
Narrow down your camera equipment when travelling
We travel as light as we can. Unfortunately, camera equipment is usually heavy, and narrowing down what you really need when travelling with a camera or a whole suite of gear can be a pain.
But unless you're a professional, don't get caught up thinking you need every piece of kit on the market to get the best pictures. Instead, narrow it down to the essentials – one good camera body, one or two lenses that cover a large focal range (wide and tele lenses for example) and your accessories.
If you're just starting out, look for something more compact and light. For those just venturing out into the world of adventure and travel photography, travelling with a camera may not be a big deal if you start out with a good quality point-and-shoot or a mirrorless set-up rather than a DSLR.
Choose the right camera accessories
To keep packing easy, keep the accessories as minimal as possible. A good starting list is:
Batteries. If you've got access to power most days, pack just one or two spare batteries.
SD Cards. Stick to two or three SD cards unless you want to take upwards of 2000 photos a day.
Portable hard drive. To back up photos when you've finished shooting.
The same can be said for filters. A circular polariser filter can be very useful, but unless you know you'll be taking long exposures during the day, you can probably leave the other ND filters at home.
The one accessory that is a necessity if you plan on shooting landscapes in low light or taking photos at night is a tripod. Luckily there are plenty of good quality, lightweight options on the market. Check out aluminium tripods, or if your budget allows, go carbon fibre. Yes, this does make travelling with a camera that much harder, but it will revolutionise your travel photography. You can opt for miniature tripods that you can place on ledges, but these rely on their being a ledge for your shot (in other words, an existing structural tripod for your camera)
Pack for airport security
Throwing your expensive camera gear under the plane is a sure-fire way to damage it, so carry-on is the only option when travelling with a camera.
You might draw the attention of airport security with a bag full of electronics and cables, and occasionally you'll be asked to empty your bag to show them what's inside.
To avoid unpacking your gear all over the airport, keep your camera gear in easy-to-organise pouches, so you can pull them out of your backpack and repack them quickly. Pack your like-for-like things together, such as cables, SD cards, filters, etc.
One common question photographers have is if they're allowed to bring a tripod as carry-on. The answer is yes, as long as the weight and size is reasonable.
Daily travel with camera equipment
You don't want to miss a moment, so it's best to keep your day-to-day photography gear as accessible as possible.
A dedicated camera bag is very useful. They open up nice and wide with padded compartments so you can organise your camera bodies, lenses, filters and accessories. However, they often don't have much room for other travel gear, and can be overkill if you don't have a lot of camera equipment.
Another option is to insert camera packing cubes into a solid travel backpack. I keep the essential photography gear (like my spare lens and batteries) at the top of the Transfer Pack so I can access them quickly. Zipper pouches are great for keeping these small pieces together.
Hanging your camera off you with a strap is the norm when you're travelling with a camera around various towns and tourist spots, but if you'd rather it sit snug against you, check out some dedicated camera clips which can attach your camera directly to your backpack harness.
That said, make sure you protect your gear at all times. For example, don't leave it unattended in a vehicle unless locked in a boot or flash your expensive camera in a busy market. You might jeopardise your travel insurance, which leads us to our next point…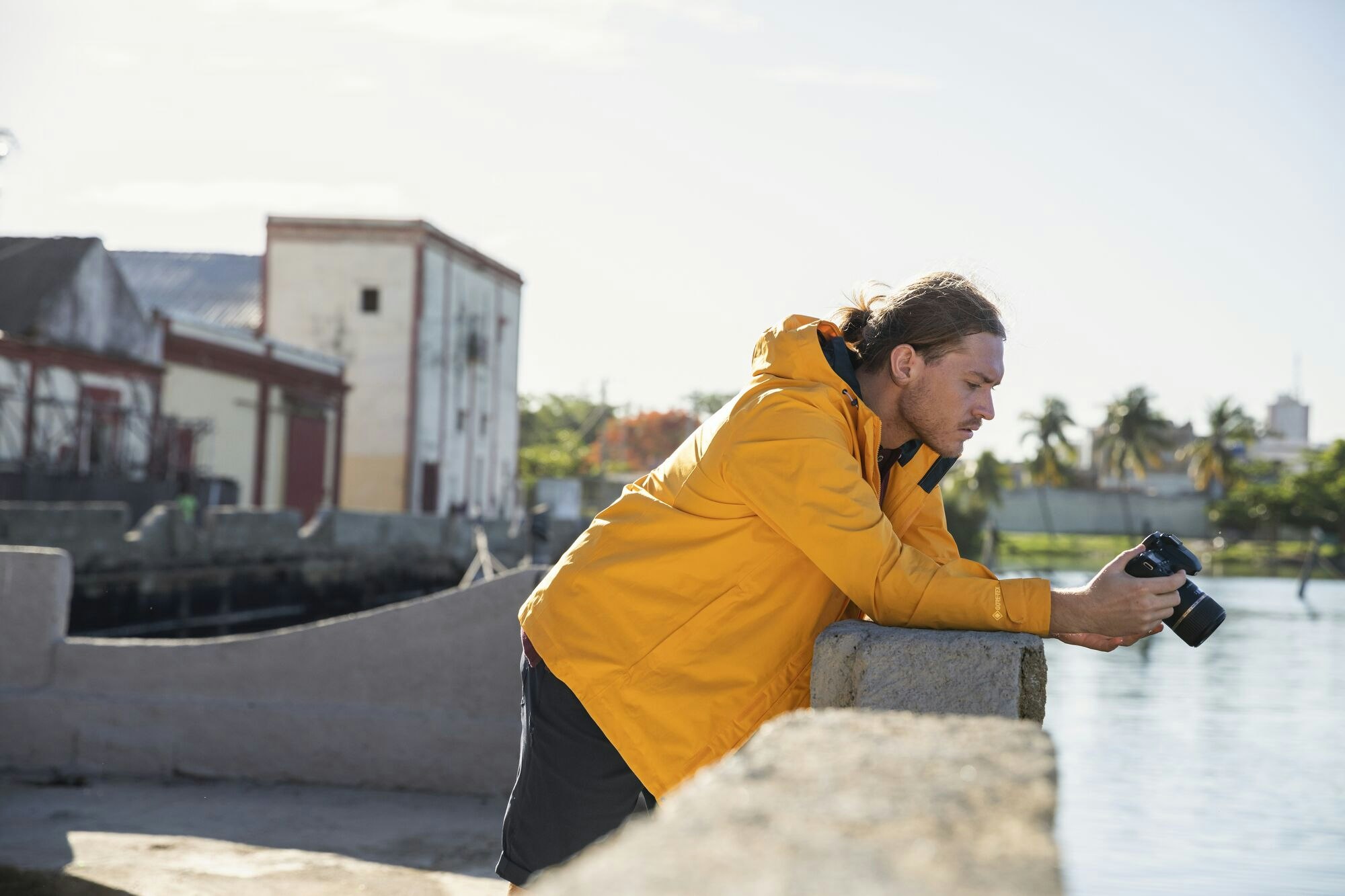 Insure your camera equipment
Sometimes things go wrong when you travel with a camera. Very wrong. You might accidentally damage your camera gear, or even worse, have it stolen. Getting good insurance is essential.
Make sure you read the fine print on all insurance policies, particularly for general travel insurance. Often they'll only cover up to a certain value ($1,000 for example), and include any lenses attached to a camera body as one item. Not great if you travel with professional gear.
If you're like us and travel with expensive camera equipment, it's best to get dedicated camera insurance.
You're ready to capture more moments, now get ready for anything with travel gear for every adventure.