Kathmandu ambassadors Alesha and Jarryd are professional photographers, writers and founders of adventure travel blog NOMADasaurus. They've been exploring the world together since 2008, searching for culture and adventure in off-the-beaten-path destinations.
---
For some, 'travel' still conjures up images of expensive resorts and fast-draining bank accounts. But with a little bit of know-how, a tight budget won't stop you from visiting incredible destinations. Here are our tips for travelling on the cheap.
Choose more affordable countries
There are a few benefits to getting off the beaten trail – and making your money go further is a big one. For instance, Western Europe can be quite expensive but in Eastern Europe the exchange rate will help stretch your budget.
Having travelled ourselves for over 10 years, we have collected a library of information for travellers. Check out our 'destinations' page to find information on over 80 countries around the world.
Travelling to less expensive countries does more than just save you money. According to research Kathmandu ran as part of the Helpful or Harmful campaign, only 1 in 4 Aussies and Kiwis seek authentic, local experiences when they travel. With the number of international travellers per year expected to hit 1.8 billion by 2030, getting off the beaten track will help you find true and unique experiences on the road, while bringing much-needed money into lesser-known destinations and their economies.
Travel slow
If you want to keep your budget down and get deeper into local life, you'll need to slow down. If you're rushing from one destination to the next you don't have a chance to really learn about the places you're in.
If you can stay somewhere for a week or more, you'll find the best cheap eateries, hidden parks and you might even make some local friends or join a couple of community projects.
Travelling slow is our absolute top tip for sticking to a budget while maximising your life changing experiences.
Stay with locals
There's no better way to get to know a place than by letting a local show you around. But how do you do that without hiring a guide? Try staying with one!
Couchsurfing is a community website where people offer their couches, spare rooms or spaces to travellers to stay for free. You simply create a public profile, verify your identity, and then you can start hosting or surfing around the world.
We've used it all over the world, and it isn't just about getting free accommodation. You get to spend quality time with a local.
Our first Couchsurfing experience was in Halifax, Canada. What was meant to be a one night stay turned into seven days spent hiking, cliff diving and getting to know our host. In fact, nine years later, he's still a good friend of ours.
Join free walking tours
Many major cities around the world offer free walking tours (often run by enthusiastic local volunteers) to give you the perfect introduction to a new destination.
These are a great way to discover new cities, learn about their history and meet awesome people as well.
Take advantage of having a local guide and ask them for their insider tips, favourite bars and restaurants, and places not to miss that may be off the tourist trail. While the walking tours are free, it's still customary to tip your guide. Bring a little cash to say thanks.
Look for special deal websites
There are a bunch of websites who specialise in good deals across activities and accommodation across the world.
In New Zealand, there's one called Book Me, where you can book big ticket activities like bungy jumping, jet boating and rafting for a fraction of the full price. We used this a lot during our recent trip to NZ, and it meant we got to do more activities than we otherwise could have afforded.
In Australia, you can use Red Balloon to do things like sky diving or climbing the Sydney Harbour Bridge.
Choose experiences over accommodation
Make the most out of your travels by spending your money on awesome things to do rather than fancy hotels.
For the most part, all you really use your hotel room for is storage and sleeping (you're going to be out hiking and sightseeing all day, right?). So why fork out hundreds of dollars for the nicest hotel in town, when you can get something much more affordable and have money left over to do something epic?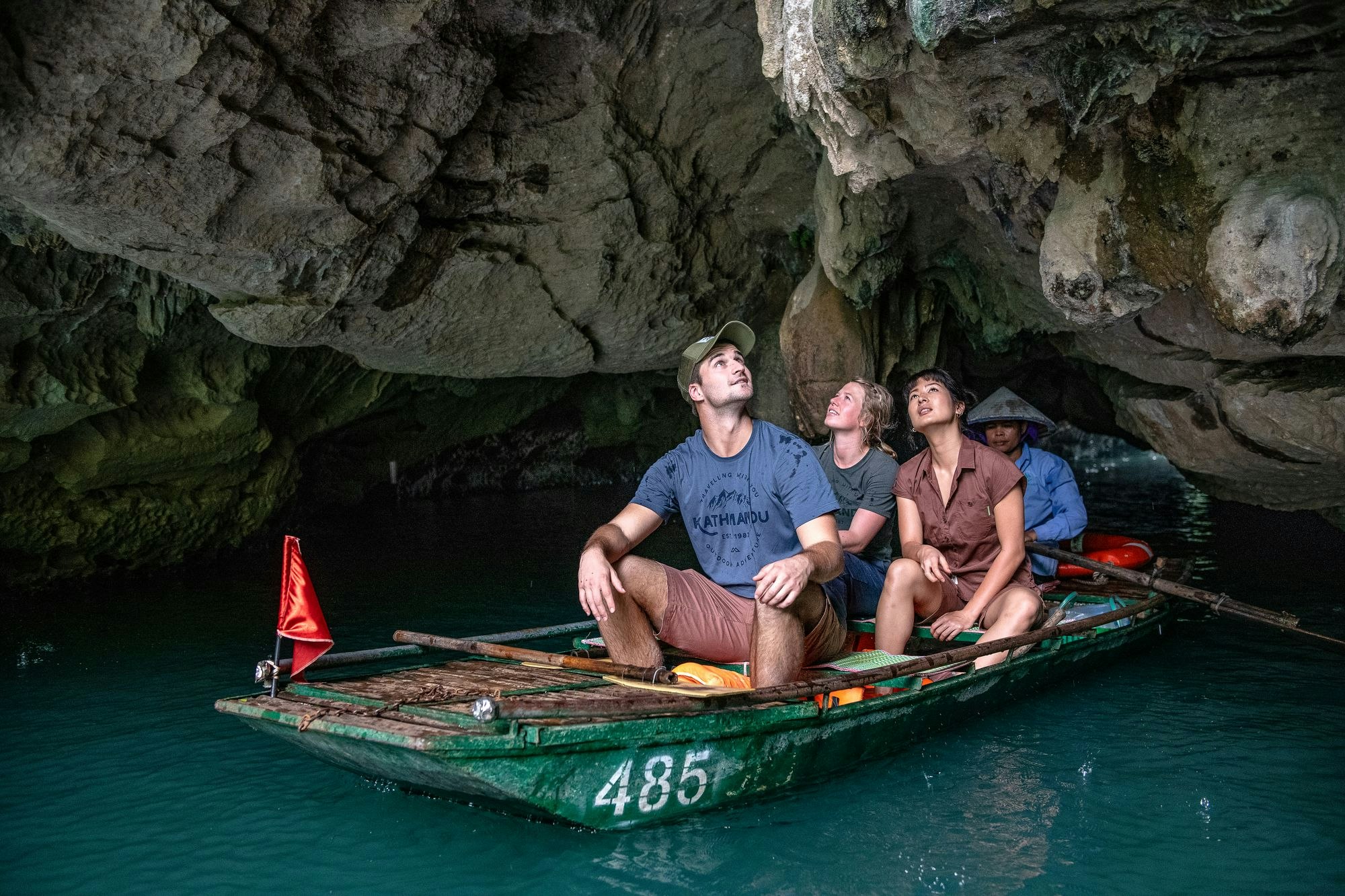 Eat at street markets
Eating local cuisine is one of the most important and enjoyable things you can do on the road. And if you're in Asia or Latin America, the best places to delve into traditional delicacies are on the streets.
Street food markets are big business in these regions, and this is where many of the locals will go to eat. Not only is the food cheap, fresh and delicious, you'll get a great view into local life.
Let your inhibitions down, pick a popular place with a high turnover of food and dive into whatever it is they're selling. Grab a plastic chair, get chatting with the locals and eat the night away.
Travel during the off-season
If you've ever tried to book plane tickets to Bali at Christmas, you'll know that prices in peak season can skyrocket. Accommodation, transport, activities – all of these have a premium cost when the crowds are buzzing.
A great way to save money is to travel in the off-season. You can usually:
Get better deals for big expenses like accommodation
Enjoy popular destinations more as they're much quieter
Have a more relaxed and intimate time in a country.
Sure, you might experience less than perfect weather, but it's a small price to pay in order to have some of the world's best cities all to yourself.