How to prepare for a Himalayan trek
Stunning scenery. Morning prayers at temple. Sublime views of Everest. Trekking through the Himalaya is truly a one-of-a-kind experience. And if you're planning on a visit, it's important to prepare with the right gear.
---
First off, aim to hike in favourable conditions. With a long, cold winter from mid-November to March, and heavy monsoon rains in July and August, it's no wonder the word Himalaya originates from the Indian Sanskrit words 'Hi-ma' meaning 'snow' and 'a-la-ya' translating into 'abode.' To avoid your very own snow abode, your best bet might be spring or autumn.
Whatever time you choose, it's essential you prepare the right gear to help keep safe.
Put your feet first
The average person takes 1,250 steps to walk just a kilometre — suggesting the body parts you'll need to protect most when trekking are your feet. Put them first and invest in a quality pair of mid to high hiking boots.
You'll need footwear with plenty of support and ventilation — and water resistance. Don't forget to bring some sandals for mornings and evenings when your feet will need a rest from your hiking boots.
Tough it out with durable socks
Your choice of socks are just as important as your boots. Go for a few pairs of hiking socks — for instance, if you plan on smashing out a 15 day trek, think about taking at least four pairs of tough, comfortable hiking socks.
This way you'll have a pair to wear, a pair for the following day, a pair for emergencies, and a pair strapped to the outside of your pack drying out in the Himalayan sun.
When selecting the ideal socks for your hiking trip, consider:
Fit. Blisters are an unwelcome addition to long hiking days.
Cushioning. The amount of cushioning will affect the warmth and comfort of your feet.
Height. You don't want socks that disappear into your boots.
Fabric. Weigh up the benefits of polyester, merino or nylon socks.
Ideally, you'll want to wear in your new boots and socks a few months before you set out on your expedition.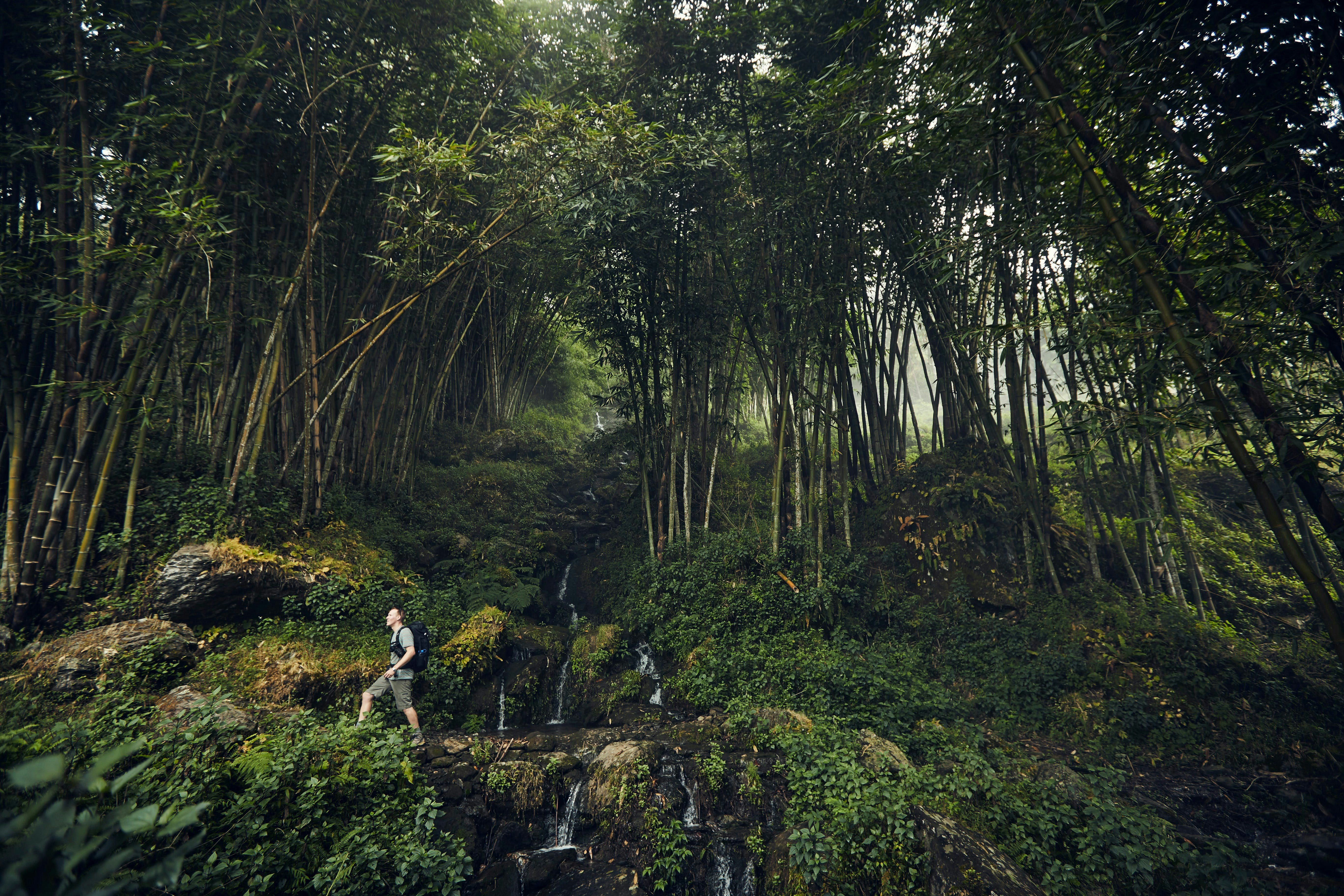 Layer up to tackle unpredictable weather
One of the major decisions you'll be facing is how many layers to take. Don't bring enough layering options and you could get in trouble — carry too many and the extra bulk may weigh you down.
Your optimum number of layers will likely be three or four. Think about taking:
A base layer. Manage your sweat and moisture with a layer that's close to your skin.
Two mid-layers. A thinner layer made of fleece or merino for versatility and a thicker layer like a down or synthetic jacket to keep cold air at bay.
A shell. Stay dry with a waterproof jacket. You could even invest in an outer layer jacket that protects you from both rain and wind — and drop a mid-layer.
Take into account your need to be comfortable with so many layers on, while carrying a pack and expending energy.
Sleep well in relative comfort
A good night's sleep is a non-negotiable when hiking a multiday trek. A poor sleep will lead to tiring day of hiking, which can lead to another poor sleep — a cycle you'll want to avoid.
So if you're thinking of pulling weight out of your pack, leave your sleep gear alone and opt for something that won't disturb your rest.
You'll want a:
Sleeping bag. One that's not too heavy and keeps you warm a few degrees lower than you're expecting.
Sleeping mattress. So you don't feel the cold and wake up refreshed.
Pillow. Think about using your down jacket or wrapping your fleece around your mat.
Although most trekking through places like Nepal is village-to-village, consider taking a tent for emergency shelter or to sleep outdoors. And if you're expecting snow, you'll need one that can support snow. Remember to bring some dehydrated foods and a cooking stove if you are planning to camp.
Pack light but pack smart
Determining the right size and shape for your pack is a crucial decision. You don't want to be carrying too much weight. You also have the option of hiring a porter so you don't want a large pack that ends up filled with air.
Some items you'll need to pack are obvious, like a head lamp, beanie, gloves and sunglasses. Others will help make your Nepal trek more enjoyable and comfortable.
They include:
Micro fibre face cloths. You'll likely be bathing out of a small bowl in Himalayan villages.
A neck gaiter. To keep the dust out of your mouth.
Sunscreen and moisturiser. The air can be cold and your skin could dry out.
Modest underwear. After all, you'll be washing it in public!
The luminAID Packlite Nova can light up your campsite or signal for help in an emergency. You'll also be assisting the Australian Himalaya Foundation (AHF) to help Nepalese communities that lack reliable electricity.
Understand altitude sickness and hydration
Boiling water before drinking is an everyday necessity in the Himalaya. Be sure to take two water bottles. You'll be able to interchange them, boiling water for one after dinner and the other post-breakfast.
Altitude sickness can hit you regardless of your fitness level — the symptoms of which become more obvious above 2,500 metres. Before you go, research more about altitude sickness and be prepared by:
Staying hydrated
Gaining altitude moderately
Carrying an effective recovery treatment like brown sugar and ginger (mixed with boiling water)
The Himalaya is one of the world's premier trekking destinations, but it's also an unpredictable, high-altitude environment. Prepare well and take the gear you'll really need.
---