How to choose trail running shoes
Former winter Olympian, Ironman and Kathmandu Coast to Coast Race Director, Richard Ussher, knows a thing or two about running on tricky surfaces. He shares his top tips on how to select the best trail running shoes.
---
What to consider when choosing a trail running shoe
When you're looking at a trail shoe, think about two main things: trail type and trail distance.
TRAIL TYPE
The type of trail you normally run will shape:
The kind of sole you need for grip
What protection you may want to consider.
Whether your shoe drains water well or is waterproof.
Muddy conditions: if you run somewhere where it's often muddy, you'll want a longer spike-style sole.
Dry, rocky riverbeds and flowing river crossings: If you're running on wet rocks and roots, look for a sole with a bit more contact area to give you better grip on the slippery surfaces.
There are also a range of rubber compounds that footwear companies use. If you're running on wet, smooth rocks, consider a sticky rubber to help you cling to them. You'll gain more speed and confidence.
Snow: opt for breathability, water-resistance, insulation, durability and grip. Consider investing in strap-on spikes.
If you're planning on running in snow or very damp environments, a pair of waterproof runners will help keep your feet dry. But if you're likely to be crossing rivers or streams where water will get inside your shoe, it's better to have footwear that drains well. This is a better result than ending up with 'foot soup' inside your waterproof shoe — a precursor to blisters.
Dirt trails: look for trail running shoes that have strong support, good cushioning and are breathable. You want to avoid friction from sweating when running in hot conditions.
Beach trails: while all of the above are important, you may want to opt for a lighter trail running shoe when tackling coastal trails, as you will likely sink slightly in the sandy ground with each step.
If you want to simplify things, break it down to the two main types of trails:
Soft trails
A longer, more aggressive spike-style sole will serve you well on soft forest trails, steep climbs or descents, sand, gravel, mud and grass.
This kind of sole will dig in and give you good traction. Wide spacing between the knobs (lugs) will allow mud and other debris to clear quickly.
On harder, rockier terrain, these aggressive soles can become quite slippery because they have very little contact with the surface and can't dig into the ground.
Hard trails
Go for a sole with more surface area to contact the ground. You can still run in a shoe with semi-aggressive knobs, but they'll often have wider, flatter contact points. There can also be a secondary pattern at the point of contact — helping you pick up small ridges and features on the surface to gain extra grip.
However, expect this type of sole pattern to clog up easier with mud, and lose traction on loose descents.
TRAIL DISTANCE
There are two parts to this – based on performance and comfort.
Shorter distances
If you're looking at shorter distances, you'll be running faster —so the weight of your shoes will become more of a factor in your performance. You'll also need less cushioning to be comfortable.
Longer distances
If you generally run longer distances, you'll need to reduce fatigue and maintain comfort to have a greater effect on your performance.
Plenty of runners have a pair of training shoes which are heavier with more cushioning, and a light pair for race day to run with the least extra weight possible. This may help with performance, but compromise their comfort.
However, flexible shoes are also a great tool to strengthen your weak points.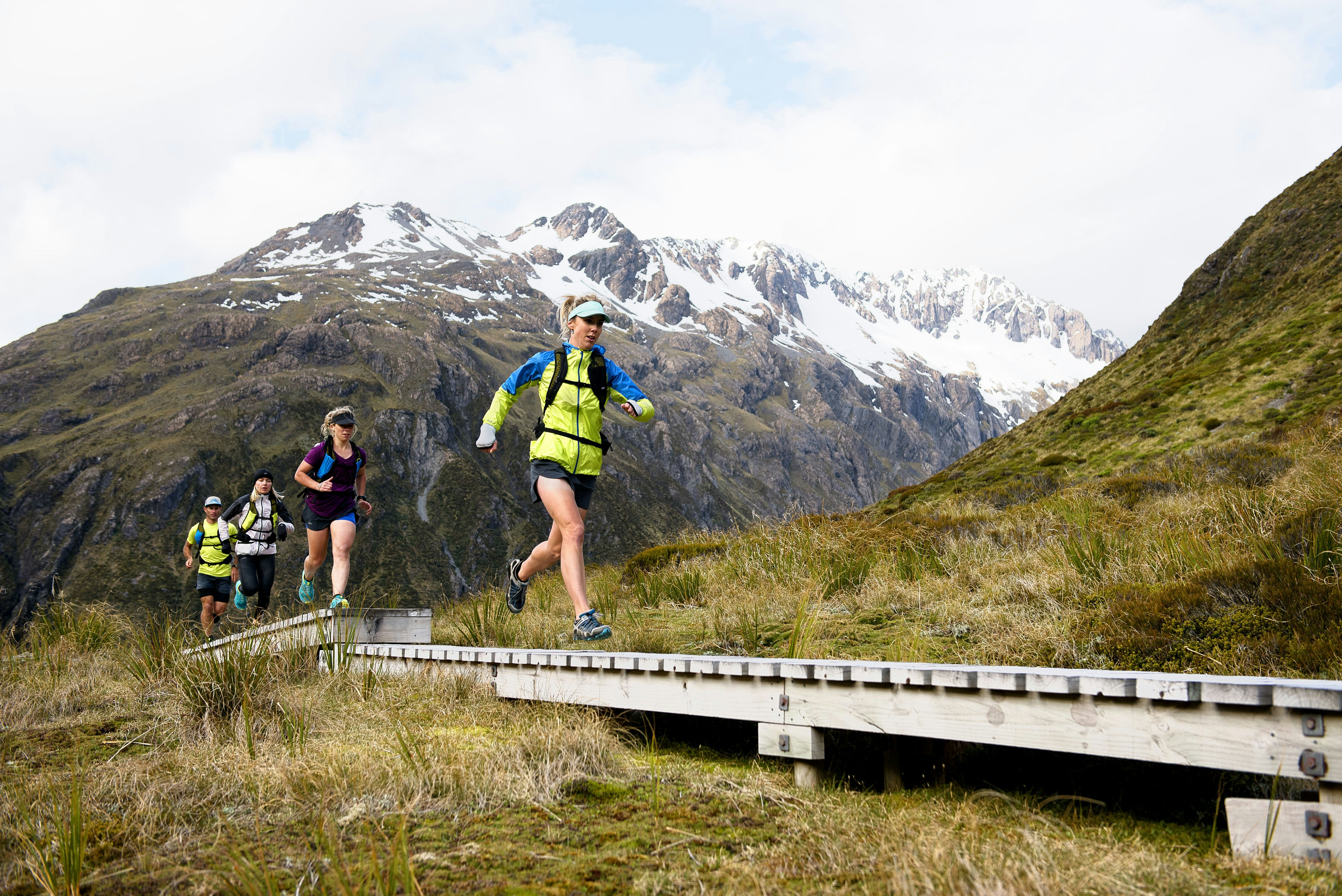 What else should you look out for when choosing trail running shoes?
Protection
Look for the amount of protection your shoe gives you underfoot and around the sides. Generally the rougher the trail, the more protection you'll want — to avoid bashing up your feet.
But you may need less stack height (the thickness under your foot) to help lower the chances of rolling your ankles. This all depends on the individual and the run at hand.
Cushioning
The right cushioning will depend on:
Your running style and experience
The kind of shoes you're used to running in
Type of terrain
How long you're aiming to run – this is especially important
Your weight and speed
Your focus – competitive or recreational
As a basic rule of thumb, if you're running longer distances or you're a heavier runner look at more cushioning.
If you're a lighter runner or you're aiming for more speed, you won't need as much cushioning.
Fit
Try a range of shoes and chose a pair based on personal feel and professional advice. Consider the built-in structure or support in the shoe, how wide or narrow it is, and the arch height.
Why should you care about your 'foot type' when choosing a trail running shoe?
Trail shoes generally have less structure than a lot of road shoes, enabling them to mould more effectively to uneven surfaces.
If you have any weaknesses in your feet, it can take a while to strengthen them — along with your lower legs — so that you can run in more flexible shoes without increasing your risk of injury. However, flexible shoes are a great tool to strengthen your weak points.
Speak to an expert
Running shoes come in a variety of shapes and sizes, so finding knowledgeable footwear staff to help fit a shoe that suits your particular foot shape is important.
Whether you have flat, skinny or wide feet, or high arches, there will be a shoe that fits you optimally — to help you run with more comfort and less chance of injury.
What tips would you give a beginner who's choosing a trail running shoe?
I'd recommend getting some professional advice if you're new to running and to make sure you try a variety of brands. Shoes are very personal — you should trust how a shoe feels for you.
A great place to start is instore. It's also worth talking to people who've found what works for them — but this will be more relevant if the person is at a similar level and has a comparable body type to you.
Ultimately, think about the type of running you're aiming for. You can expect that over time (as you develop as a trail runner) your footwear requirements will change.
---