Your shoe wardrobe is like a golf bag – ideally it'll have a variety of unique shoes for different intended uses. Road and trail running shoes are like two of those clubs in your bag. And to best use them, it's important to understand their key differences.
Our guide will help you decide on the right type of running shoes for your chosen terrain.
---
All running shoes are designed with two main objectives:
To protect your feet and body from injury
To maximize your speed
Let's start with looks
Compare the general look of road running and trail running shoes, and you'll see there are a couple of clear visual differences.
Trail running shoes are constructed with more robust uppers and they have deeper lugs on their soles, so they can handle the type of terrain they're designed for.
Shoes made for running on the road have flatter soles that hold up better to frequent friction on paved surfaces.
Stripping down the composition
Your running shoes are created with a plethora of science and technology behind them. However, they're still constructed from the following three fundamental parts.
The outsole
The outsoles of your trail running shoes focus on grip and protection.
Without the right footwear, traversing over tree roots, rocks, mud and uneven track (as you get increasingly fatigued) is a recipe for slips and falls.
More extensive tread means more traction. Think about comparing a heavily treaded rally car tyre to a slick Formula One tyre. It's the same concept with running shoes:
Trail runners have deeper lugs and sticky rubbers to help your feet grip wet rocks and slippery tree roots
Road runners have flatter soles with shallow lugs to lesson friction and maximize your speed
The tread pattern on your shoes can aid downhill braking – essential when trail running.
The midsole
The midsoles of your trail running shoes focus on cushioning and vibration absorption.
Smack bang between the outsole and the upper of your shoe, sits the midsole. It's the stability layer of both your running and trail running shoe.
Road running shoes tend to have softer cushioning in their midsoles, while trail runners:
Have thin layers of plastic (stone plates) to help prevent your feet getting bruised by stones
Are generally stiffer for more support on uneven, rugged trails
The upper
The uppers of your trail running shoes focus on wrapping and protection.
The upper part of your shoe consists of the laces, mesh, tongue and heel cup. It's a crucial component for holding your shoe together and keeping your foot snuggly secure.
Trail running shoes are:
Built rugged – to protect your feet from objects you'll encounter when running
Reinforced in high wear areas – with synthetic overlays around the heels, toes and side areas
You'll also notice that your trail running shoes have more pronounced toe boxes, so you can really feel the ground beneath your feet.
On the other hand, road shoes have less reinforcement in their uppers. Instead, they're constructed with plenty of mesh to keep them breathable and lightweight.
Lacing
Many pairs of trail running shoes have a lacing garage. It's an area on the tongue of your shoes for stuffing the loops of your laces out of the way – so they won't hook on any trail debris.
Navigating your preferred terrain
Your running intent is vital when choosing a pair of shoes. To efficiently navigate your preferred terrain, these key points should be considered. Trail running shoes:
Have wide soles with prominent lugs – to provide traction and stability on rough surfaces
Are built to be highly flexible – to adapt to off-road environments
Have softer rubber compounds – to conform better to the ground
Contrastingly, road running shoes:
Have a combination of responsiveness and impact protection – with a focus on breathability
Are made from lightweight materials – to encourage speed
Have relatively thin tread – to suit flatter, paved surfaces
Trail running's about protection while road running's about speed so it's critical you take into account the kind of trails you plan to run on.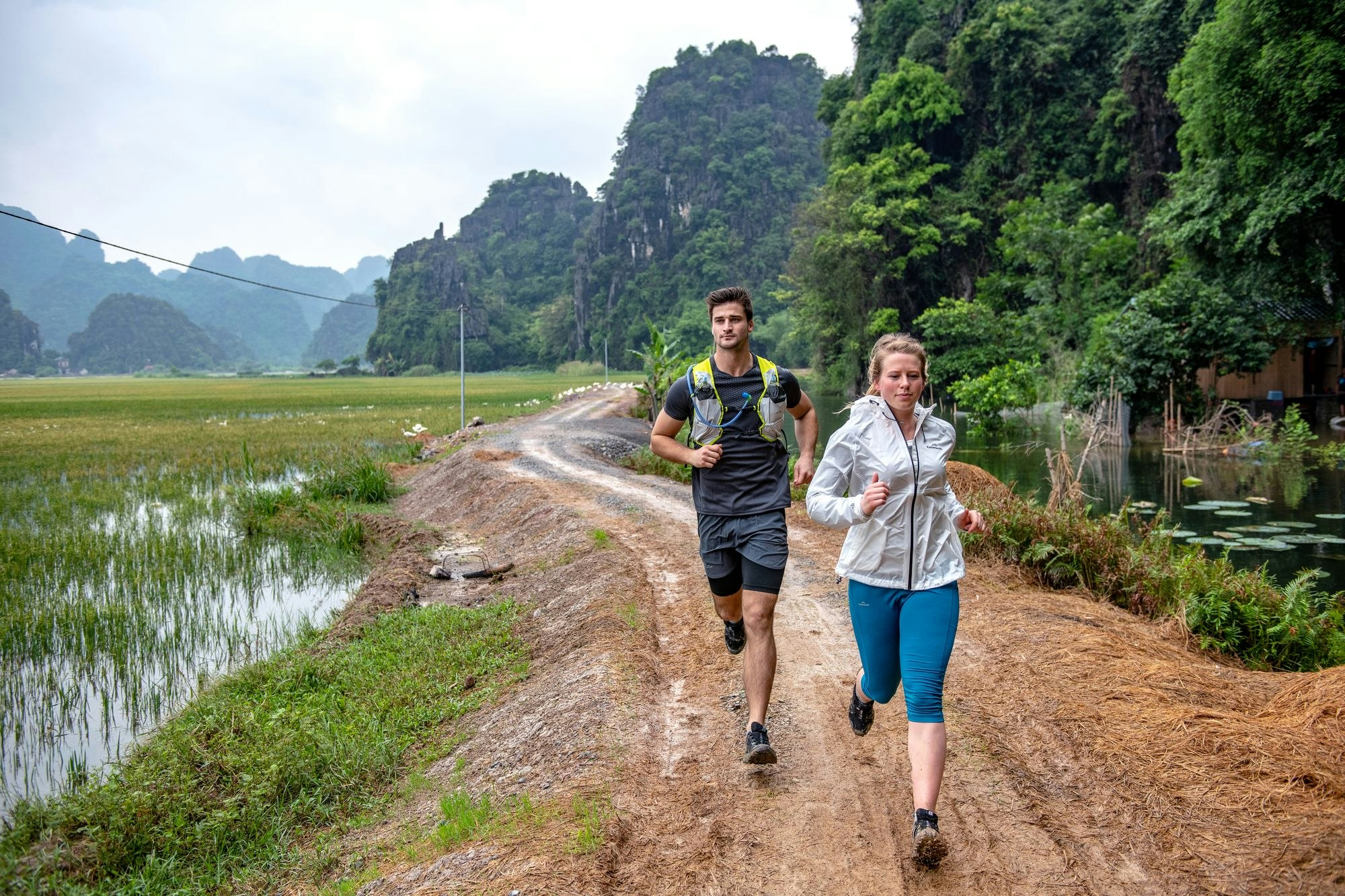 Ultimately, choose the right fit for you
Biomechanically it's very important that you run in the right shoes. Choosing a pair that's fit for purpose and the right fit for you should be top-of-mind.
It's not necessarily a good idea to run in shoes that your mate uses. Your ideal running shoes will snuggly fit the shape of your feet and do the job over your chosen terrain.
Once you're done on the trail, check out this How-to for cleaning your shoes
---
Shop for running footwear
---