Choosing the perfect hiking sock
---
Socks are an essential part of your hiking kit. Pick the wrong sock, and you risk discomfort, sweating and even blisters. Pick the right sock, and your feet will thank you.
Kathmandu's Head of Hardgoods, Simon Pease, offers the following advice for choosing the perfect sock to match your adventure:
Why do I have to buy a specific hiking sock?
Not all socks are created equal. Unlike regular socks, hiking socks are designed specifically to protect the foot, provide cushioning and wick away moisture. Hiking socks do not bunch, preventing uncomfortable pressure points.
Is there a sock fabric that's best for hiking?
It's personal preference, but merino wool and Coolmax cotton (used in our driMOTION socks) are my favourite options.
Durable and comfortable, merino wool can absorb moisture without feeling clammy due to its thermal qualities, keeping you warm even when wet. However, the material dries more slowly than cotton, which is better alternative for an activity like trail running — cotton combined with Coolmax technology will wick sweat away from your skin. Consider what you need for the activity you're planning.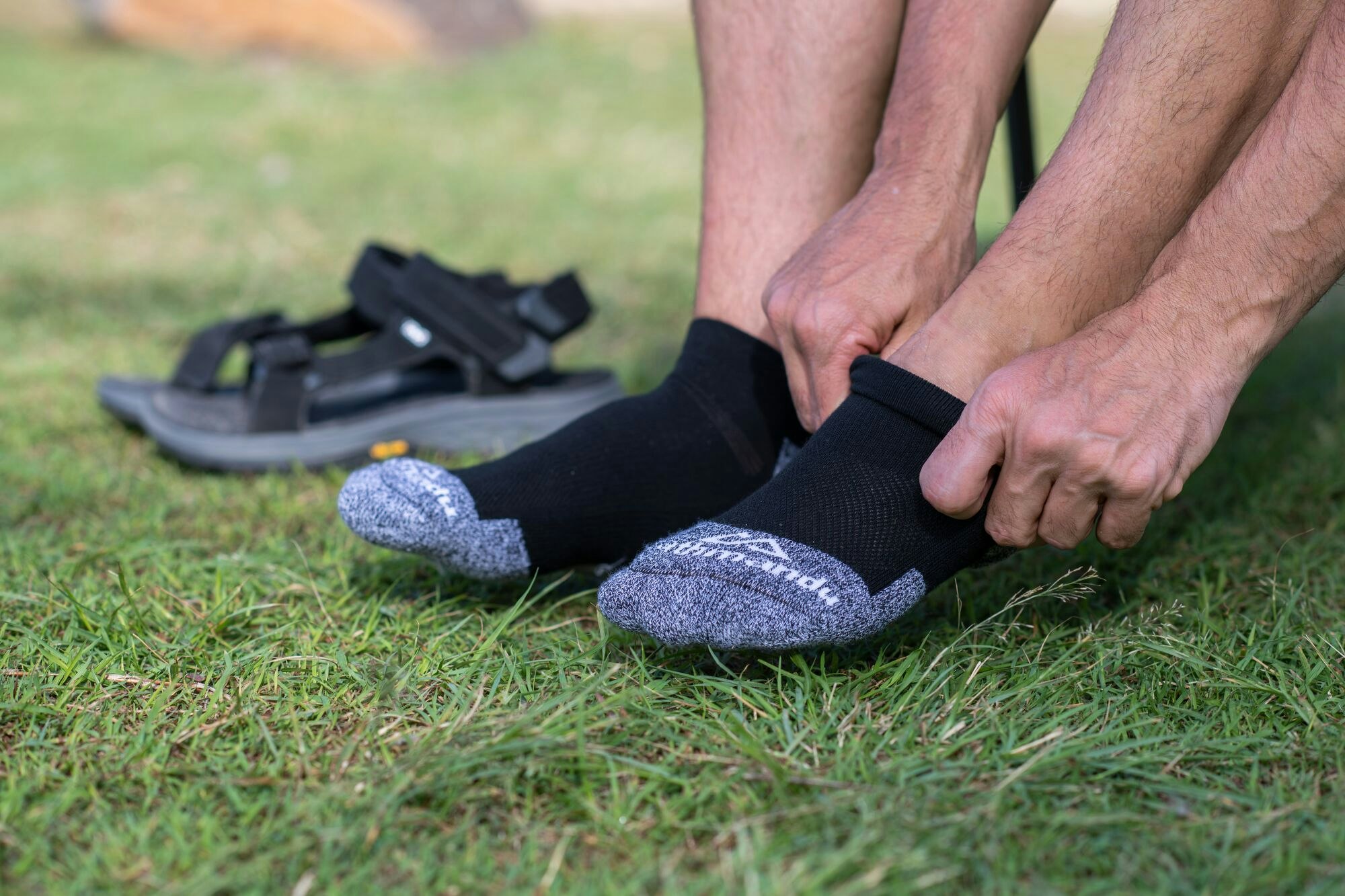 Are there socks best suited to specific types of hiking?
For multiple days of hiking, merino wool is highly recommended as it naturally absorbs and balances moisture. For day walks, lighter cushioned socks are really good. On our sock packaging, you can find a cushioning rating and also a warmth rating.
How long should my socks be?
Choose a sock that is slightly longer than your hiking shoe, so it doesn't ride down into the footwear. If the sock is too low, it could slip in the shoe, causing discomfort and, potentially, blisters.
Any last tips?
When buying hiking boots, take the socks you plan to wear to try the footwear on, as store staff should be able to advise if the socks are suitable. Even better; buy new socks that are specifically designed to complement the shoe! Ergonomic hiking socks are a great option, as they have cushioning specially designed for the left and right foot.
Next, turn the sock inside out to see if there are any loose threads (there shouldn't be) and check it will give you sufficient comfort in the right places. Look for padding in the areas of the sock that will endure impact from hiking up and down hill. The construction of the toe seam should not be too thick or pressure and rubbing can occur. Once home, washing the socks with wool fabric softener will keep them nice and fresh!
---
One of the most important things you can do to get the most out of your hiking socks is to do what you can to protect them and get the most out of them when hiking. The only way to do this is to take care of your hiking shoes/boots. Watch the following video to learn how to take care of your footwear.
How to care for your outdoor footwear