It took six different prototypes, a mountaineering trip to Ecuador, and the expertise of a Polar explorer to develop our latest mid-layer.
Explorer, Environmental Scientist & Gear Tester, Tim Jarvis, explains the challenges behind alpine layering and the thought process behind our new technical fleece.
---
Understanding how to layer in the mountains is extremely important. If you fail to regulate body temperature properly, it can have disastrous consequences.
If you don't wear enough warm layers, you risk cold-weather injuries like frostbite and hypothermia. On the other hand, overheating can also be very serious. Your sweat has the potential to contribute to cold weather injury when the temperature drops and you're wearing saturated thermal layers in strong winds.
Create a custom layering system
With that in mind, some of the most important characteristics in alpine clothing are breathability, moisture management, wind-proofing, waterproofing and a capacity to insulate against the cold.
To cover all these features, you'll need a layering system to suit the variability in climatic conditions. And the clothing can't be too heavy to carry either, as gravity is something you need to pay particular attention to if you're climbing!
Ideally you should have as many permutations as possible in as few items of clothing as possible. I typically like to have four key layers that I can interchange and that fit on top of one another without restricting movement and allowing me to effectively regulate body temperature and moisture.
My layers normally consist of a thin thermal base layer, an insulated wind stopper mid-layer, an ultralight lightweight down thermal layer and a GORE-TEX shell.
An insulated windstopper mid-layer
For me, a mid-layer is a key piece. The ideal one has excellent breathability, wind resistance in both design and fabrication, and is durable enough to deal with being used as a key functional outer layer — with a full feature set of pockets to boot.
The XT Pinnacle WindFORCE™ fleece was designed with these features in mind and is different from other fleeces.
Prototype No. 1
Changes made:
Addition of underarm panels to assist with breathability and stretch to improve range of movement.
Sculpting of pocket lines to move seams away from high wear areas and harness.
Pockets moved for better access and aesthetics.
Firstly, it has great wind-blocking capability, including a lined zip and adjustable hem. This means it can be worn as an outer shell — even in blustery conditions — and still retain enough warmth.
Secondly, it's breathable, which is important in a mid-range layer when you are exerting yourself climbing or hiking.
Prototype No. 2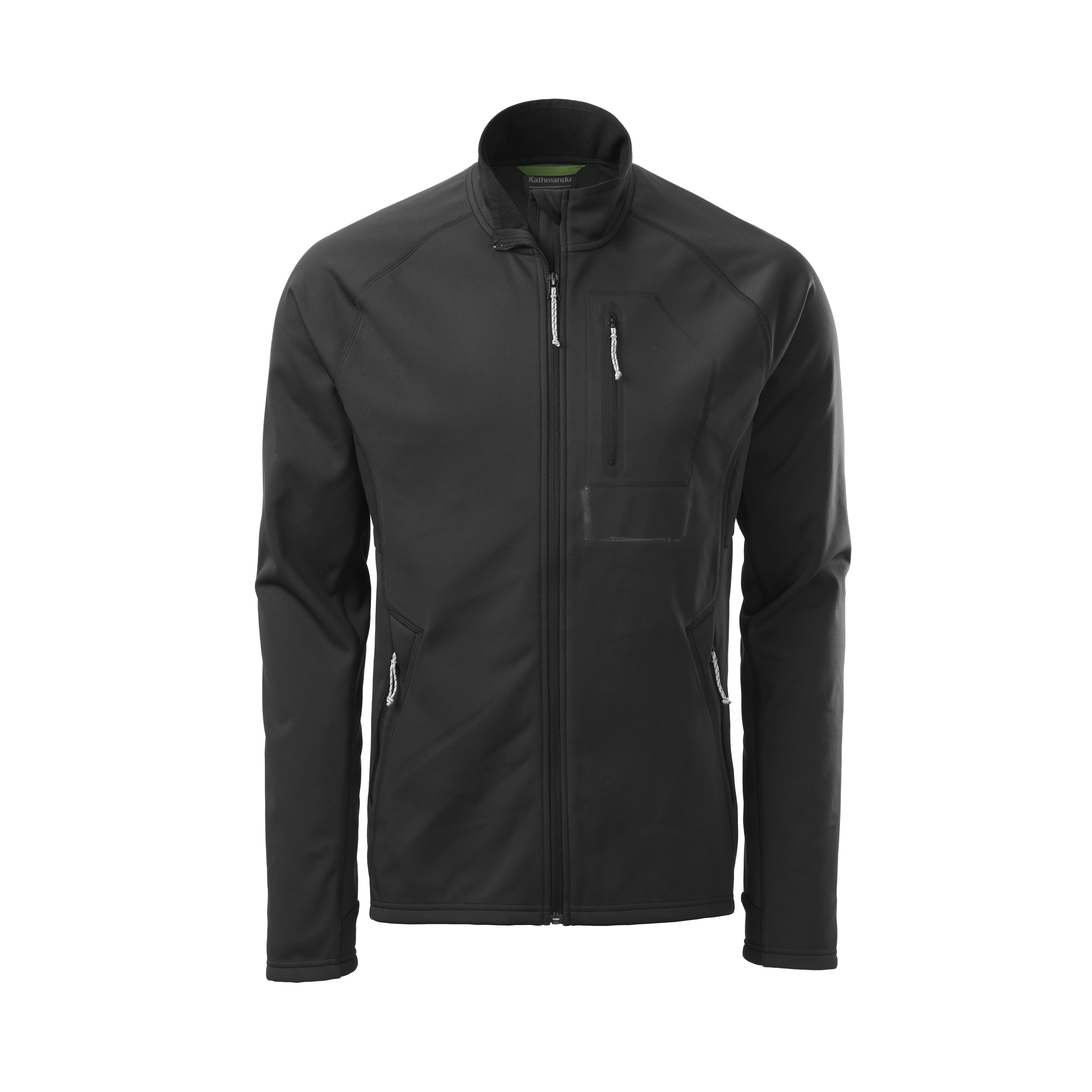 Changes Made:
Addition of chest pocket, stretch panel at wrist
Requested removal of back seam
Fit improved on sleeve and back
Underarm panel placement improved
Zip pocket seam placement improved
Chest pocket size enlarged
Finally, the comfort and wide range of movement in the Power Stretch™ fabric makes it ideal for climbing because the fabric can stretch to accommodate a full range of movement without losing its shape or compromising how you climb. I found it a really comfortable garment all round.
Prototype No. 4
Changes Made:
Testing of trims and logo print and placement
Underarm panel enlarged for better movement
Pocket placement correct
It's important to remember that layering is an adaptable approach, so make sure you understand how much you sweat, how much you feel the cold, what are the conditions going to be like, and how hard you're going to be working.
Alpine environments are the most extreme in terms of cold and the changeable (often adverse) weather conditions. The clothing you choose needs to be high performing and completely reliable, allowing you to focus on the task at hand and enjoy the experience.
As the Kathmandu Global Brand Ambassador, it's crucial for me to be involved in the gear testing process if I'm going to be closely associated with it — to ensure for myself that it lives up its performance.
Together with some other skilled gear testers, we've helped create a technical range to be proud of.
---
Tim Jarvis is the Kathmandu Global Brand Ambassador, Environmental Explorer and founder of the 25zero project. He was named Australian Geographic's Adventurer of the year in 2013 and Conservationist of the Year 2016 – the only person to have ever received both awards.
---