Alesha and Jarryd are professional photographers, writers and the founders of Australia's biggest adventure travel blog, NOMADasaurus. They've been exploring the world together since 2008, searching for culture and adventure in off the beaten path destinations.
---
The saying 'it's about the journey, not the destination' certainly rings true for most travels. Unfortunately, one part of your journey though that is rarely enjoyable is transiting through an airport.
We've spent way too many hours to count sitting in airport terminals, and trying to kill time and get through as smoothly as possible is second nature to us now. Here are some of our best airport and in-transit hacks to make your travels easier.
Check-in online
Before you head to the airport make sure you do an online check-in to help make things go smoothly arrival.
This has a few advantages. The first and best one is that with the check-in out of the way, you can usually have your boarding pass emailed to you, so you can go straight through security at the airport rather than getting in line at the check-in desk.
You can also choose your seat (depending on the airline) and get updates if there are any delays on your flight.
If you are travelling with luggage that needs to go under the plane you may still need to visit a baggage drop, or go through the check-in line anyway if the airport doesn't have a baggage drop, so this can slow you down a bit. But this comes to my next point….
Bring carry-on luggage to avoid queues
Skip the hassle of checking in your bag and fly the skies with carry-on luggage! You'll get to take full advantage of skipping the lines at the airport, and will save on baggage fees.
Travelling with carry-on also means you have everything you need with you at all times. That means there's no chance of getting to your gate and suddenly realising you left your jumper in your big backpack.
If you do take carry-on just make sure are within the requirements of the airline, and you have a great bag for it. Check out our guide on how to travel with carry-on to help you with this.
Keep your passport and laptop accessible
Moving in and out of airport security will have you reaching for your passport and documents constantly. Keep your passport accessible (but safe) by keeping it in a zipped pocket. These days you can also find travel clothing with hidden passports pockets so you know where it is at all times.
To breeze through security, look for a carry-on bag or daypack that features a Transportation Security Administration (TSA) approved sleeve for your laptop. You can open up your bag, pop it through the machine, and easily zip it back up on the other side.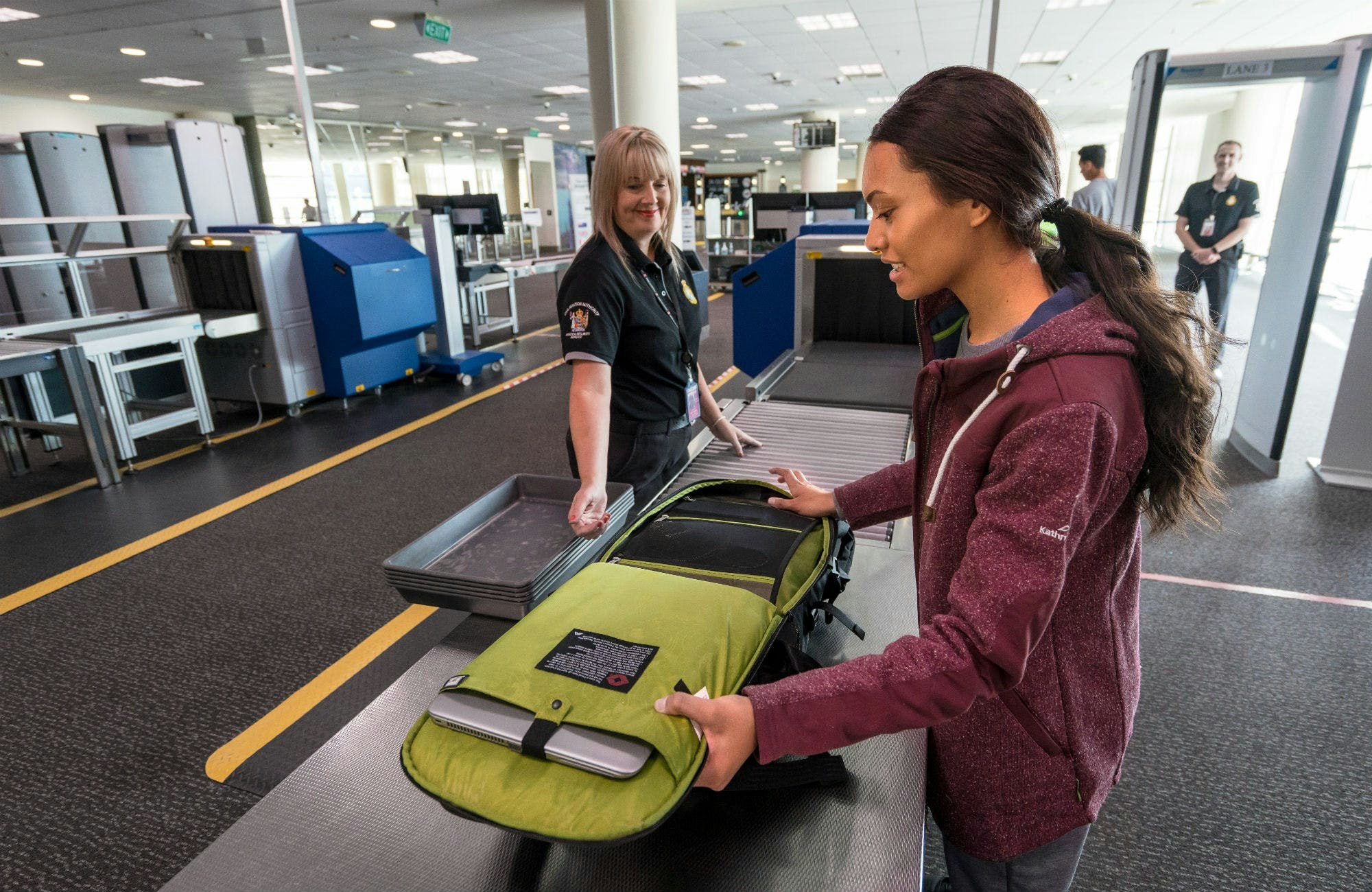 Know the airport layout
When you get to an airport, whether it's for one flight or you're transiting through, make sure you're properly organised to make your life stress-free and easy.
One thing to do is have a look at the airport layout before you arrive. Are you landing into the same terminal you're taking off from? Once you're through security is it a long walk to your gate? These little things can catch you unaware, especially if you only have a short time at the airport between flights.
If you're going to the food court, check to see how far away your gate is before sitting down for that big meal. The last thing you want is to hear your flight is on final call, and realising you have a 20-minute walk ahead of you.
Keep your liquids under 100ml
Most people know about this law, but still you see so many people getting caught out at security.
These days no containers with liquids over 100mls will be allowed into the cabin, and must be in your check-in bags or they'll be confiscated. This includes drinks and also most toiletries, such as toothpaste, cream, perfume and cologne.
If you're flying carry-on only bring small liquid items with you, and remember you can buy just about anything else you might need once you get to your destination.
Bring your own water bottle
No matter where you're going, whether it is for a walk around town or heading off on an overseas adventure, you should always have a reusable water bottle with you. The airport isn't any different.
Make sure it's completely empty as you're going through security (that 100ml rule comes into effect here), but once you're through keep an eye out for filtered water stations and fill it up.
Not only will you save money not needing to buy water at the airport, but you can also take it onto the plane with you, which is important because sometimes air stewards can't hand out water for up to an hour after take-off, depending on weather.
Pack some snacks
If you are flying on a budget airline you most likely will not have food included in your ticket. That means you will have to purchase the food on the plane that is over-priced and not the tastiest.
Even the food at the airport is crazily priced. $15 for a sandwich?? No thanks. By bringing your own food and snacks you can save money for adventures at your destination.
Keep your valuables in your carry-on
This is a must if you have check-in luggage. Keep your valuables on you at all times in case your bag is lost in transit. It is said that six out of every 1000 people's luggage gets lost, and trust us, it's not a pleasant experience.
Even if your luggage doesn't get lost, it's good to throw in a clean set of clothes to change into, especially on those long connecting flights.
Bring a jumper
Most airports have this wonderful thing called air-conditioning, and depending on where you're flying into, the AC could be cranked down to arctic temperatures. It might be 40 degrees outside, but 18 degrees inside, so keep a jumper in your carry-on.
This is especially true if you're flying into destinations that have a different climate to your place of departure. Nothing worse than flying from the tropics to the alps and only having a shirt to wear while you walk across the tarmac to the gate.
Look for power points
Once you exit security and are heading towards the gate, keep an eye out for power points to charge your electronics.
Most new airports are getting better at providing these, but it's still no common, so if you find a free power outlet, claim it, even if it means sitting on the floor. Once there keep all of your stuff fully charged. We call this the ABC of travelling with electronics: Always Be Charging.
Get multiple email addresses for the Wi-Fi
Most airports will offer free Wi-Fi by registering an email address, but only for a short period on time.
One way to get around this restriction is to have multiple email addresses, so that when you use one time allocation, you can put in another email address and get more access.
Some restaurants and cafes also have their own wifi networks, and you are given the password if you buy something. Rather than purchasing an expensive muffin, use an app like FourSquare to see if anyone has shared the wifi password under reviews.
Bring a towel and a pillow for layovers
If you have a long layover and don't have the luxury of having lounge access, find a corner (with a power point) and settle in for a few hours.
To make yourself feel at home bring a towel/sarong and a travel pillow and lay down on the floor, so you can spread out and get as comfortable as possible. Take a nap, surf the internet and help pass the hours without needing to sit in a hard seat.
Put an alarm on your phone
If you do settle in, make sure you put an alarm on so you don't end up missing your flight. And make sure you set the correct time for the city you are in!
Get comfortable for your long haul flight with all the travel essentials.
---
More from the Summit Journal...