Where are the best hikes near Brisbane?
There are plenty of hikes near Brisbane, infact, hundreds of hikes near Brisbane. So how do you choose? Well, first things first, do you want beaches or do you want rainforest? That narrows things down somewhat. Head inland to jewels like Tamborine National Park for ancient forests, or head out to North Stradbroke and Fraser Islands for incredible coastal trails. Either way, you won't be disappointed.
Here are just 7, yes just 7, of the best hikes near Brisbane!
Caution: Before any hike, always check relevant park management websites for updated information on track conditions, closures or dangers. Some of the below hikes may have been affected by bush fires and may be closed for hikers. Please help those affected by these fires by donating to The Red Cross, who work to provide aid during an emergency, conflict, disaster or crisis.
---
1) Gheerulla Valley Circuit - Sunshine Great Walk
Features: grass trees, steep climbs, thick forest, waterfalls, incredible views
Rating: Moderate (884 total climb)
Length/Time: 22km (8-9 hours)
When to go: because of that climb, walk during the colder months
Child-friendly: older children
More information: visit the Queensland Government's Parks and forests website
An easy but long hike near Brisbane is the Gheerulla Valley Circuit, 1.5 hours north of the city on the Sunshine Coast. It should take most people about 6 hours to complete, but the best way to experience this hike is to set up camp after the initial 300m steep climb at Thilba Thalba campsite. As long as you have packed enough water and food, you can watch the sun set over the Gheerulla valley and walk back the next day.
A solid hike near Brisbane for those who are relatively new and want to take on an overnight hike and push themselves a little. The first 8 kilometres undulate and see you descend about 150-200 metres before the next few kilometres see you take on a dramatic climb, which you can actually avoid but who wants that? While it depends on you how you return, the road can be a bit boring even though it does have pleasant views. Your other option is to return the way you came. When it gets hot here, it gets humid, so aim to hike in colder months.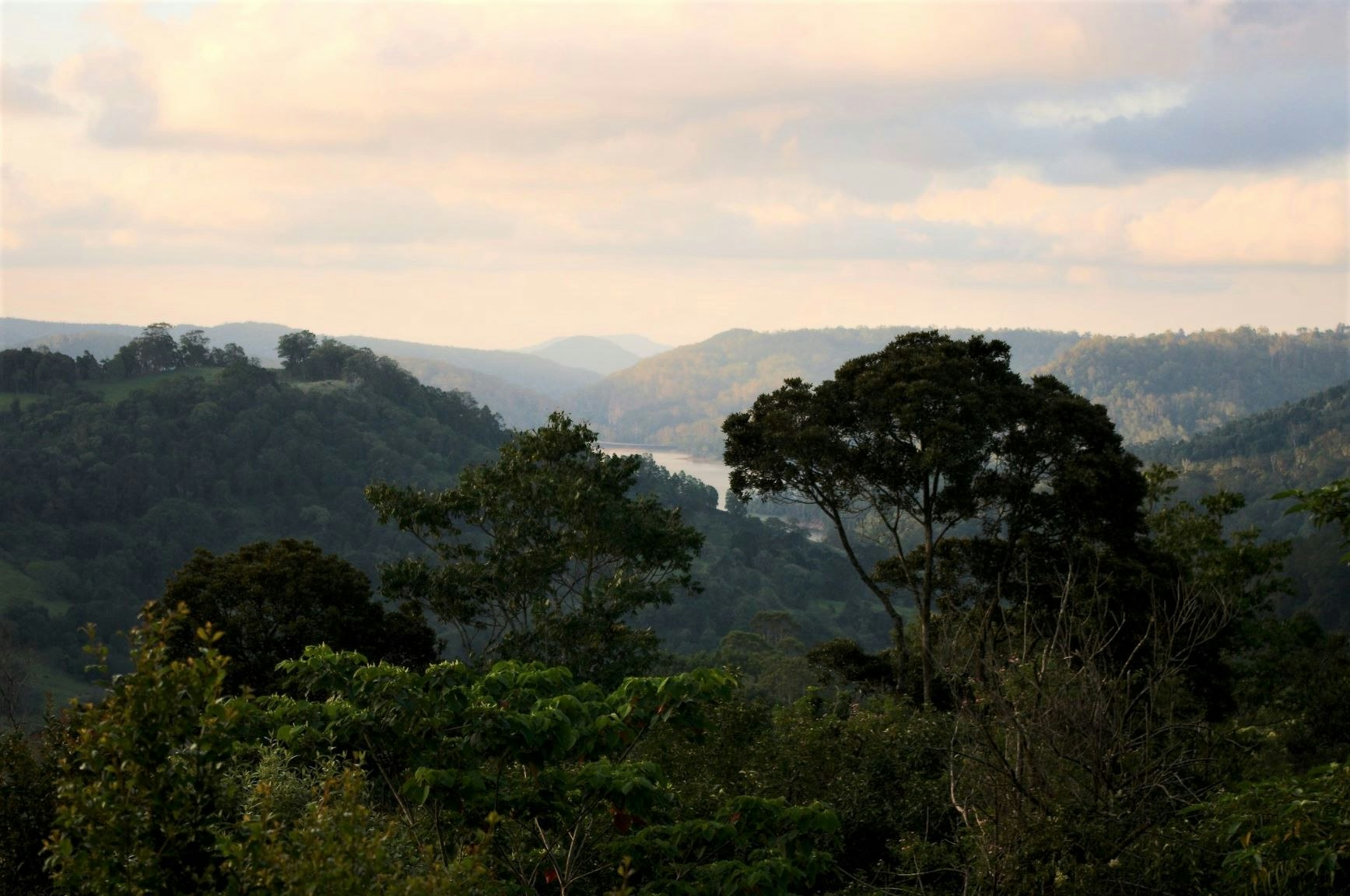 2) Tamborine National Park
Features: Eucalypt forests, dry rainforests, rock pools, creek crossings, piccabeen palm, skywalk, cedar.
Rating: varied
Length/Time: varied (mostly short walks)
When to go: all year
Child-friendly: Yes
More information: visit the Parks and Forests website
The best place for some short day hikes near Brisbane is Tamborine National Park, just less than an hour south of the city. Witches Fall circuit, a 3.4km loop is one of the popular spots for its view (see below picture), while the Tamborine Rainforest Skywalk grabs the attention of plenty of tourists because of its accessibility and elevation. However, a true highlight is the Jenyns Circuit, a 4.3km return hike that sees you pass ancient cycad palms and stunning waterfalls. You basically follow an inverted pyramid in terms of elevation, dropping about 200 metres before immediately scaling back up to nearly 530 metres above sea level.
The best way to enjoy Tamborine National Park is to merge some of these hikes in the one day, such as Witches Fall and Jenyns Circuit. That way you get to feel engulfed by the sub-tropical rainforests and palms along Jenyns before enjoying the incredible views offered by the Witches Fall section. Late afternoon sees a chorus of cicadas do their thing, while you should keep an eye and ear out for kookaburras, catbirds and a menagerie of other birds and wildlife. Jenyns Circuit also sees less traffic than Witches Falls or the Skywalk.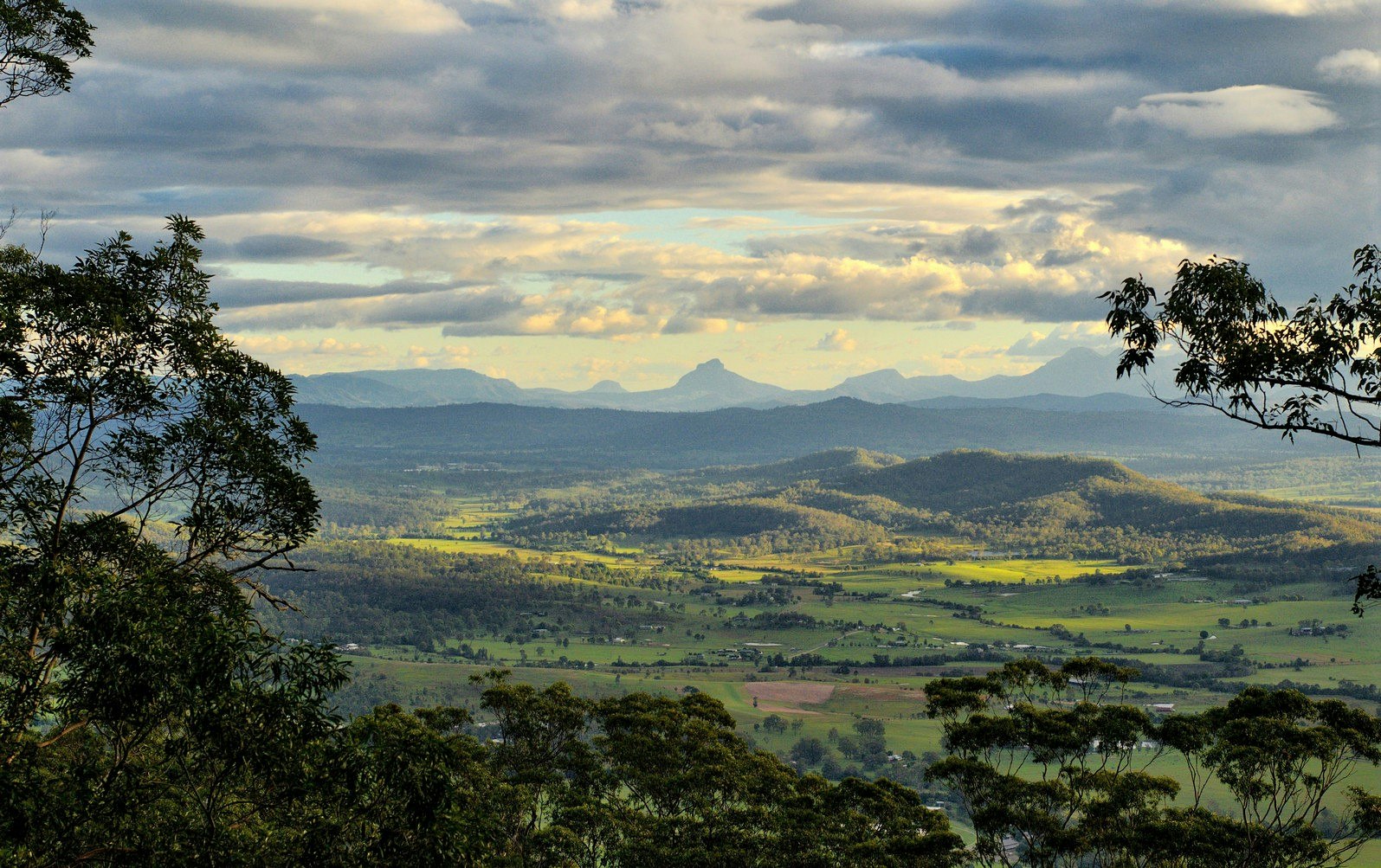 3) Lamington National Park
Features: dense forests and incredible views of the Scenic Rim
Rating: varied
Length/Time: from 3.4km to 21.8km (Albert River Circuit)
When to go: cooler months
Child-friendly: yes
More information: visit the Department of Environment and Science website
The UNESCO World Heritage-listed national park is home to some of the most famous hikes near Brisbane, and the most photographed. This might be because of the variety that the park offers for hikers, from easy short hikes that don't disappoint to much harder longer routes that will get the lactic acid going.
The Albert River Circuit doesn't get as many visitors due to its length (21.8km), but it offers incredible views as well as waterfalls in which to cool off. While the path is well marked, it can get muddy after a downpour, while the subsequent narrow trail that follows the Valley of Echoes will see you facing a steep drop off to your left. Make the most of this hike by stopping at Echo Point campsite, but remember to bring water purification tablets, even for the clear streams you may come across near the campsite. This hike, while challenging, offers you a little breathing room compared to other hikes in the national park, with the well-shaded path less thick with trees, unlike other hikes in the area which can quickly feel a little claustrophobic.
The Neglected Mountain track is another less-travelled trail that does not disappoint, with stunning views along the ridgeline. You do need to ask the owner if you want to walk past their property beyond the official trail.
4) Cooloola Great Walk
Features: rainforest, eucalyptus, isolated beaches, lakes, walkers campsites, abundant wildlife.
Rating: Grade 4
Length/Time: 102km
When to go: September-November sees the best weather.
Child-friendly: older children.
More information: check the Queensland government's website for updates on walk closures.
This hike is two hours south of Brisbane in the Great Sandy National Park and is a great multi-day hike for those wanting to push their hiking goals to the next level.
Linking Noosa north shore with Rainbow Beach, this is a 102km doozy. Due to wildfires over 2019/20, the track was closed temporarily. Keep an eye out on the government website (above) to find out about track closures. Book in advance for the campsites, and prepare for some long days, such as when you cross the 1.2km Cooloola sand patch, which will feel like 5km by the end. The campsites are also spaced a fair way apart, up to 30km at one point, so you need to have the stamina and gear to see you through each day. Because it is a coastal walk there are a few steep sections, but the sand will have you sweating in no time.
5) South D'Aguilar National Park
Features: towering rainforest, mountain breeze, bellbirds, endless views
Rating: plenty of hard walks (18km) or shorter walks (900m return)
Length/Time: varied
When to go: colder seasons
Child-friendly: yes
More information: visit the Department of Environment and Science website
There are various hikes in the South D'Aguilar National Park, which is only an hour west from Brisbane. One of the best has to be the Byron Creek Circuit, which includes steep climbs, thick rainforests, waterfalls, creeks and epic views. It can be poorly marked in sections, with maps not quite lining up with reality, so have your wits with you at all times and be prepared for a creek crossing that will go above your boots.
An alternative is the slightly longer Cedar Creek to White Cedar Picnic Ground track. This is a hard walk with a significant creek crossing, so is best for experienced hikers or those in a tour group. But the views and magical quality of the forest makes this a definite hike for those who want to push themselves.
6.) K'Gari (Fraser Island) Great Walk
Features: well-signposted track, turquoise still inland Lake McKenzie, subtropical rainforest, beaches!
Rating: moderate
Length/Time: there are various short walks; the Great Walk is 90km long (8 days)
When to go: all year
Child-friendly: yes (for shorter walks) or older children for the Great Walk
More information: visit the Department of Environment and Science website
When people imagine Queensland, what they don't realise is that they are probably all picturing Frasier Island. K'Gari, meaning paradise, is just that. Besides the Cooloola Great Walk, the Fraser Island Great Walk is another incredible coastal multi-day trail just near Brisbane.
The actual hike is not too much of a challenge, with the longest day at 16.2km. Walking on sand always saps energy a bit, but the views and opportunities for some life-changing swims more than make up for finding sand in your ears for the next few weeks.
You will need to pay for the ferry across to the island and then organise transportation (i.e. a taxi) to get to the start of the trail. By the way, that 16.2km day has to be a highlight of the trail, with Badjala Sandblow looking like an endless desert before you venture into the Valley of the Giants: rainforests nestled between the dunes which are home to some of the largest trees on the island. You will also get this area more to yourself.
7.) North Stradbroke Island
Features: inland freshwater lakes, sacred waterholes, breathtaking coastlines, whale watching, plenty of birdlife.
Rating: easy to moderate
Length/Time: varied
When to go: all year
Child-friendly: yes
More information: check out Stradbroke Island's official website
Some of the closest hikes to Brisbane just happen to be on one of Queensland's most famous islands: North and South Stradbroke Island.
One famous track is the Kaboora Track, an easy 5.2km trail that gets hot during the day as it is exposed, but takes you to Blue Lake, a culturally important place for the Quandamooka. For this reason, it is recommended to not swim but enjoy the tranquility of this magical place on what is a relatively short hike.
The 10km Point Lookout to Keyholes trail takes you along the beach before heading inland to these freshwater lakes, which make it feel like you are lightyears away from the city.
Find the right gear for your next hike...