What to know before you travel to Antarctica
Kathmandu ambassadors Alesha and Jarryd are professional photographers, writers and founders of adventure travel blog NOMADasaurus. They've been exploring the world together since 2008, searching for culture and adventure in off-the-beaten-path destinations.
---
Of all the exquisite destinations on the planet, nowhere is as humbling, inspiring, beautiful and dramatic as Antarctica. Travelling to Antarctica is a once-in-a-lifetime trip that continues to inspire countless explorers, adventurers, scientists and travellers.
Less than 40,000 people visit the waters of Antarctica every year, and fewer still actually have the opportunity to step foot on its icy, rocky shores.
For those that would love to visit themselves, this quick guide will tell you the basics of what you need to know to head to Antarctica.
Should you travel to Antarctica?
Before you research how to get to Antarctica, it is worth deciding whether you should go to Antarctica. Over 2017/18, there were just over 44,000 visitors to Antarctica, almost 37,000 of them making it onshore (compared to 76.9 million visitors to the U.S. in 2017). There are some that believe that only those who need to be in Antarctica, such as scientists, should be allowed to travel to the continent.
Yet, there is a strong argument that the effects climate change is already having on Antarctica's ecosystem are not driven by what is happening in Antarctica, but back home. Our greenhouse emissions and consumer patterns are the drivers to changes in faraway places, Antarctica being one of these. A high level of awareness, supported by moderated and conscious tourism in Antarctica, can be seen to be a great way to increase awareness of what is happening down there and to help shape our behaviour back home.
How to get to Antarctica
There are only three real ways to get to Antarctica.
The first is to work there, but this is often reserved for scientists, researchers, construction workers and other trades required to operate government-run research stations on the continent.
The second – and most expensive – is to fly to one of the research stations for the day.
The third and most popular way is to take a ship from either the bottom tip of South Americ, from New Zealand or from Australia.
These voyages are usually guided tours of Antarctica, and you can either join a familiar cruise-ship style trip, or a more adventurous small-vessel expedition, run by companies like One Ocean Expeditions.
From South America, the journey to Antarctica by sea involves (at the very least) a two-day crossing through the Drake Passage, the narrow and historically dangerous stretch of ocean between Ushuaia and the Antarctic Peninsula. Don't let a fear of the sea put you off though! With modern polar expedition ships, the passage is quite safe and the time spent on the ship is well worth the reward at the end.
A number of companies also run trips from New Zealand, but these are much longer, with more sea time, and come with higher prices.
If you have the experience and skills you can also sail on a private yacht to Antarctica, but the majority of people sign up for one of these amazing multi-day adventures with a reputable tour operator.
You can travel to Antarctica from Australia with a number of guided tour providers. Hobart, the capital of Australia's southernmost state, Tasmania, has for a long time been one of the gateways to the polar region for scientists and tourists alike.
Antarctica peninsula cruises typically take at least seven days (sometimes more) and are one of the cheapest ways to get there.
The best time to visit
As to be expected, the winters in Antarctica are long, extreme, dark and cold. For this reason, the only people that visit the continent from May to September are usually scientists and researchers working for government organisations.
For regular passengers, October to April is the only viable time to visit Antarctica, with the months of December, January and February being considered peak season. During this time the days are longer, there is a higher chance of sunny weather, and much of the wildlife is quite active.
That's not to say the shoulder season isn't a great time to go. In October and November, the snow from the previous winter is still prominent, leaving the entire continent blanketed in a glorious, white coat. The wildlife is stirring at this time as well, so it's an excellent time to see penguins and seals. March and April bring about the whale migration, where thousands of humpbacks make their way to warmer waters.
An added benefit of going in the shoulder season is the possibility of less people on your ship, placing less pressure on the ecosystem and often costing you less.
What to do once you're there
Just like with any true adventure destination, our list of things to do in Antarctica is substantial. From hiking to sea kayaking, ski touring to scuba diving, wildlife watching to camping beneath the stars, there are plenty of ways to fill your days.
One thing to keep in mind though is that Antarctica's pristine environment, harsh conditions and strict protection status means that it's not the kind of place you can simply show up and trek off into the wilderness. Not only could this be dangerous, but all activities are tightly controlled by the expedition operators, following international protocols.
In this day and age of climate change, looking after such fragile environments as Antarctica is important, hence the tight regulations. But by joining an active, small-group expedition you will have the opportunity to make the most of every precious second spent on the continent.
Where to stay in Antarctica
Unless you're a scientist working on a project on the continent, the only place you'll be able to stay is on board a certified ship.
The exception to this is to join an operator with a license to allow camping on Antarctica. We had the thrill of sleeping in a bivvy sack on one of the islands off the Antarctic Peninsula, and it was by far the most awesome place to camp we've ever seen.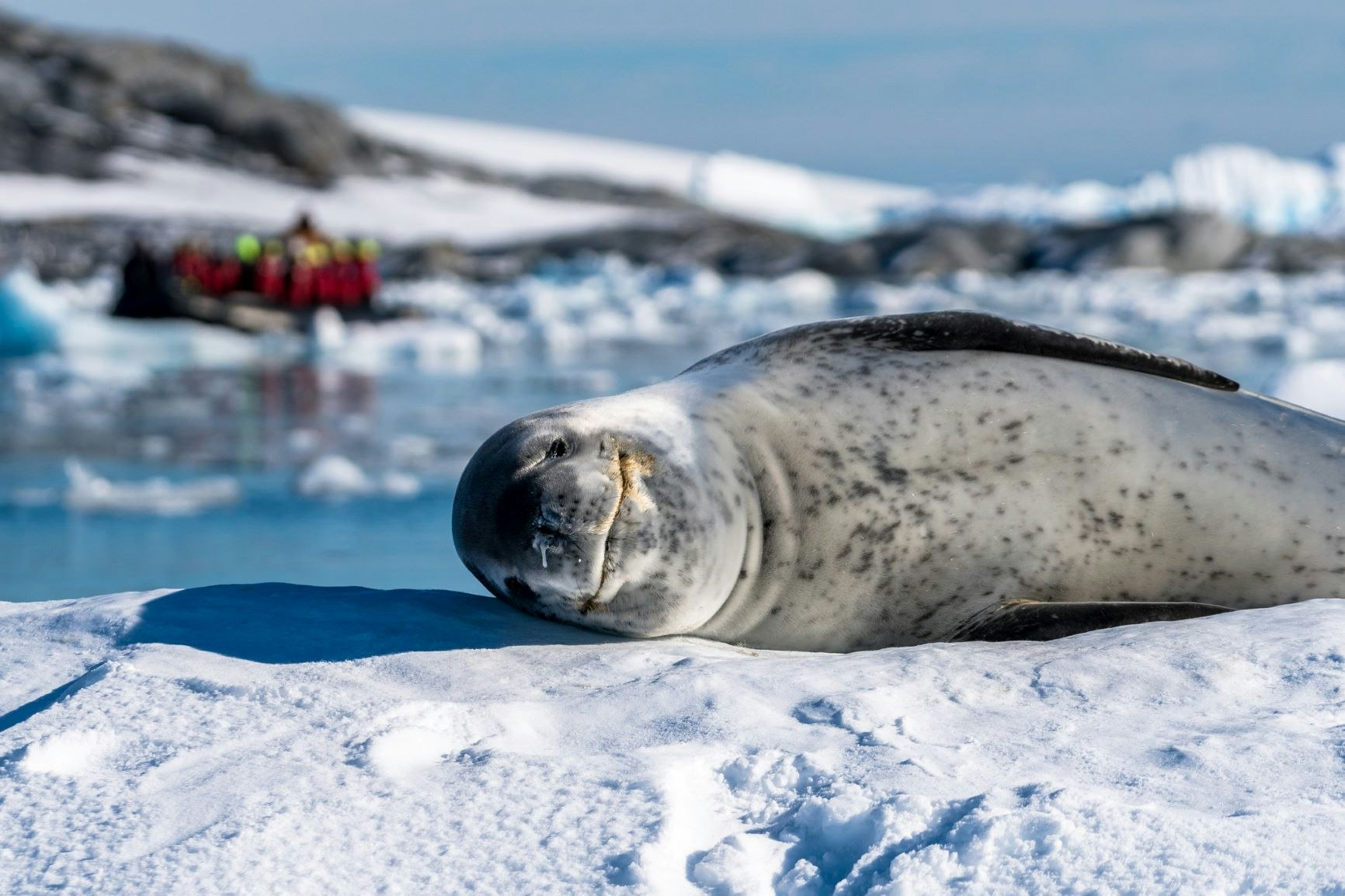 How much does it cost to go to Antarctica?
Going to Antarctica is pricey due to the remoteness of the destination itself, the strict permits required by the operators to run tours to Antarctica, and the fact that everything from the accommodation to the food, transport and activities are almost always included in the price.
A trip to Antarctica can cost anywhere from USD$5000 for a last-minute, 10-day trip, right up to $30,000 or more for longer, in-depth adventures. While the price is quite high, it's an experience and destination that will change you for the rest of your life.
As a side note, long gone are the days of expecting to travel from Antarctica from Ushuaia just by showing up and finding work. The crew on the ships are highly experienced and must go through weeks of training before venturing into the polar regions.
What gear do you need?
Being at the bottom of the earth, the weather in Antarctica can be quite unpredictable. It's important to have the proper gear with you on any expedition to the polar regions.
Layering is key here, so start off with good quality thermal leggings and tops. Merino wool has many benefits and is our favourite material for thermals. It does a great job at keeping you warm and being breathable at the same time.
A lightweight fleece is important, and for the really cold weather, look at packing a down jacket. Some of the better expedition companies provide outerwear for their passengers, but in case yours doesn't be sure to invest in waterproof, windproof jackets and pants. These will always go over the top before you leave the ship.
Boots need to be above the ankle, waterproof and insulated. These are also provided by the more reputable operators.
Of course, don't forget to pack your camera, so you can document your experiences in this majestic destination!