Hiking the Kalalau Trail in Kauai
It's the oldest Hawaiian isle, one of the wettest places on earth and appropriately nicknamed the Garden Island. Kaua'i also has one of the United States' most dramatic and challenging hikes. Here is what you need to know about hiking the Kalalau Trail in Kaua'i.
---
Famous for its scenery
Located on the northwest Na Pali Coast, the Kalalau's picturesque scenery is already famous on the big screen – most notably as the first views by helicopter of Jurassic Park's renowned island. It was also part of motion picture history in the 1976 remake of King Kong and 2008 black satire Tropic Thunder.
If you're looking for a demanding hike to add to your bucket list, with staggeringly steep cliffs and eye-opening vistas, start preparing to hit the Kalalau Trail in Kaua'i. Just pack your favorite rain jacket as some parts of the island get almost 480 inches of rain annually.
Tips from the Kalalau Trail in Kaua'i
Most hikers trek in for the night, camp at Kalalau Beach and then retrace their steps to the trailhead the next day. If you get great weather, aim to time your return journey with the photographic light of the setting sun.
Plan your hike along the Kalalau Trail so you begin early – you'll beat the hordes of tourists that wander the first two miles each day, and you'll enjoy a few peaceful hours before the first (of many) helicopters fly down the coastline.
Take enough water and purification tablets – heat and humidity will test your endurance.
Purchase your camping permit for the Napali Coast State Wilderness Park well in advance – you'll need this to camp at Kalalau Beach or at Hanakoa (roughly halfway). Wet weather can sometimes make streams impassable so you may want to book a few nights to not miss out.
Take a reliable pair of hiking boots that grip – even after a few days of sunshine, the route will still be a bit muddy.
A few super-fit trekkers aim to complete the 22 mile trip in one day. Although feasible, it's a tough slog and you may get caught on the trail after dark. Take a reliable head torch if you're considering this option.
The Kalalau Trail: an undulating route with a stunning coastline
You won't need to walk far before being rewarded with your first views of the Na Pali Coast – a seemingly endless row of cliffs dropping spectacularly into the Pacific. Solitude and morning light bounce off the landscape, creating a memory you'll treasure.
The rising and falling nature of the Kalalau Trail will quickly become apparent as you wind up the track to coastal lookout points, before navigating down and into the valleys. Take breaks and soak up the scenery when you reach each high vantage point.
At the two mile mark you'll reach Hanakapai'ai Stream – the first of a few significant river crossings. You'll need a permit to go any further, regardless of whether you plan to camp overnight or not.
Following the relentless, narrow trail
What seems like a neverending ascent from the river bed will be one of the toughest climbs of the day, up to a trail high 240 metres (800 feet). The path will likely get narrower as overgrown foliage makes its presence felt – as do plenty of harmless bees if flowers are in bloom.
About six miles in, you'll descend to Hanakoa Stream and cross it to find some shelter, a composting toilet, and an official camping area that can be used as a midway resting point. It's vital you carry a hiking tent even if you plan to trek in and out within a day.
Gradually the trail will become a red clay path and a few hours into your journey you'll reach the aptly named Crawler's Ledge – a hazardous area where the track constricts to a narrow point of about a foot, with a precipitous drop below into the ocean.
A pair of trusty walking poles can help you safely navigate this section. And if you're not afraid of heights, there are some spots to rest here and take in the steep slope and the infinite Pacific Ocean.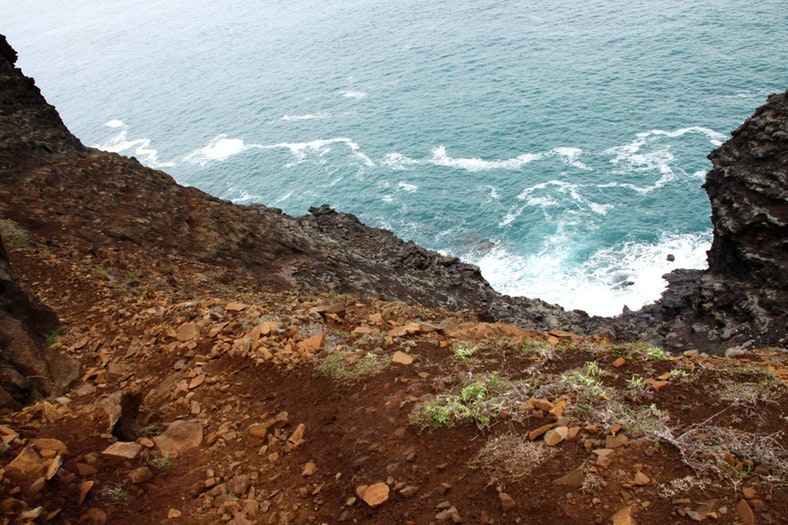 Breathtaking views await
There are only a few water sources so fill up when you can and aim to stay hydrated – particularly if you strike a Pacific stunner of a day. The midday sun will be out by now and there's very little shady relief.
You'll eventually reach the top of one of the last long climbs – known as Red Hill – before coming to a heart-stopping view of Kalalau Beach, the expansive Pacific and the Kalalau Valley. A welcoming sign reminds you of the importance of preserving this magic place.
Descending into a secluded utopia
The trail will become more open and you'll imagine seeing the first Polynesian settlers landing on this coastline back in 1,200 AD.
As you begin walking downhill, the final stretch of your hike is within reach. A last major river crossing before a coastal stroll to the beach and camping area are secondary to the otherworldly, vertical landscape rising up inland. It's a sacred place with incredible natural beauty.
Reaching Kalalau Beach will be bliss to your aching feet. Like all beaches, swimming can be risky. Here it's further highlighted by the 'Missing' posters at the trailhead. Take your cue from other swimmers and cool down if the conditions are right.
Set up camp or set off again
It's time to set up camp and chill out. However, if you decide to hightail it back to the trailhead on the same day, keep in mind that nightfall will eventually come – and so will the wildlife! Be prepared for:
Dozens of frogs just hanging out on the trail
Spider webs set up in record time across the path
Mosquitoes helplessly flying into these spider webs and frogs' tongues
Unless you're a big insect or amphibian fan, you're best to crash at the Kalalau campsite for as many nights as you can. Waterfalls, caves and supreme isolation await.
Distance to trailhead: 41 miles from Lihu'e Airport – 1 hour
Track length: 22 miles return
A manageable trail for hikers of different abilities, the Kalalau Trail in Kaua'i is one of America's less-known trails but one that offers you the kind of hiking experience that is few and far between around the world.