Kathmandu ambassadors Alesha and Jarryd are professional photographers, writers and founders of adventure travel blog NOMADasaurus. They've been exploring the world together since 2008, searching for culture and adventure in off-the-beaten-path destinations.
---
New Zealand's South Island has become synonymous with adventure, and every year thousands of adrenaline seekers flock to this stunning part of the planet to get their heart pumping in the great outdoors.
Adventure means something different for everybody, and whether you want to try bungy jumping in the place that started it all, sea kayaking into secluded coves or summiting mountain peaks, there's an experience suited for every traveller.
1)Tramping and sea kayaking in Abel Tasman National Park
It's known that New Zealand's mountains are some of the most spectacular in the world, but did you also know that the South Island is home to postcard-perfect beaches as well?
Only a few hours from Nelson is Abel Tasman National Park — one of the most popular spots in the country — and the location of the famous Abel Tasman Coast Track. This 51km hiking trail weaves between dense rainforests and white-sand beaches, offering magnificent views over Tasman Bay.
To really make the most of this outdoor paradise join a sea-kayaking expedition and spend your days paddling into secluded coves, uninhabited islands and camping on pristine beaches. It's sure to become a memory that'll stay with you forever.
If you're not an experienced sea kayaker, you can join a guided tour with Abel Tasman Kayaks.
2) Bungy jumping In Queenstown
Bungy jumping is as extreme it gets, so why not give it a go in the place where it all began? The world's very first commercial bungy jumping operation, AJ Hackett, started outside of Queenstown at Karawau Bridge and has expanded to three locations around the area.
The Nevis is the tallest bungy jump in the country. The Ledge allows for a freestyle jump (backflips anyone?), while the original Karawau Bridge now hosts an exciting tandem bungy option so you can do it with a friend.
For those wanting the ultimate in adventure bragging rights, make sure you tick off the trifecta at all three spots!
3) Climbing Roy's Peak in Wanaka for sunrise
Wanaka is the quintessential Kiwi town – a stunning lakeside location surrounded by epic mountains and a plethora of activities that would keep even the most hardened adventurer content.
While there is no shortage of things to do in Wanaka, one of the most popular is to climb the nearby Roy's Peak early in the morning to catch one of the most beautiful sunrises imaginable.
It's not a technical climb, but the 8km hiking trail is relentless in its constant ascent. Make sure you give yourself enough time on the walk to get to the top before sunrise.
Don't forget to bring some very warm clothing or a sleeping bag with you, because the temperature and wind at the top can be freezing, even in summer.
4) Overnight kayaking trip in doubtful sound
The most famous fjord in New Zealand is undoubtedly Milford Sound, but with the striking beauty comes huge crowds, and unless you have signed up for an overnight trip with Real Journeys well in advance (and if you have the chance, you should), it's highly unlikely you'll get to experience this spectacular place on your own.
Luckily for adventurers just south of Milford Sound is Doubtful Sound, which boasts enchanting scenery and captivating peaks without the hordes of people.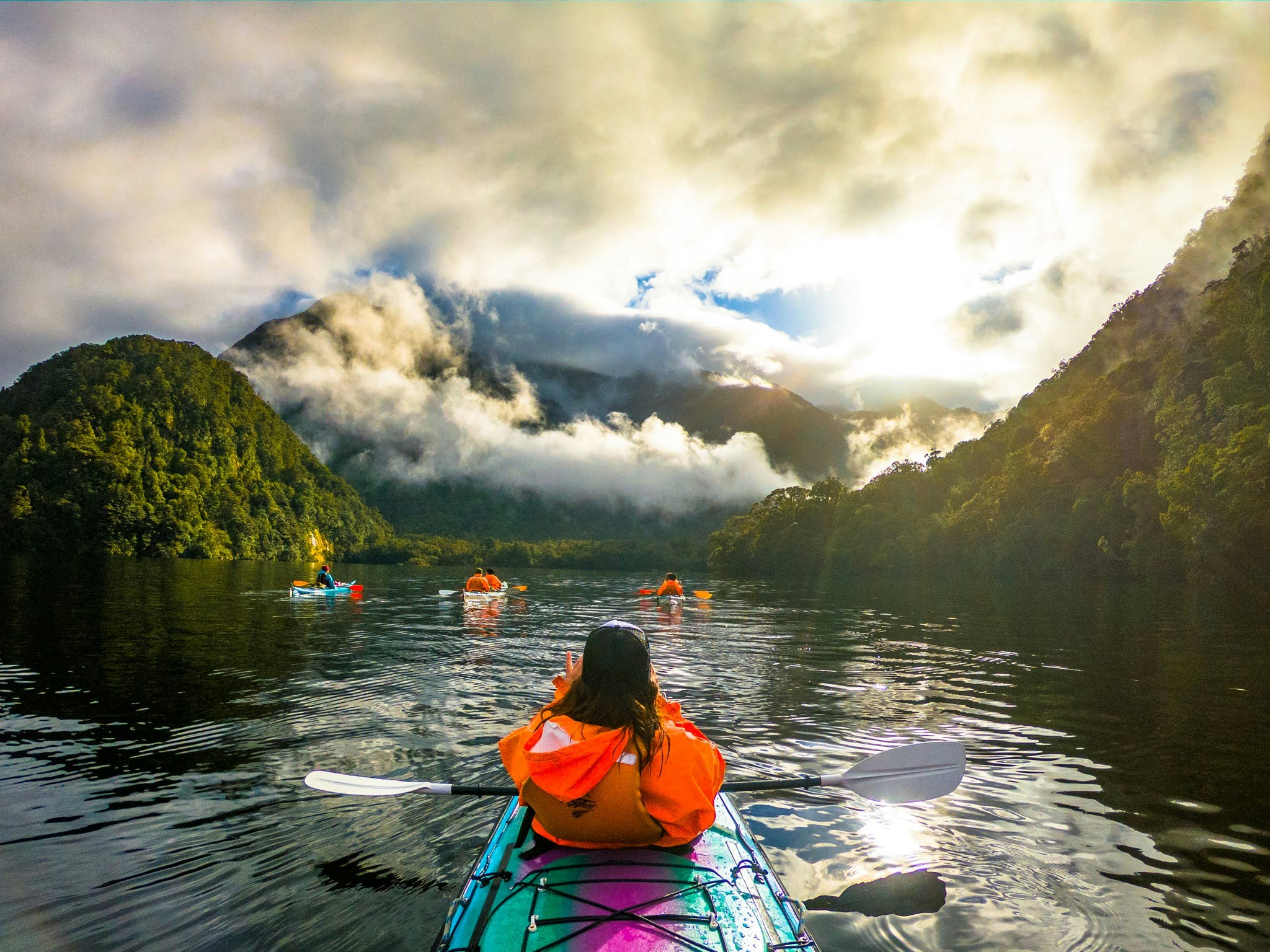 Any trip to Doubtful Sound is guaranteed to be a worthwhile experience, but if you want to do something unique join an overnight kayaking and camping tour.
These trips will have you paddling into gorgeous inlets, filling your water bottles straight from towering waterfalls and spending the night camped beneath the stars without another soul around.
5) Hiking in Mount Cook/Aoraki National Park
The Southern Alps is one of the most spectacular mountain ranges on the planet, with jagged peaks and glacial-carved valleys that rival even those found in Patagonia. It's no wonder that most people travelling to New Zealand are desperate to see them with their own eyes!
While most of the terrain is inaccessible, there is one place in the South Island that allows travellers a striking view into their sheer beauty – Mount Cook/Aoraki National Park.
Home to the country's highest mountain, Mount Aoraki at 3724m, a number of gorgeous hiking trails branch out from the small village and into the heart of the park. Those on a limited time frame can enjoy the splendour of the Hooker Valley Track, one of the best day hikes in the world with captivating vistas over Mount Aoraki on a clear day.
With a bit more time, you can tramp deeper into the national park and spend the night at Mueller Hut in what may prove to be the most beautiful adventure of your entire trip in the South Island.
6) Ice climbing on the Franz Josef Glacier
Unfortunately many glaciers are disappearing due to the impacts of climate change. Luckily it's still possible to see some of the most beautiful glaciers in New Zealand, and for those with a sense of adventure the sensational Franz Josef Glacier has the perfect activity for you.
Take a helicopter from the small village of Franz Josef and be dropped directly on the glacier armed with ice picks, crampons, a harness and ropes, and have a go at ice climbing one of the glacial walls or crevasses.
The expert mountain guides will take care of all the safety measures so you can just focus on the adventure at hand. Previous experience not required, but a decent amount of fitness is.
---