A mini-guide to island hopping the Philippines
AUTHOR: TRAVEL BLOGGERS ALESHA & JARRYD
Kathmandu ambassadors Alesha and Jarryd are professional photographers, writers and founders of adventure travel blog NOMADasaurus. They've been exploring the world together since 2008, searching for culture and adventure in off-the-beaten-path destinations.
---
What comes to mind when you think of the Philippines? If it's scenes of beautiful turquoise waters, white sand glistening under the sun, streaming waterfalls and some of the world's friendliest people, you are on the right track.
The Philippines has been rising in popularity amongst travellers for a few years now, thanks to the natural beauty of its 7,100 islands. Each one is unique in its own way, with a variety of different reasons to visit.
What makes a trip to the Philippines so spectacular is island hopping from paradise to paradise, discovering what makes this place so fascinating.
Once you arrive in the Philippines (most likely via Manila or Cebu City), you'll be overwhelmed with choices about where to go and what to do.
To help cut out the guesswork, we've put together this guide to the best spots for island hopping in the Philippines.
Palawan Island
Most of those jaw-dropping images of the Philippines that you've most likely seen would have been taken in Palawan. There's a good reason for that too. In 2016, Palawan was named the "Most Beautiful Island in the World" by multiple travel publications.
Palawan is the largest island in the province of the same name, and the fifth-largest island in the entire country. Most people who visit head straight to El Nido, famous for its towering limestone cliffs that rise from the sea. However, there are plenty of other amazing spots to see in Palawan. Checking these out provides relief to the ecoystems most heavily visited by tourists, provides you with an experience that few others may have enjoyed, and helps local economies. These benefits underpin the principles of responsible travel.
Puerto Princesa is home to the unbelievable underground river and Nacpan Beach is claimed to be one of the most picturesque beaches on the planet, while there are plenty of peaks to climb and jungle to explore if you want to stick to land-based activities.
We recommend doing a few island-hopping tours around El Nido to see just how magnificent it really is.
Getting to Palawan Island
Depending on your budget and timeframe, there are two ways to get to Palawan Island: by boat and by plane.
Puerto Princesa is the main airport on the island, with regular flights to Manila, Cebu City and other major hubs in the Philippines. El Nido also has a few flights a week, although they are a bit more expensive with a new boutique airline.
You can also get to El Nido via boat, which is much cheaper but can take upwards of two days depending on where you are coming from, but offer you a much richer experience. There are multiple ferries a day between El Nido and Coron on Busuanga Island.
Busuanga
Busuanga Island is located to the north of Palawan Island and is also part of the Palawan province. It is very different from its larger cousin though.
The island is mainly known for having some of the best snorkelling and scuba diving in the world, with a plethora of Japanese ships and planes that were sunk by Americans in World War II. Now they are home to epic wreck sites, covered in reefs and an abundance of marine life, so make sure you have your camera charged.
Busuanga also has some of the top beaches in the Philippines, with long white-sand spits jutting out into crystal clear seas and palm trees swaying gently on the shore.
Coron is the biggest town on Busuanga, and is a great place to use as a base for island hopping in the Philippines, snorkelling, diving and even organising some kayaking adventures.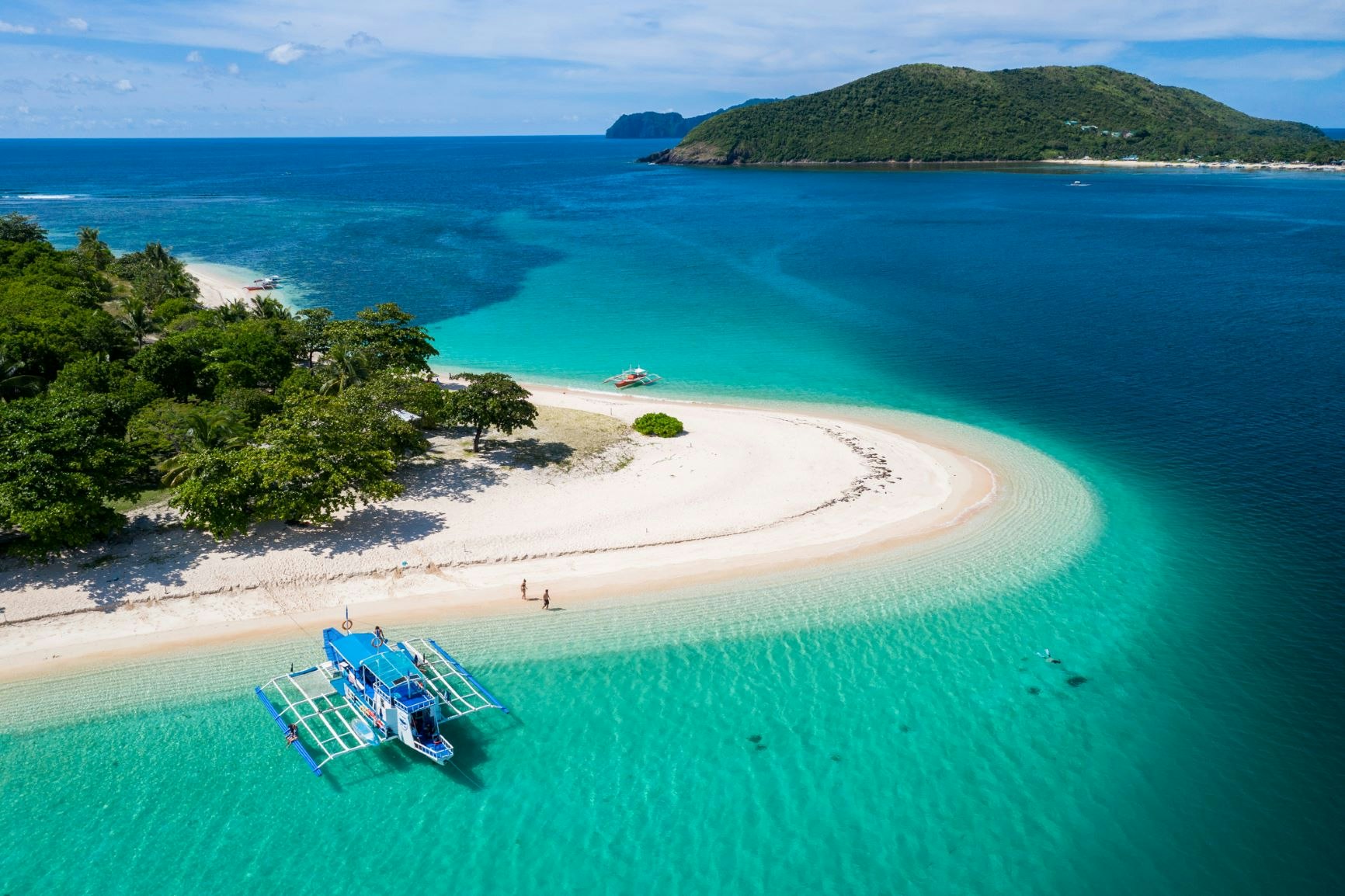 Getting to Busuanga

Busuanga Airport isn't as large as Puerto Princesa, however there are still daily flights to Manila and Cebu, and the occasional one across to El Nido.
Ferries run between El Nido and Coron daily, and longer trips can be done towards Manila.
Cebu
Cebu is the second biggest transport hub in the Philippines after Manila, but don't let that put you off a trip there. Cebu has some of the nation's most popular highlights scattered all around the island.
Cebu City is a much more pleasant place to base yourself rather than the country's capital if you need some city time, otherwise, head out into the far corners of the island to see the real splendours.
Moalboal is a funky town most famous for its sardine run, where millions of sardines move up and down the waters just off of Moalboal in huge schools. The diving and snorkelling here are excellent as well, with a healthy green turtle population.
Canyoning at Kawasan Falls could be the most fun you ever have in a day! Start from the top of the river and navigate your way through a steep gorge, cliff diving and sliding down rocks as you go.
There are also dozens more waterfalls to check out, peaks to summit and forests to hike through.
Cebu is also home to Oslob and its famous whale sharks, however we strongly discourage people from swimming with them here. The whale sharks are fed to keep them in the vicinity for tourists, and they are often poorly treated with regular boat strikes and people trying to touch them.
Getting to Cebu
Getting to Cebu is very easy, and it is very well connected with just about every other island in the Philippines via plane. Additionally there is an international airport on the island with direct flights to Singapore, South Korea, Japan, China, Dubai, Taiwan and Malaysia.
Ferries go to other major ports such as Dumaguete, Bohol and Surigao.
Siquijor
Located near the centre of the Philippines, Siquijor is an island of mystery and intrigue amongst locals. Many believe that there is an element of magic and sorcery on the island, which is home to witches, mystical animals and strange rituals.
Whether you believe it or not, the one magic that can't be denied is just how visually mesmerising Siquijor is.
The beaches here are simply superb, and Siquijor boasts one of the most remarkable waterfalls in all of the Philippines, Cambugahay Falls.
You could easily spend a week here snorkelling in the sea, visiting little villages, and trying to find some of that famous black magic the island is known for.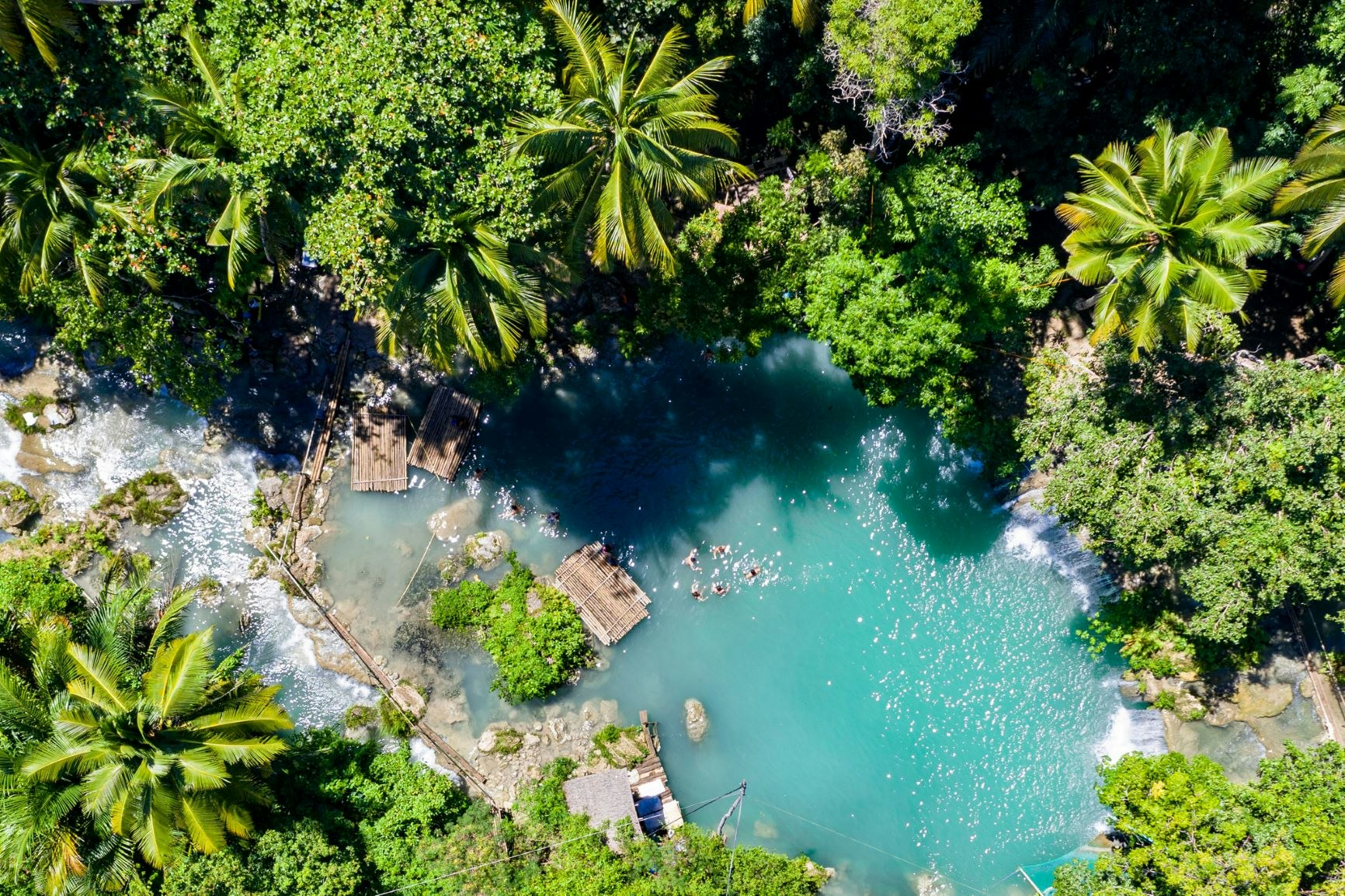 Getting to Siquijor
The closest airport to Siquijor is Dumaguete, which is less than an hour away by ferry. Dumaguete is well connected with all the major hubs in the Philippines.
If you are coming by boat, Siquijor has regular connections to Dumaguete and Cebu Island.
Bohol
There's plenty more to the islands of the Philippines than just postcard-worthy beaches and mind-blowing waterfalls. The island of Bohol proves just that.
Bohol is best known for the iconic Chocolate Hills, over 1,000 rounded peaks that scatter the landscape, covered in grass that turns brown in the dry season (hence the name).
Climbing up to the various viewpoints to catch a glimpse of the Chocolate Hills at sunrise or sunset is one of the best things you can do in the Philippines.
There is also the Cadapdapan rice terraces, which are some of the most photogenic in the entire country.
And don't worry, once you've finished with the Chocolate Hills and rice terraces, there are plenty of great waterfalls and beaches to hang out in Bohol as well.
Getting to Bohol
Bohol has two main airports on the island, which makes getting here extremely easy. The best way is to jump on a flight from Manila to Tagbilaran Airport, or the newer Bohol-Panglao Airport.
There are also regular boat services to Tagbilaran City from Cebu, Dumageute, Manila and Mindanao
This is only a short list of some of the best islands in the Philippines. There are plenty more worth visiting on your next trip, such as Siargao, Luzon, Boracay and Mindanao. The limit really does depend on how much time you can get off work...
---
---