7 reasons why you should travel to Central Asia
Kathmandu ambassadors Alesha and Jarryd are professional photographers, writers and founders of adventure travel blog NOMADasaurus. They've been exploring the world together since 2008, searching for culture and adventure in off-the-beaten-path destinations.
---
If you're looking for an exciting, adventurous and off-the-beaten-path destination to travel to next year, you can't miss out on the 'Stans of Central Asia!
Kyrgyzstan, Kazakhstan, Tajikistan, Uzbekistan and Turkmenistan (with Afghanistan and Pakistan often being thrown in the mix) are some of the most culturally fascinating and visually inspiring places on the planet.
Between the peaks, you'll find nomads living the same way that they have for thousands of years, while the cities boast some of Central Asia's greatest architectural masterpieces.
If you love the outdoors, there is no better place to be. Some of the world's tallest mountains can be found around the Pamirs and Tian Shan ranges with dense forests nudging against crystal-clear lakes along the valleys.
We first visited Central Asia in 2015 and have been back every year since, either to map out brand new hiking trails or to run adventure and photography tours in the region. It's no secret that we love this place, and it gets better with each visit.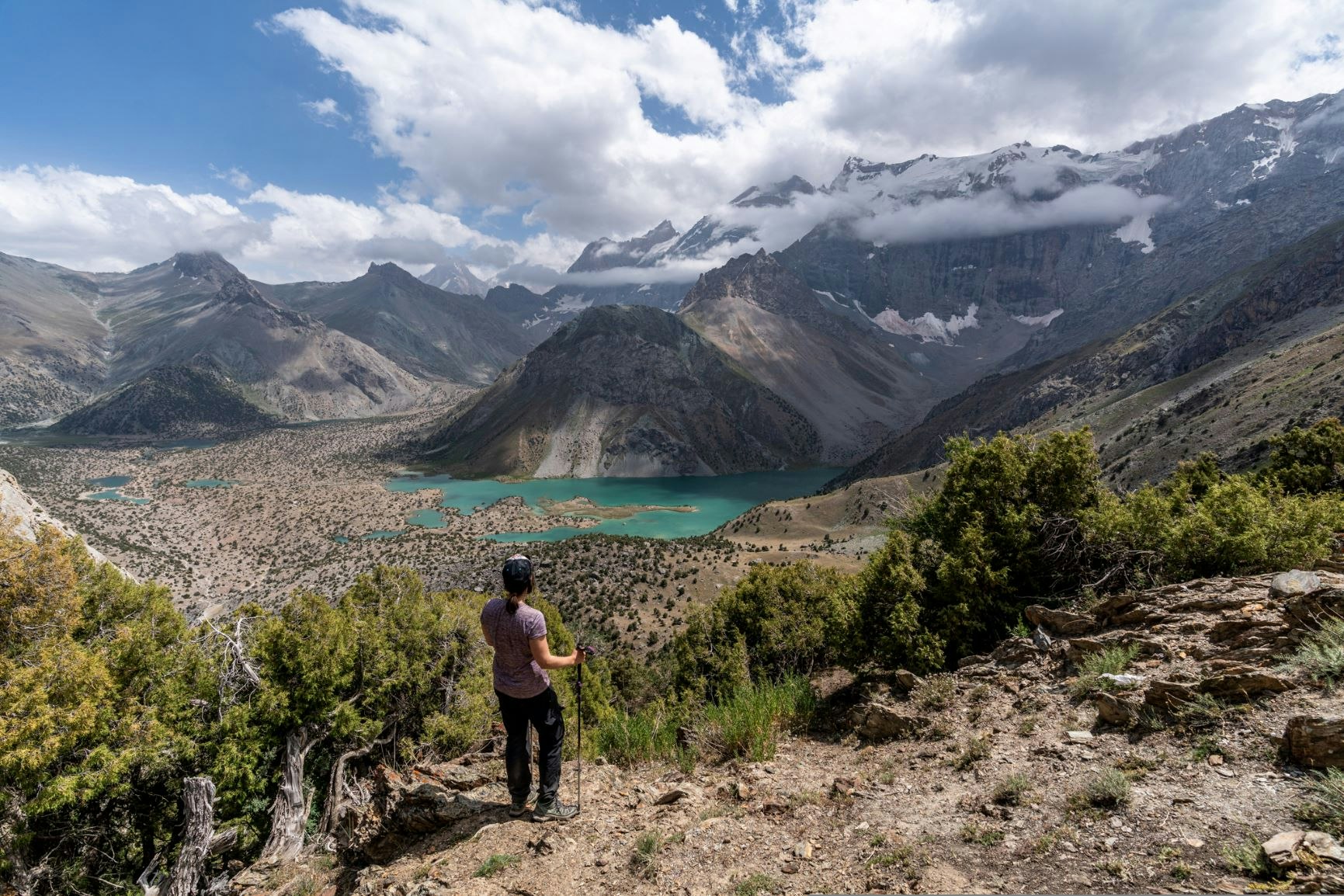 Central Asia remains off the beaten path
Compared with so many other regions in the world, Central Asia is still a place that is rarely explored. But that is starting to change.
Over the last few years, people are learning more and more about the area, and as word gets out, there is now a growing interest to visit. But while the tourism industry is on the rise, the actual numbers of people making a trip to the 'Stans is still nothing compared to places like Southeast Asia or Europe.
Here you can still go hiking in the mountains and not see a single soul for days, wander through ancient cities and be the only tourist in town, and visit villages that haven't seen a foreigner all year.
You won't find special backpacker-friendly transport or restaurants catering only to foreigners here, and English is rarely spoken outside of the cities. Central Asia is still raw and authentic, and one of the safest destinations in the world.
On a recent trip to the Jizeu Valley in Tajikistan, we hiked 7km into a village and spent the night with a local family. After chatting with them, we found out the entire Jizeu village had only seen a few dozen tourists that year. It doesn't get much more off-beat than that.
It's home to some of the world's most spectacular mountains
The Himalaya and Patagonia immediately come to mind when thinking of mountain paradises, yet few realise Central Asia is also home to some of the most beautiful mountain ranges in the world.
With Kyrgyzstan and Tajikistan both being more than 90% covered in mountains, almost every way you look you'll see peaks, some rising up over 7000m above sea level!
These two countries are the real hiking hotspots of Central Asia, and they are home to fantastic outdoor adventure opportunities. From short day hikes and multi-day treks to the most remote parts of the Pamirs, right through to camping with traditional nomads and horse riding, there's something for everybody here.
Some of our favourite places to visit for mountain adventures are Jyrgalan in Kyrgyzstan, the Pamir Highway, and Fann Mountains in Tajikistan. If you want a truly untouched experience, head to the Alay Mountains.
Learn about the history of the ancient Silk Road
You may have heard about the ancient trading route known as the Silk Road that connected the East with the West.
Huge caravans of camels and traders traversed across Asia, bringing with them goods that had never been seen before in Europe. Along the way, they set up caravanserais, and emperors and conquerors built some of the most beautiful and intricate cities ever made.
Central Asia became the heart of the Silk Road, and you'll find remnants of the old trading route everywhere you go.
Uzbekistan is home to some of the most beautiful mausoleums in the world, while caravanserais in Kyrgyzstan and Turkmenistan still stand much the same as they always were, allowing visitors a fascinating insight into what it must have been like in the past.
There are a number of museums found throughout the region dedicated to Silk Road history as well, for those that love to dive deep into local stories.
The architecture is unbelievable
After the mountains, the reason many people visit Central Asia is to admire the mind-blowing architecture.
Mosques and mausoleums glisten in blue tiles while towering minarets and sprawling squares draw visitors to places like Samarkand, Bukhara and Khiva in Uzbekistan; Turkistan in Kazakhstan; and Khujand in Tajikistan, but there's more to the region than those obvious highlights.
When Central Asia was under Soviet control, its cities were filled with concrete structures and Communist Soviet statues, many of which are still standing today. It can be fascinating to wander down concrete alleyways that are now being overgrown with trees and gardens.
For the most unique architecture in Central Asia though, head to Ashgabat in Turkmenistan. This white marble and gold city deep in the desert was built by an authoritarian regime and feels like a mix between Las Vegas and Pyongyang. There are towering fountains, golden statues that rotate to face the sun and quirky-designed buildings that couldn't be found anywhere else in the world.
Find true adventure
From hiking in the Alay Mountains in Kyrgyzstan to mountain biking in Kazakhstan or horse trekking in Tajikistan, there are so many adventures to be had in Central Asia, the limit really is only your imagination.
While nowhere near as developed for adventure tourism the way New Zealand is, companies in Central Asia are jumping onboard this growing trend for outdoor enthusiasts and creating action-packed products and itineraries for people of all ages.
In recent years the ability to go whitewater rafting, snowboarding and skiing, mountain biking and snow-leopard tracking has become accessible for all travellers, and best of all, as there are no real crowds to deal with, chances are you'll have the epic landscapes all to yourself.
For a real challenge, you can attempt to summit Peak Lenin, a 7134m mountain on the border of Kyrgyzstan and Tajikistan. It's a 3-week expedition, and can only be attempted in August and September each year.
Immerse yourself in fascinating cultures
Even though they are in the same general area and have a common history, each country in Central Asia has its own different cultures and customs. It is where a traditional nomadic system meets Middle-Eastern hospitality and Soviet influence, and the blend is fascinating.
What makes travelling around Central Asia so amazing is that from the moment you arrive, you are thrown head-first into this interesting culture. The local people don't try to keep a distance between themselves and tourists. Instead, they welcome everybody into their homes to learn more about who they are as people.
When going for hikes in the mountains or walking around small villages, don't be surprised if you are invited into a local's house or yurt for tea and bread. They love sharing what they have and hearing more about who you are and where you're from.
Travel with an open mind, say yes to these interactions, and you'll learn so much more about your hosts.
One of the world's most affordable destinations
When we first travelled to Central Asia in 2015 we actually had no idea what to expect and how much money we needed for our budget. We very quickly became shocked though at how affordable it was. At times it was even cheaper than in Southeast Asia.
In Kyrgyzstan, Tajikistan and Uzbekistan, you can get meals for $3-5, accommodation for as little as $15 a night (sometimes including dinner and breakfast), and a full-day guided horse trek might only set you back $30. Transport is also very cheap, with long-distance bus rides starting at a couple of dollars.
Turkmenistan and Kazakhstan are the most expensive countries to travel, but even then you can easily get by on a comfortable budget of around $75 a day.
---