Kathmandu ambassadors Alesha and Jarryd are professional photographers, writers and founders of adventure travel blog NOMADasaurus. They've been exploring the world together since 2008, searching for culture and adventure in off-the-beaten-path destinations.
See their complete guide to Kyrgyzstan here.
---
Located in the heart of Central Asia, with snow-capped mountains making up 93% of its terrain, Kyrgyzstan is one of the best travel and adventure destinations on the planet right now.
A real trekker's paradise, this landlocked nation is home to more than just untouched trails – it also has a fascinating nomadic culture, delicious food, friendly people and ancient history dating back millennia.
If you're wondering where to head on your next holiday that's off the beaten path, let these 11 photos of Kyrgyzstan inspire you.
1) A jaw-dropping night sky
A low population density combined with crystal clear skies makes for some amazing Milky Way views. Throw in a yurt camp next to an alpine lake, like this one in Son Kul at 3000m above sea level, and you have some of the best star gazing on the planet.
2) Endless trekking opportunities
Kyrgyzstan is best known for its epic trekking opportunities. Whether you want to hike around for a few hours or a few weeks, there's plenty of chances for you to discover why it has become known as the Switzerland of Central Asia.
3) Up close and personal with eagles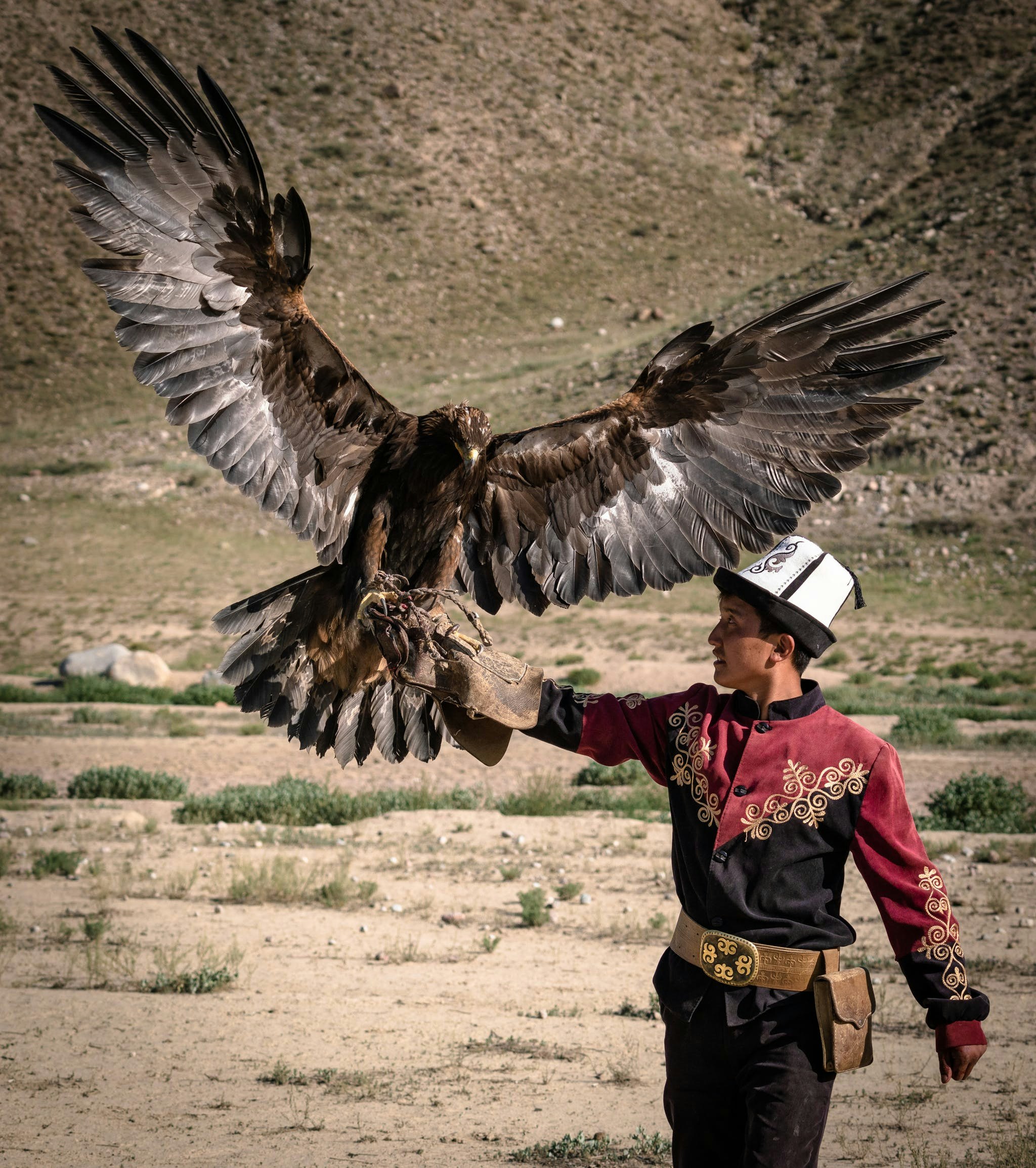 Ever wanted to meet a real-life eagle hunter? Kyrgyzstan is the place to do it! Learn more about this ancient cultural tradition by taking part in a demonstration from the world champion Nursultan on the South Shore of Issyk Kul.
4) The history of the Silk Road
You can find fascinating remnants of the Silk Road throughout the country, like the spectacular minaret known as the Burana Tower, only an hour from the capital city of Bishkek.
5) An actual double rainbow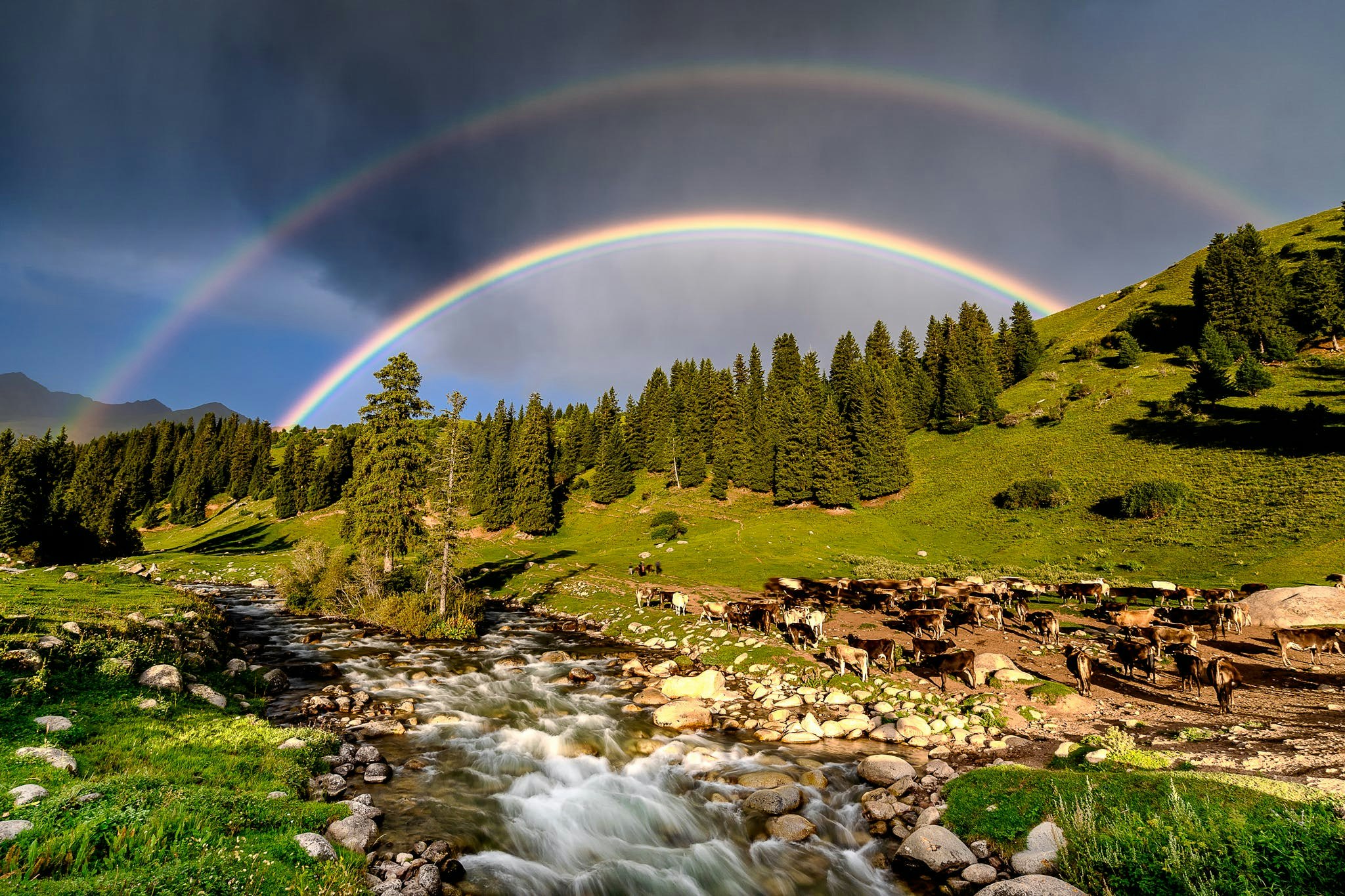 Double rainbows and glacial-fed rivers? You'll get your fix in Kyrgyzstan!
6) This road trip just waiting to happen
If road trips are your thing, Kyrgyzstan is one of the starting points for the infamous Pamir Highway that climbs high into the mountains and follows the borders of Tajikistan and Afghanistan. With twisting highways like this, it's little wonder it has become one of the adventure highlights of Central Asia.
7) A canyon made of fairy tales
The Skazca Canyon, better known as the Fairy Tale Canyon, is one of the most unique geological formations in the country. And best of all it's completely open to the public, meaning you can hike all over the rainbow layers for hours.
8) Thousands of alpine lakes
This is just one of the thousands of alpine lakes waiting for you to explore during your next trekking trip to Kyrgyzstan. Need to narrow down what region to visit for a hiking mission? Check out the small village of Jyrgalan, Asia's new adventure hotspot
9) The colourful, eclectic cultures
Kyrgyzstan is bustling with a variety of cultures, and the local people are extremely proud of their heritage, customs, history and costumes. Here a group of men in traditional dress sit around at the World Nomad Games.
10) Captivating rock formations
Jeti Oguz, which means 'Seven Bulls', is another captivating rock formation that can be found around Issyk Kul's South Shore.
11) Yurts with a view
The land of real nomads, the people use yurts for their homes, and you can even stay in one yourself during your trip here! Complete with mountain views at your doorstep.